State Employee Charitable Campaign underway now through Oct. 14
Published: September 23, 2019 by Rhonda Whitmeyer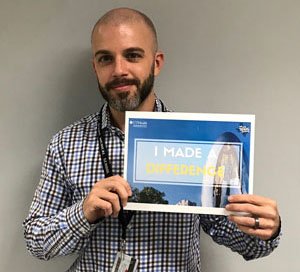 The annual State Employee Charitable Campaign is underway now through Oct. 14, allowing UTHealth employees to come together to help those in need. This year's campaign theme is "Reflect on the Difference You Can Make."
During the campaign, employees have the option of donating to one or more charities of their choice, either by making a one-time donation this year or by pledging to contribute a set amount per paycheck throughout the coming year.
If you would like to contribute to the campaign in person, visit the SECC Fundraising Table across from RG Grill on the first floor of the School of Dentistry during the following times and dates:
Friday, Oct. 1, 1:30 to 2:30 p.m.
Monday, Oct. 7, from noon to 1 p.m.
Thursday, Oct. 10, noon to 1 p.m.
Monday, Oct. 14, noon to 1 p.m.
Laptops will be available for employees to donate via Employee Self Service, and forms will be available for cash/check donations. Plenty of goodies await for those who donate.
Donations and pledges may also be made online through Employee Self Service. An online pledge during the 2019 campaign will be tax-deductible for the 2020 tax year, since the payroll deductions begin Jan. 1, 2020. One-time donations via cash and checks written by Oct. 14 can be credited to the 2019 tax year, as this will be the year the actual donations are received.
For more information or assistance, contact Syrine Joubert, HR reporting analyst for learning and development, at SECC@uth.tmc.edu or 713-500-3132. For more details, visit the SECC website.
After making a donation, employees are invited to submit photos of themselves holding one of the SECC props. Send photos to SECC@uth.tmc.edu for a chance to be posted on the SECC website or on UTHealth social media sites.