Morris inducted into UT's Kenneth I. Shine, MD Academy of Health Science Education
Published: March 12, 2019 by Rhonda Whitmeyer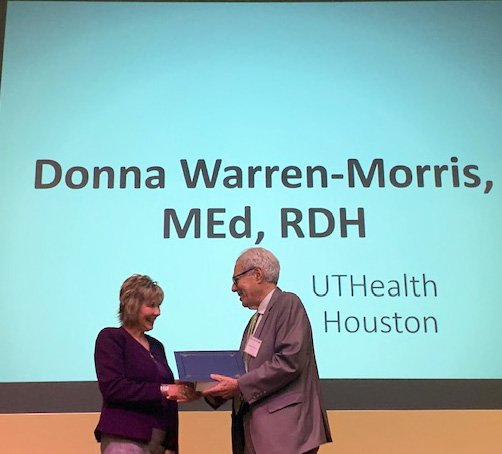 UTHealth School of Dentistry at Houston Dental Hygiene Program Director Donna Warren Morris, RDH, MEd, has been inducted into The University of Texas Kenneth I. Shine, MD, Academy of Health Science Education. She is a professor in the Department of Periodontics and Dental Hygiene at the School of Dentistry.
The academy selects new members annually from among UT System's health science institutions on the basis of the honorees' contributions in the areas of direct teaching, curriculum development, mentorship, educational scholarship, and leadership. Kenneth Shine is a former UT System executive vice chancellor for health affairs who helped establish the academy in 2005. It was renamed in his honor upon his retirement.
Previously inducted members of the academy from UTHealth Houston School of Dentistry include Dean John Valenza, DDS; Associate Dean for Research Jacqueline Hecht, PhD; Ryan Quock, DDS, professor and vice chair of the Department of Restorative Dentistry and Prosthodontics; Professor Emerita Paula O'Neill, EdD; former Dean Catherine Flaitz, DDS, MS; former Professor John McMahon, PhD; and former Associate Dean Leslie Roeder, DDS, MS.
Morris was one of four UTHealth faculty members inducted for 2019. Others include:
Emma A. Omoruyi, MD, MPH, assistant professor of pediatrics, McGovern Medical School at UTHealth;
Belinda Reininger, DrPH, MPH, professor in the Department of Health Promotion and Behavioral Sciences, UTHealth School of Public Health;
Cizik School of Nursing Associate Dean and Department of Graduate Studies Chair Susan D. Ruppert, PhD, RN.