UTSD's new Staff Relations Council organized and on duty
Published: July 17, 2017 by Rhonda Whitmeyer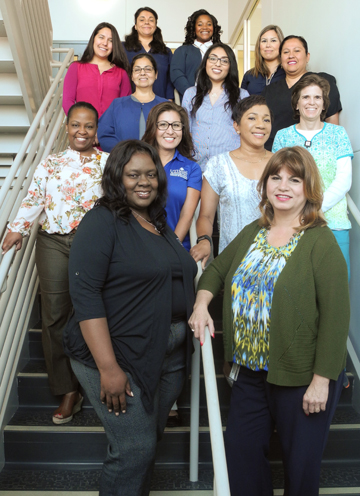 A new 15-member Staff Relations Council has been created at the School of Dentistry, with every department and work group contributing a representative to serve a two-year term. The council meets from noon to 1 p.m. on the first Wednesday of each month in SOD 5210, and anyone is welcome to attend.
Dean John Valenza, DDS, has asked the SRC to be a voice for the school's staff employees, as the Faculty Senate serves faculty employees. SRC officers include Adriana Cavender of the Department of Orthodontics, president; James Supak, Oral and Maxillofacial Surgery, vice president; and Kimberly Johnson, Periodontics and Dental Hygiene, secretary.
Members include Connie Dieringer, Diagnostic and Biomedical Sciences; Mamie Ellis, Endodontics; Angela Fernandez, Dean's Office; Irene Flores, Office of Student and Academic Affairs; Sedra Jackson, Pediatric Dentistry; Rebecca Lucadou, AEGD and GPR; Maria Madrigal, Prosthodontics; Lenora Trujillo, Research Office; Pam Velazquez, Technology Services and Informatics; Diana Diaz, Office of Patient Care; and University Classified Staff Council Representatives Kassie Broussard and Maria Rodriguez.