#SmilesAreBiggerinTexas Kids' Oral Health Photo Contest
Published: February 07, 2018 by Rhonda Whitmeyer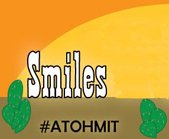 Texas residents, schools, organizations and businesses are invited to participate in "Smiles Are Bigger in Texas," a photo contest in observance of February as National Children's Dental Health Month. The deadline to enter is 12 a.m. Wednesday, Feb. 28.
The campaign hopes to engage Texas schools, organizations/businesses, and residents and highlight their commendable efforts to promote oral health among their families and communities. Winners will be announced Friday, March 16 and will receive Visa gift cards of $300, $200 and $100, for first, second and third place, respectively.
"Smiles Are Bigger in Texas" has three categories — Schools, Businesses and Individuals — with specific rules for each. Contestants may submit only one entry each. Here's how to enter:
Provide a photo of a children's oral health promotional activity or project following the requirements and rules in one of the three categories.
Upload the picture and the submission form below. Be sure to provide a creative caption.
Signed image consent forms are required from each individual shown in your picture, or from parents/legal guardians of minors. The person submitting the photo must also upload all signed consent forms.
Prizes will be sent to the winning submissions after winners are announced March 16.
Be creative with your photo and caption to earn extra points. Let your family, school, or organization/business show the nation why "Smiles Are Bigger in Texas."
For more information about the campaign or contest, contact ATOHMITSubmission@gmail.com.