Colasurdo honors Wong, 3 others with 2018 President's Scholar Awards
Published: January 10, 2019 by UTHealth Staff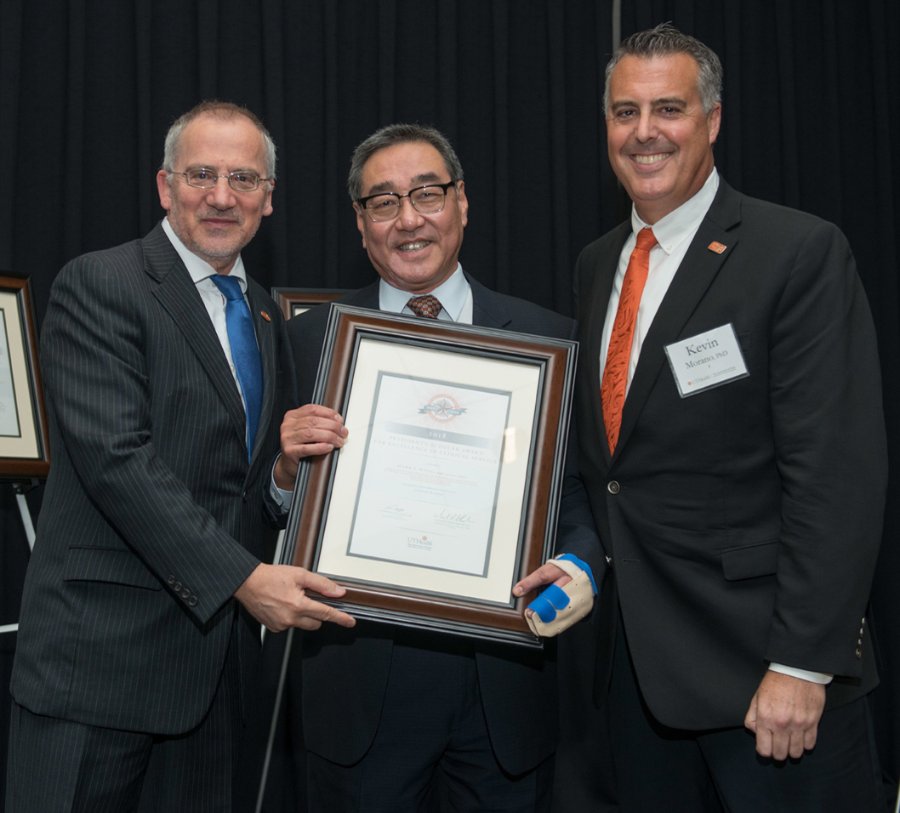 Mark E. Wong, DDS, professor and chair of the Department of Oral and Maxillofacial Surgery at UTHealth School of Dentistry, is among four honorees selected by UTHealth Houston President Giuseppe N. Colasurdo, MD, to receive 2018 President's Scholar Awards.
In addition to Wong, winners included Susan H. Landry, PhD, Leonard J. Cleary, PhD, and Richard J. Andrassy, MD, all of McGovern Medical School at UTHealth. Andrassy received the President's Recognition of Excellence Award. Photos from the event are posted on Flickr.
"It's amazing how these four individuals have contributed to our university in their own ways," Colasurdo said at the Jan. 8 awards luncheon in the Denton A. Cooley, MD and Ralph C. Cooley, DDS University Life Center.
Associate Vice President for Faculty Affairs and Development Kevin Morano, PhD, introduced the honorees, noting that the selection criteria are rigorous and require evidence of innovation, recognition, exemplary service, and elevating UTHealth's stature "among our peers in Texas, the nation, and across the world."
Morano went on to detail the reasons why each winner was chosen. Wong was honored for excellence in clinical service.
"An innovator, a creator of unique clinical programs, a model of compassionate care to the individual and the community, and recognized by his peers both at home and on the international stage, Dr. Mark Wong embodies all that we 'once and future' patients hope to have in a healer," Morano said.
"He is responsible for the integrated facial/trauma/rigid fixation TMC-wide annual teaching program that includes both Baylor College of Medicine and UTHealth ENT and Plastic Surgery departments. His research and clinical care involve collaborations with the Bioengineering Department at Rice [University] which have launched several initiatives, including a joint PhD/Oral and Maxillofacial Surgery Residency for training surgeon-scientists."
Leveraging relationships with Harris Health System, Wong and others created and then increased staff for a dedicated oral surgery outpatient clinic, "and its success is such that a waiting list of 1,700 outpatient visits is now down to negligible numbers," wrote those who nominated Wong.
In accepting the award, Wong acknowledged the impact the other three awardees have made on his personal and professional life. He also thanked faculty, staff, and his family for their support.
"Whenever you want a good and real quote about life, look no further than Mark Twain, who said, 'To do good is noble. To tell others to do good is even nobler and much less trouble.' I am aspiring to be Mark Twain," Wong said.
Morano introduced Susan Landry, PhD, director of the Children's Learning Institute, to receive the award for excellence in research.
"The underlying theme of the multiple nomination letters was Dr. Landry's tenacity in challenging prevailing attitudes about early childhood education by providing solid, elegant, evidence-based research on a scale that could not be challenged," Morano said. "Through large-scale, data-driven research, she has helped close the large socio-economic gap in school readiness for young children in Texas."
The nominators wrote that "she then took advantage of our life-changing breakthroughs in neuroscience diagnostics and treatment to establish three clinics to transform the lives of children and their families dealing with developmental and behavioral issues that span autism spectrum disorders, ADD/ADHD, and learning disabilities such as dyslexia."
The President's Scholar Award for Excellence in Teaching went to Leonard Cleary, PhD, associate dean in the Office of Educational Program at McGovern Medical School.
"When the decision to overhaul the medical school curriculum was made, the herculean task of accomplishing this would involve more than 100 faculty members, students, and staff, all led ably and calmly by Dr. Cleary," Morano said. "He shepherded the new curriculum as students experienced it from orientation through preclinical, and monitored and documented student performance compared to national standards."
The nominators wrote that Cleary "made it a priority to adapt the curriculum based off student feedback, which illustrates his customary humility and desire to put the education of his students first."
As UTHealth's president, Colasurdo created a special honor — the President's Recognition of Excellence Award — to acknowledge overall exemplary dedication and service to the institution while demonstrating long-standing excellence in a chosen field. This year, Richard Andrassy, MD, became only the second person to receive the award. He is a professor and chair of the Department of Surgery and interim chief of plastic and reconstructive surgery at McGovern Medical School.
Kevin Lally, MD, professor and chair of the Department of Pediatric Surgery, introduced his longtime friend and colleague.
"Since his arrival in Houston in 1985, [Dr. Andrassy's] accomplishments and contributions to UTHealth have been enormous. His academic achievements alone are outstanding. His track record as an educator and mentor is equally outstanding," Lally said. "What truly stands out, though, is his dedication to this university."
Lally noted that Andrassy is the longest-serving chair of a surgery department in the country, is quick to step into leadership roles when needed, and made significant contributions to the formation of UT Physicians.
Andrassy thanked Colasurdo, McGovern Medical School Dean Barbara Stoll, MD, and others for their support. He also acknowledged Elizabeth "Mickey" Clouser, executive services administrator in the Department of Surgery. "It has been a privilege to be here all these years," he said.
Executive Vice President and Chief Academic Officer Michael Blackburn, PhD, concluded the luncheon by congratulating the awardees and recognizing previous winners of the President's Scholar Awards.
"I am proud to be your colleague," he said, "and we thank you for your service to the university."