Student Table Clinic: Rewards (and rehearsal)
Published: February 07, 2018 by Rhonda Whitmeyer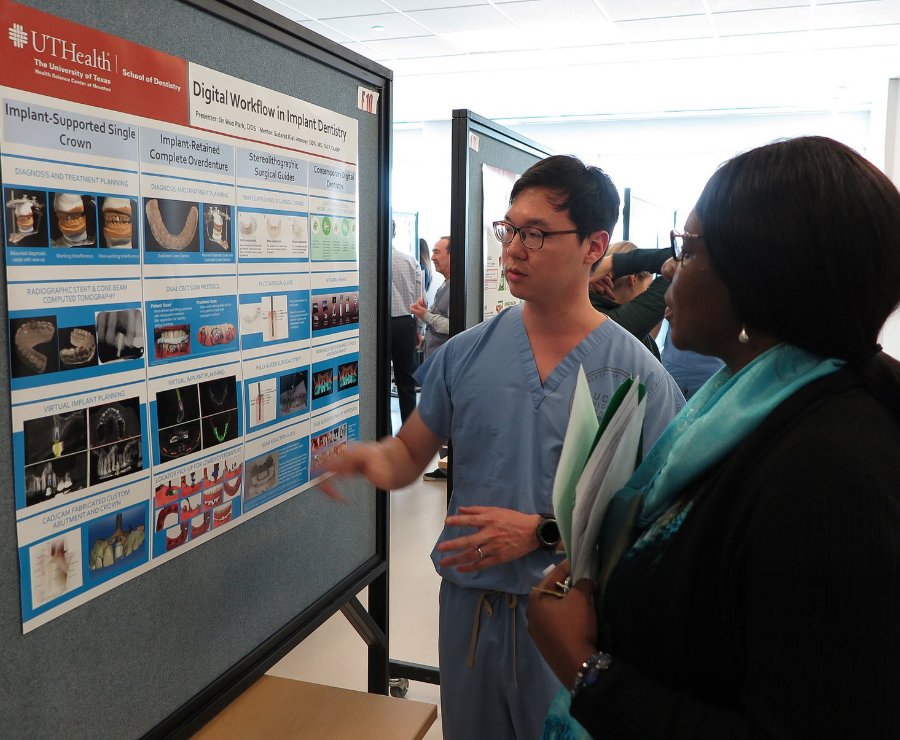 Delayed for a week by an ice storm, the 2018 Student Table Clinic at UTHealth Houston School of Dentistry offered students and residents a chance to polish their presentations in advance of the Greater Houston Dental Society's annual Star of the South Dental Meeting.
The Houston Section, American Association for Dental Research recruited evaluators to judge the entries and provide feedback to the presenters. First-place winners and mentors for the three categories included:
Dental Students
Natalie Vos; Assistant Professor Jeremy Schaefer, PhD, mentor; "Lipopolysaccharide-Induced Non-Coding RNA Response in Macrophage and Fibroblast Cells"
Dental Hygiene Students
Pita Carranza, Hannah Ramey, Gracelyn Sanchez and Viviana Silva; Assistant Professor Deborah Vayon, RDH, MEd, mentor; "Sleep Apnea: Can You Recognize It?"
Residents
Dr. Victor Rivera Mendez; Graduate Prosthodontics Program Director Donald Belles, DDS, MS, mentor; "Design and Fabrication of Implant Surgical Guides"
The Student Table Clinic is an annual event at UTSD organized by Assistant Professor Steve Laman, DDS, who also directs the table clinic course elective for dental students. Dental hygiene students develop their projects during the fall Community Dental Health course, directed by Associate Professor Victoria Patrounova, RDH, MHA.