After 20 years of service, School of Dentistry unveils new Mobile Dental Van
Published: December 15, 2022 by Caitie Barkley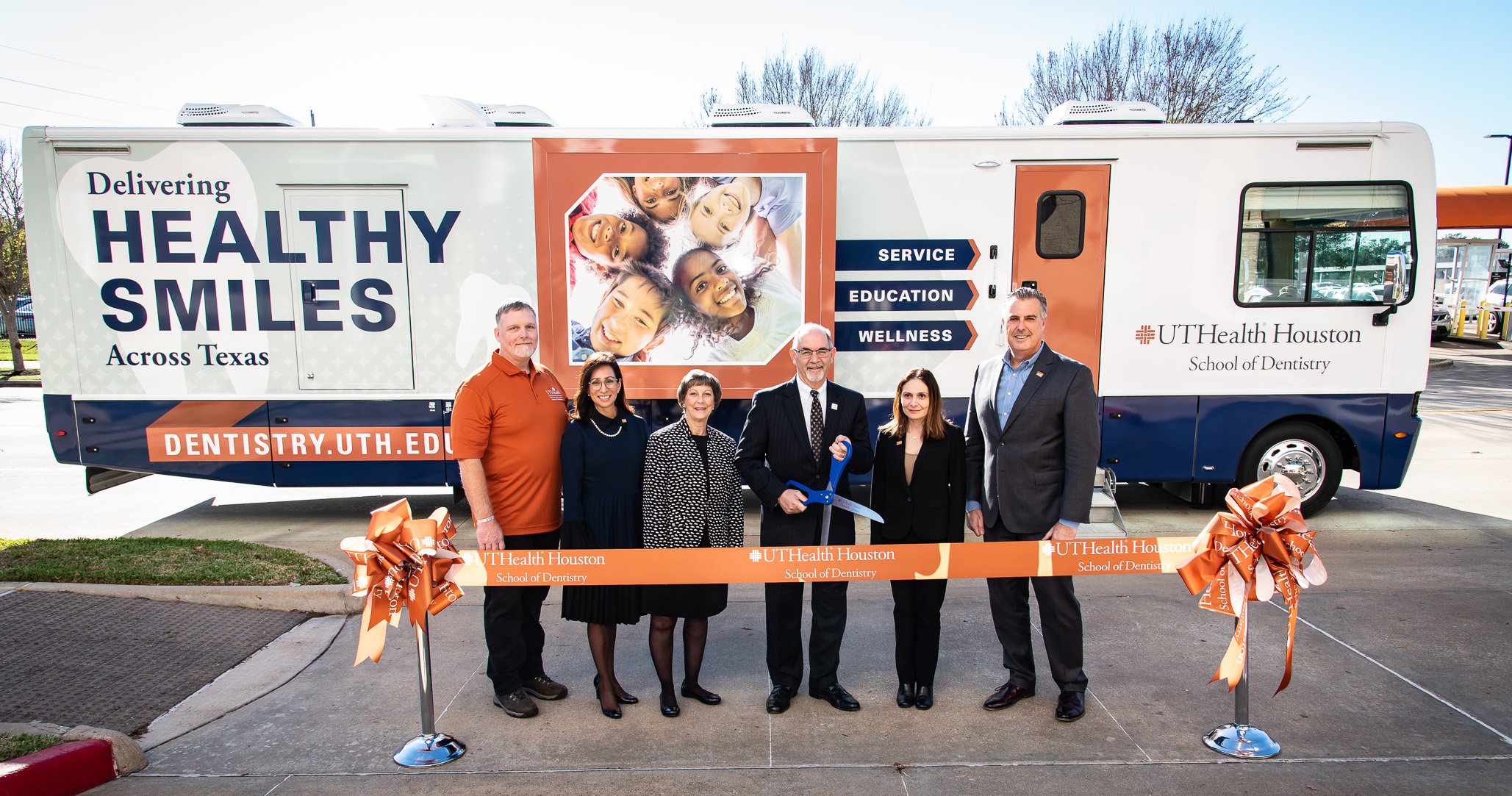 After hundreds of thousands of miles and 20 years of service, UTHealth Houston School of Dentistry has a new set of wheels for its Mobile Dental Van program to continue providing care to underserved communities.
In a ribbon-cutting ceremony today, school officials presented the new van, replacing the existing unit that, since its inaugural trip in 2002, has logged nearly 130,000 miles from the Greater Houston area to rural communities in East Texas.
The school will continue to staff and operate the van, which includes three, fully outfitted operatories and a wheelchair lift. Services and operating expenses are funded by income from gifts and contracts.
"Replacing the old dental van was way overdue, and we can't thank our donors and partners enough for coming together to get us to this point," said John A. Valenza, DDS, dean and The William N. Finnegan III Distinguished Professor in the Dental Sciences at UTHealth Houston School of Dentistry. "This next generation of such a specialized vehicle in the School of Dentistry's mobile dentistry program will allow us to not only reach even more patients, but to expand educational experiences for our students."
Each year, fourth-year students complete a three-week rotation on the dental van as part of their clinical education.
To date, providers on the have treated over 8,000 patients while providing in excess of $2.5 million in free dental care, including preventive and therapeutic treatment (cleanings, fluoride therapy, nutritional counseling, and oral hygiene education), extractions, and restorative treatment such as fillings. Root canal therapy and interim partial dentures have also been offered.
"It is very rewarding to finally witness this new mobile dental van come to fruition in order for the School of Dentistry to continue and expand upon our commitment for community outreach programs. In doing so, this allows us to address the gap in oral health disparities and provide oral health care for those uninsured and underserved populations," said Margo Melchor, RDH, EdD, professor and director of community outreach at the school. "In addition, our Mobile Dental Van Program enables our commitment to students and residents in providing community service learning and promoting civic engagement. It is our responsibility to the community to not only improve oral health, but to improve overall health."
Many patients seen by the mobile dental van team have not been to a dentist in months or years; in fact, many have never received oral care at all. Inconsistent or no oral care can lead to dental decay, gum disease, and widespread bacterial infections leading to systemic conditions.
Locally, the van provides services at the Mission of Yahweh, which cares for women who are often survivors of domestic violence or enduring economic hardship, and Epiphany Community Health Outreach Services, which helps immigrants and the uninsured. The Mobile Dental Van program also has community partners in Jasper and Orange counties in East Texas.
"'Delivering Healthy Smiles Across Texas' is not just a statement on our new van — it underscores our commitment to our mission of providing high-quality patient care and service across our state," said Shalizeh "Shelly" Patel, DDS, MEd, associate dean for patient care and Distinguished Teaching Professor with the school.
The new van was funded by various community supporters, including the T.L.L. Temple Foundation, Delta Dental Community Care Foundation, and H.H. & Edna Houseman Charitable Foundation, with dental equipment donations from A-dec Inc. Additional support was garnered through a crowdfunding campaign.
Media Inquiries: 713-500-3030