Sew Justice Sew Peace impacts communities, supports change
Published: August 06, 2020 by Bradi Zapata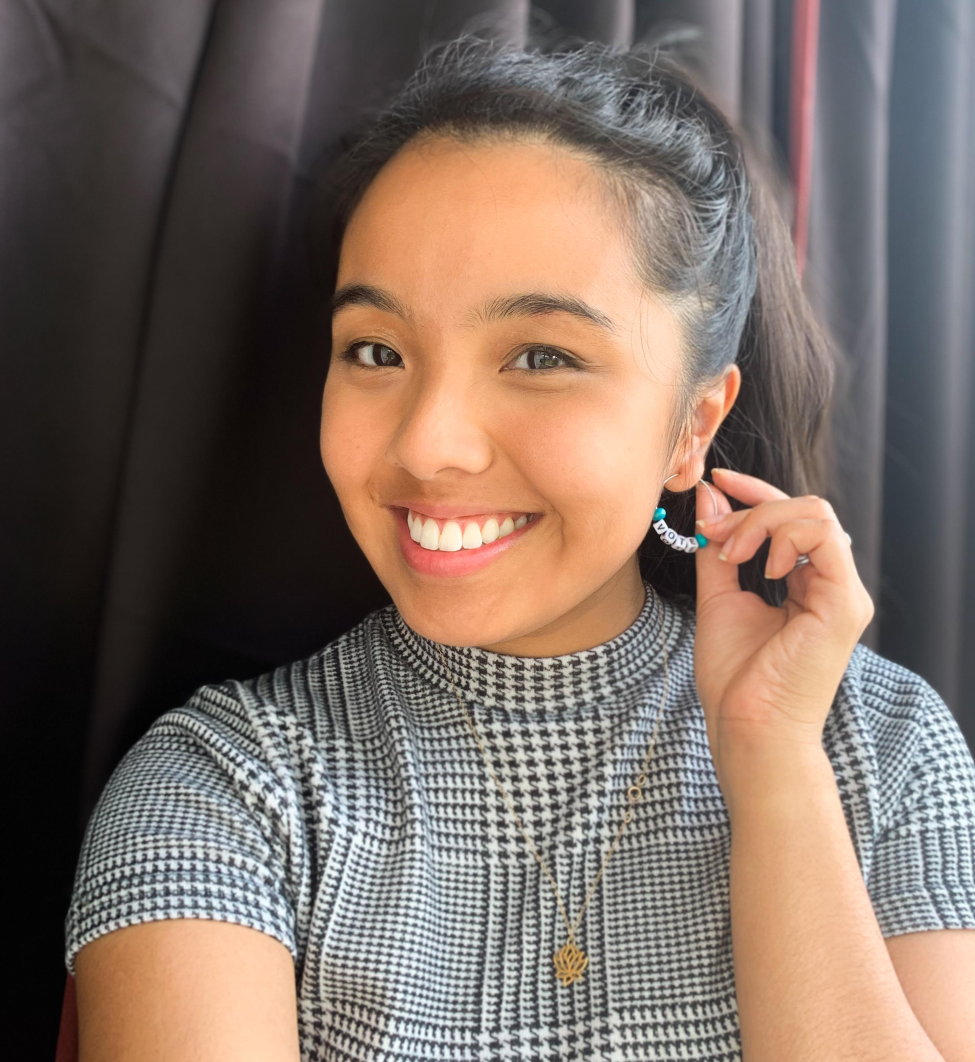 Andrea "Deya" Pajarillo, a third-year dental student at UTHealth School of Dentistry at Houston, has put a positive light on stay-at-home recommendations in response to COVID-19 by starting a home-grown business, Sew Justice Sew Peace, which supports change and equality.
In the two months since Pajarillo began Sew Justice Sew Peace, she has sold 16 embroidery hoops and 21 earrings, clearing more than $325. The proceeds have been donated and divided among 17 nonprofit organizations, such as the American Civil Liberties Union, Innocence Project, Trevor Project, Black Lives Matter, Mid-South Peace and Justice Center, Collegiate 100, Montrose Center, Multicultural Education and Counseling Through the Arts, and others.
"I may not be making a giant donation to one place, but I believe making a number of small donations sends a bigger message. If everyone puts in a little bit of effort, the load gets a lot lighter and it becomes much easier to effect change," she said.
Michael Akinyeye, a fellow dental student and Parajillo's first customer, ordered an embroidery hoop with a raised black fist that had different colors radiating. The raised fist logo symbolizes support and solidarity for the equality of Black people.
"I believe seeing this symbol should inspire change instead of being seen as a divisive symbol," Akinyeye said. "History has caused frequent injustice to Black communities, and it's important to me that we continue to highlight this fact and propose actions to fix present systemic issues."
Pajarillo doesn't only focus on racial injustice. She creates items in support of other communities, such as LGBQT+, as way for them to be heard about the injustices they, too, face.
"Her business is just the tip of the iceberg of what she hopes others in the world will accomplish," said Akinyeye. "She has shown me that there are allies in our school and in the health field that are willing to speak out about difficult issues. It's important, especially during these times, to be able to find people who may not look the same as you that are willing to advocate for the change you want to see."
From start to finish, Pajarillo makes purchasing an individualized experience. When ordering an "Empowerment Embroidery Hoop," the buyer chooses the color of the fabric, embroidery floss, and their preferred image, whereas with the "Make Your Statement Earrings," the buyer selects the color of the beads and a short message, under 10 characters, to be displayed.
Upon placing the order, buyers select an organization to benefit. If they don't have one in mind, they're asked about a cause or community they're passionate about, and Parajillo then finds a reputable, local nonprofit organization that matches.
"On every order I ship out, I also include a little handwritten note that indicates how much they financially impacted the specific organization, and I always end it with, 'Keep fighting the good fight,'" Pajarillo said. "I write this phrase because a lot of people forget about the numerous systemic issues, such as racism and prejudice, and we need to be reminded that combating them is a daily struggle."
Through her business, Pajarillo has been able to connect with the Houston community and plant her own roots in a culture larger outside of UTSD.
"I just want to do all I can to support some really great causes because the fight's not over, not for a long shot," she said. "There will always be a place for people's awareness, efforts, time, and donations to go towards."
To purchase an empowerment hoop or statement earring, visit Go.uth.edu/SewJustice.