Classes of 2021 recognized at joint, in-person commencement
Published: May 24, 2021 by Kyle Rogers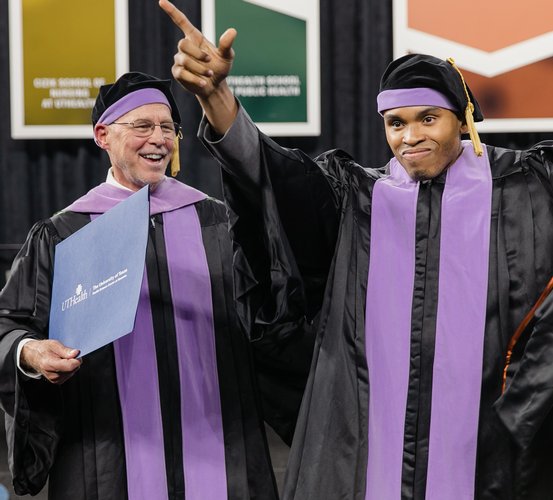 Overcoming insurmountable odds — from a historic winter freeze to the ongoing COVID-19 pandemic — the graduating Classes of 2021 from UTHealth School of Dentistry, Cizik School of Nursing at UTHealth, and UTHealth School of Public Health walked across the commencement stage May 23 at Minute Maid Park.
UTHealth School of Dentistry recognized 183 students (98 doctorate of dental surgery, 41 dental hygiene, and 44 advanced education) in its 116th commencement. In total, more than 1,000 students graduated between the three schools.
The joint, in-person ceremony saw jubilation across classmates, faculty, staff, family, friends, and special guests alike, for the opportunity to share this health care professional milestone together physically. The event was also live streamed for those unable to attend. Photos from commencement can be viewed on Flickr, and a replay of the ceremony is available at UTHealth.ConferenceContent.net.
Victor Vinh, DDS '21, sang the national anthem, and UTHealth President Giuseppe N. Colasurdo, MD, offered a welcome message and congratulatory remarks to open the ceremony. John M. Zerwas, MD, executive vice chancellor for health affairs for The University of Texas System, delivered the commencement address.
For the School of Dentistry's portion, Dean John A. Valenza, DDS '81, recalled a story a fellow alumni member recently shared about how dentistry is in the "people business" and how, just like all health care providers, dentists and dental hygienists are privileged to care for others.
"As an oral health provider, you already know that, professionally, our patients come first. While life limits what we can control, the amazing thing is that you get to decide what is most important to you when it comes to others in your life. Whether it's the big little things, or the little big things, I can assure you it will involve how you connect with people and how they connect with you," said Valenza.
As part of his remarks, Valenza shared a quote with graduates from U.S. Navy veteran and author Leo F. Buscaglia, PhD, also known as "Dr. Love," who said, "Too often we underestimate the power of a touch, a listening ear, an honest compliment, or the smallest act of caring, all of which have the potential to turn a life around."
The joint ceremony ran in a traditional format, with respective deans and Colasurdo officiating. Zerwas conferred the degrees for all schools.
To the traditional tune "Pomp and Circumstance," graduates from UTHealth School of Dentistry made their way across the stage as Associate Dean for Student and Academic Affairs Robert Spears, PhD, called their name. Alternating sides of the stage, graduates took their commencement photo with either Valenza or Associate Dean for Admissions Ralph A. Cooley, DDS.
Hooders for the ceremony were Juliana A. Barros, DDS; Amity L. Gardner, DDS; Cleverick "C.D." Johnson, DDS '86, MS; and Shalizeh "Shelly" Patel, DDS, MEd.
With limitations to the stage party, Valenza led graduates in The Dentist's Pledge and the Dental Hygiene Oath, roles traditionally handled by the respective presidents of the dental and dental hygiene alumni associations.