OMS researchers find new way to cover skin-graft donor sites
Published: July 21, 2017 by Rhonda Whitmeyer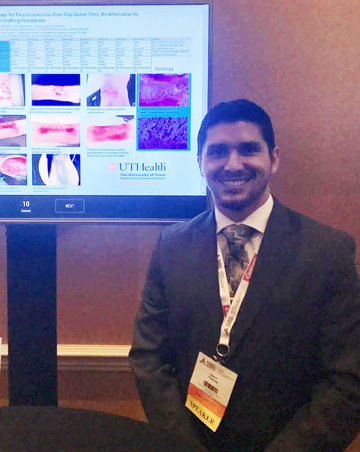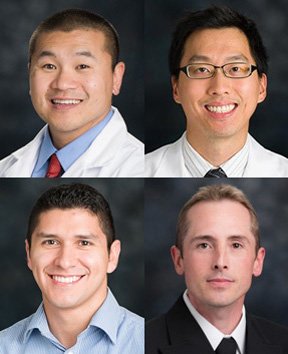 Researchers from the Department of Oral and Maxillofacial Surgery at UTHealth School of Dentistry at Houston have successfully used a novel approach to cover skin-graft donor sites with tissue grown from a urinary bladder matrix, offering an alternative to traditional grafting procedures. A report on their findings appears in the The Journal of Oral and Maxillofacial Surgery, and their research poster has won a first-place award from the Academy of General Dentistry.
Authors include Assistant Professor James Melville, DDS; Chief Resident Nicholas Bennetts, DDS, MD; third-year dental student Lauro Tijerina, and Assistant Professor Jonathan Shum, DDS, MD.
Tijerina, who worked with Melville during UTHealth's Summer Research Program in 2016, traveled to Las Vegas in mid-July for the AGD's Research Poster Competition and successfully presented "The Use of Acellular Urinary Bladder Matrix as Coverage for Fasciocutaneous Free Flap Donor Sites: An Alternative to Traditional Grafting Procedures."
For making Tijerina's trip possible, Melville thanked the School of Dentistry, Dean John Valenza, Dr. Robert Spears, Dr. Gena Tribble, Dr. Mark Wong, Auco Dang and Joe Morrow. The award includes a $1,000 prize.