IADR in London: Letra, Silva, Hecht cover genetic advances
Published: August 28, 2018 by Rhonda Whitmeyer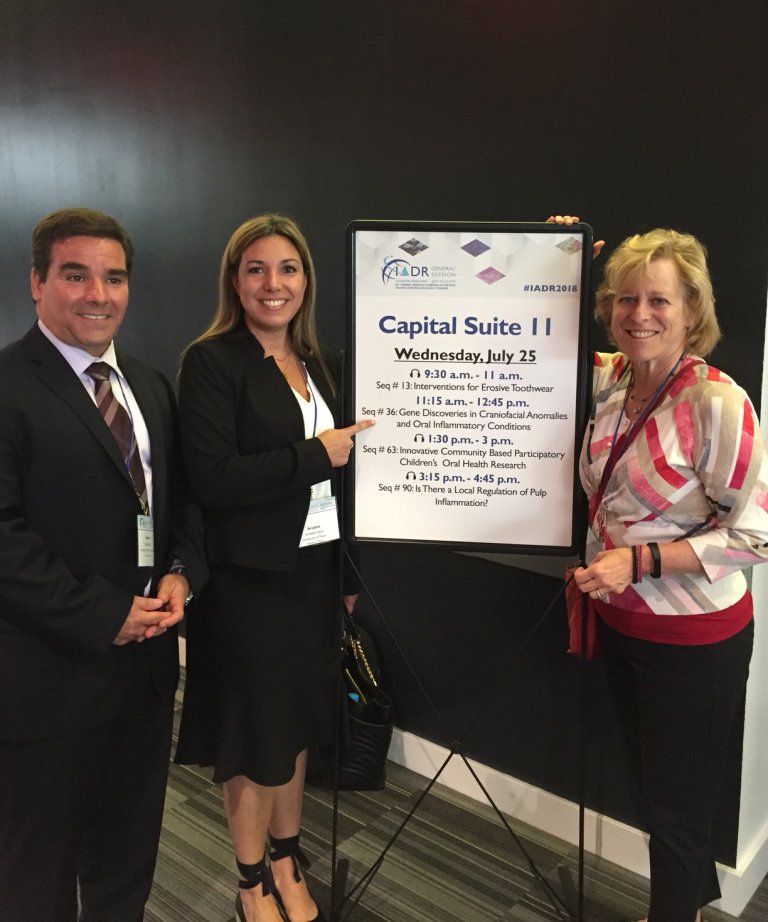 UTHealth Houston School of Dentistry Associate Professor Ariadne Letra, DDS, PhD, and a colleague at the University of Pittsburgh organized a symposium at the 2018 International Association for Dental Research General Session in London, where Letra was named president of the IADR Women in Science Network for 2018-19.
The symposium, "Highlighting Genetic Discoveries for Craniofacial Anomalies and Dental Pathologies," dealt with genetic advances in the fields of craniofacial anomalies (cleft lip/palate and tooth agenesis) and dental pathologies (caries and pulpal pathologies), with emphasis on promoting improved understanding of the etiology of these conditions.
The symposium also covered future research directions and strategies for prevention and treatment, predicting that in the near future, genetic advances will be the basis of precision dentistry and personalized treatment efforts.
"Re-thinking the Single-Gene Etiology of Human Tooth Agenesis" was Letra's presentation. Other topics covered included:
"Approaches to Finding Novel Susceptibility Genes in Nonsyndromic Cleft Lip/Palate," presented by Jacqueline Hecht, professor, associate dean for research and director of the Center for Craniofacial Research at UTHealth Houston School of Dentistry; and vice chair of the Department of Pediatrics at McGovern Medical School at UTHealth.
"Molecular Basis of Caries and Pulpal/Periapical Pathologies," presented by Renato Silva, DDS, PhD, associate professor and chair of the Department of Endodontics, UTHealth Houston School of Dentistry.
Letra's partner in organizing the symposium was Professor Alexandre Vieira of the University of Pittsburgh School of Dental Medicine.