UTSD students win awards at Hinman Student Research Symposium
Published: November 14, 2017 by Rhonda Whitmeyer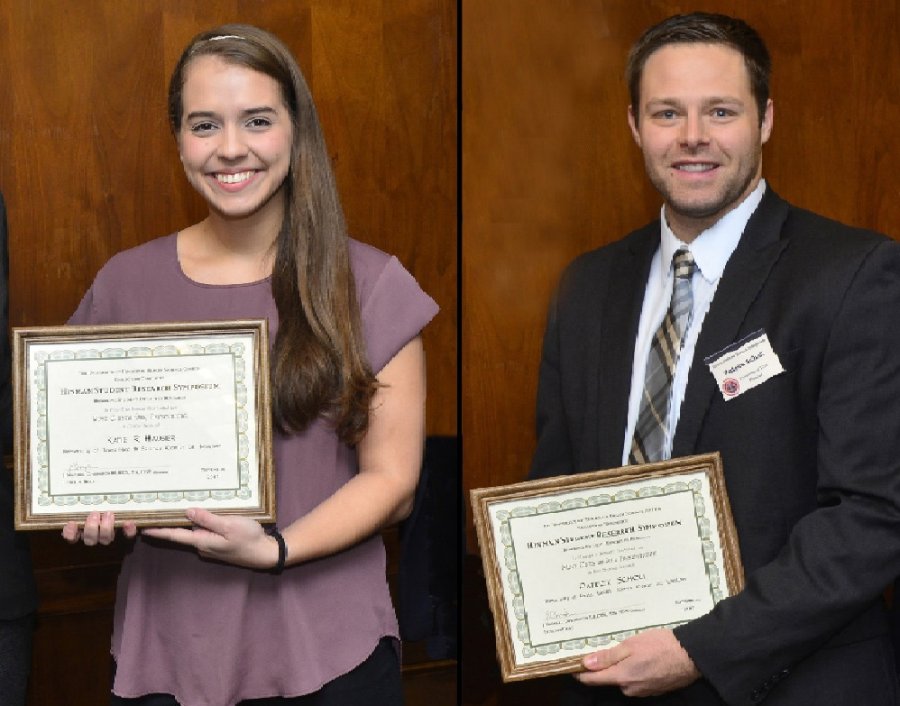 UTHealth School of Dentistry at Houston dental students Katie Hauser and Patrick Scholl won two of nine awards presented at the 23rd annual Hinman Student Research Symposium Nov. 3-5 in Memphis, Tenn.
Hauser, a first-year student, won "Most Outstanding in Clinical Research" for a family-based study on the genetic basis for non-syndromic cleft lip, with or without palate. Two genes of the Wnt signaling pathway were found to be associated with the birth defect. Assistant Professor Brett Chiquet, DDS, PhD, directed the project.
Scholl, a second-year student, won "Most Outstanding for Basic Science Research." He studied the effects of hydrogen peroxide produced by the mitis group of oral streptococcal bacteria on human gingival fibroblasts in cell culture. The bacteria induced a stress response in the fibroblasts, decreasing viability and promoting expression of immune-response genes. Assistant Professor and Basic Sciences Section Director Ransome van der Hoeven, PhD, directed the project.
UTSD students Rachel Buckley and Thuy Nhu (Leora) Truong also took part in the symposium. Assistant Professor Kurt Kasper accompanied the four students and assisted with judging oral and poster presentations at the meeting.
The symposium features oral and poster presentations of research projects by dental students and graduate trainees from dental schools across North America. This year, 94 students represented an all-time high of 60 dental schools in 33 states, the District of Columbia, and four Canadian provinces.
Eight awards are given for the most outstanding student presentations: four in clinical research and four in basic science research, plus an award from the American Association for Dental Research's National Student Research Group.
The University of Tennessee College of Dentistry and the Hinman Dental Society co-sponsored the event, with additional support from the National Institute for Dental and Craniofacial Research, the ADEAGies Foundation, the Procter & Gamble Company, the University of Tennessee College of Dentistry Alumni Association and the Tennessee Dental Association Foundation.