Spears receives UT System 2023 Regents' Outstanding Teaching Award
Published: October 11, 2023 by Kyle Rogers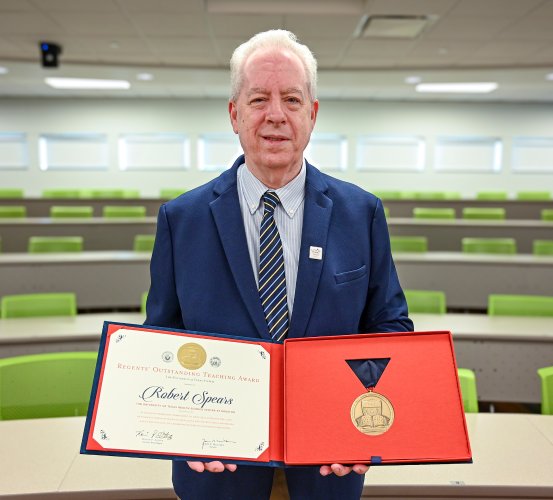 Robert D. Spears, PhD, MS, professor and associate dean for student and academic affairs at UTHealth Houston School of Dentistry, has been named a recipient of The University of Texas System 2023 Regents' Outstanding Teaching Award.
"I am deeply honored to receive this award," Spears said. "There are so many outstanding educators within UT System, and I am so humbled to have been chosen. I was raised under the belief that hard work is rewarded, and this is perfect proof. Thank you to everyone who has made this possible."
The Regents' Outstanding Teaching Awards were established in 2008 to honor exemplary classroom performance. The award focuses on a commitment to teaching and delivering excellence to the learning experience through outstanding teaching, including effectiveness, innovation, and creativity.
"UT faculty members are the most critical factor in our students' success, helping prepare Texas' future leaders, job creators, and innovators," said Board of Regents Chair Kevin Eltife. "The Board of Regents is proud to recognize their excellence through the Regents Outstanding Teaching Awards program."
Spears, as associate dean for student and academic affairs, oversees educational programs for dental hygiene, dental, and advanced education programs and provides oversight of curriculum management and assessment, admissions, and daily student life issues at the School of Dentistry.
An anatomist by training, Spears is a professor in the Department of Diagnostic and Biomedical Sciences. He teaches courses in head and neck anatomy, oral biology, and neuroscience and serves as a facilitator for the clinical applications courses.
In 2016, Spears was chosen by first- and second-year dental students as the School of Dentistry's recipient of the John H. Freeman Award for Faculty Teaching.
Prior to joining UTHealth Houston in 2015, Spears served as the director of curriculum and student research and a professor of biomedical sciences at Texas A&M School of Dentistry in Dallas. During his tenure, he was named Dental Teacher of the Year three times.
Spears is a fellow of the Harvard Macy Institute's Program for Educators, a Commission on Dental Accreditation Site reviewer, and on the Joint Commission National Dental Examination Committee.
He has served in several roles with the American Association of Dental Education, from which he received a Presidential Citation. He has also been active with the American Association of Dental, Oral, and Craniofacial Research and was recognized as the National Student Research Group Faculty Mentor of the Year.
Within UTHealth Houston, he is actively involved in interprofessional education and student wellness. He is the primary investigator for the UTHealth Houston Summer Health Professions Education Program, a national program funded by the Robert Wood Johnson Foundation.
Spears earned his master's in anatomy from Baylor University and his doctoral degree in biomedical sciences from Texas A&M Health Science Center.
Spears was among 14 recipients of the prestigious Regents' Outstanding Teaching Award and one of two honorees from UTHealth Houston. He was joined by Jennifer L. Swails, MD, associate professor in the Department of Internal Medicine at McGovern Medical School at UTHealth Houston.
"The UT presidents and I are grateful to the regents for their continued investment in this important program," said UT System Chancellor James B. Milliken. "The impact that exceptional faculty have on our students' lives, both professionally and personally, is immeasurable."
Regents' Outstanding Teaching Awards are offered in recognition of those who serve our students in an exemplary manner and as an incentive for others who aspire to such service. Nominees undergo a series of rigorous evaluations by peer faculty and external reviewers. The review panels consider a range of activities and criteria in their evaluations of a candidate's teaching performance, including classroom expertise, curricula quality, innovative course development, and student learning outcomes.
The honorees — faculty from multiple UT academic and health institutions — have been selected for demonstrating extraordinary classroom teaching performance and dedication to innovation. Each recipient will receive a medallion, a cash award of $25,000, and formal recognition by the Board of Regents at its upcoming quarterly board meeting on Nov. 20. Recipients are showcased on the UT System's ROTA website. See Spears' bio.