STAR Awards: Two from UTSD win President's Awards for Leadership
Published: April 03, 2018 by UTHealth Staff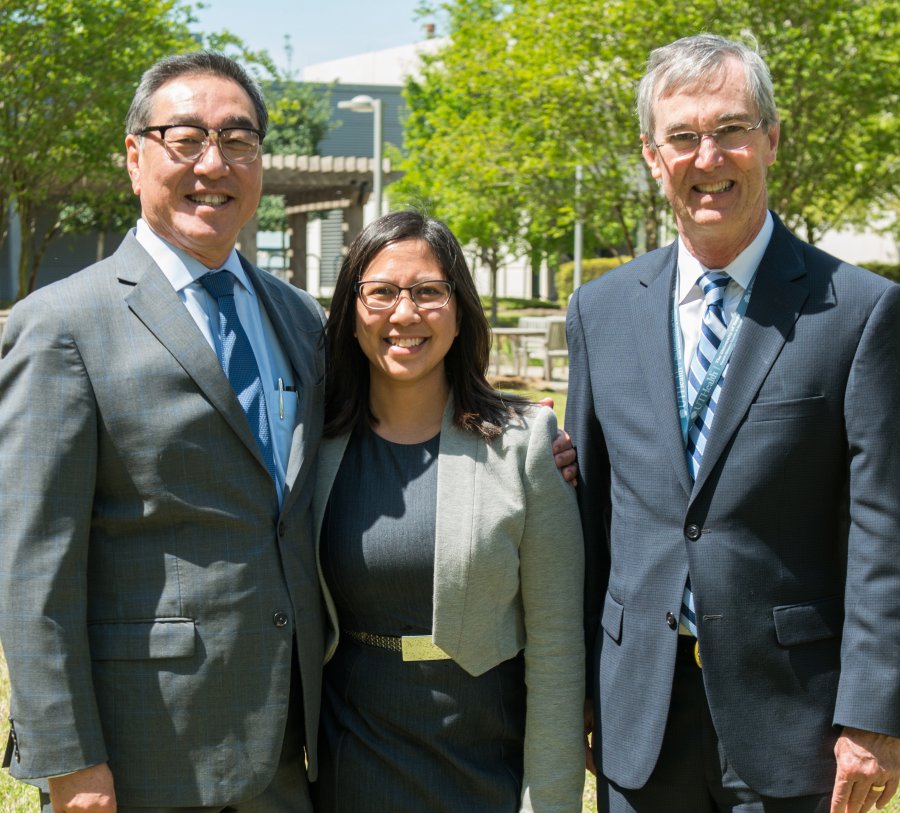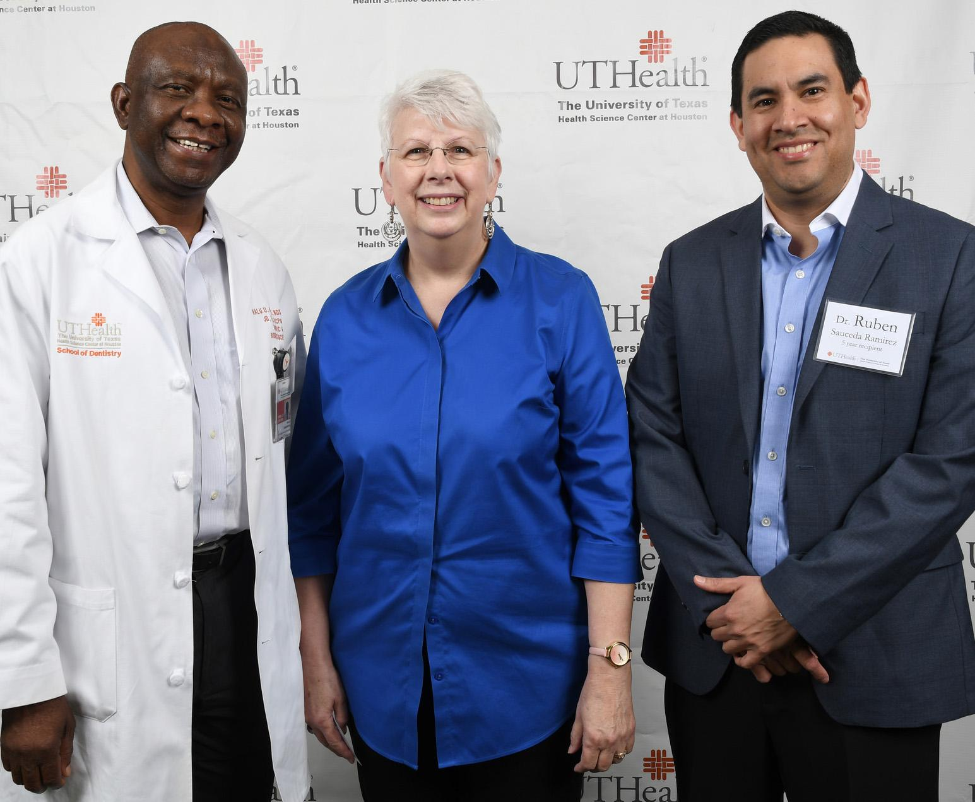 Employees of UTHealth School of Dentistry at Houston have won two of three President's Awards for Leadership presented at UTHealth's annual STAR Awards ceremonies in the Denton A. Cooley, MD and Ralph C. Cooley, DDS University Life Center.
Oral and Maxillofacial Surgery Department Chair Mark E. Wong, DDS, won the award for faculty, while Research Coordinator Auco Dang won for classified staff and Stephen Glazier of Harris County Psychiatric Center won for outstanding administrative and professional staff. The two from the School of Dentistry are profiled below.
The health science center also uses the STAR Awards ceremonies to recognize employees for length of service. Faculty and staff celebrating five, 10 and 15 years of service are invited to a reception; those with 25 to 40 years of service or more are honored with a luncheon.
The President's Awards for Leadership were established in 2006 and named for the late Michael Jimenez, a former vice president and chief human resources officer at UTHealth. They are awarded annually at the STAR Awards luncheon.
"The awards for leadership were established to honor the memory of one of our own, whom we lost too soon," said Kevin Dillon, MBA, CPA, UTHealth senior executive vice president and chief operating and financial officer.
"Michael Jimenez left a legacy of excellence that Dr. [Giuseppe] Colasurdo continues to honor. Many of us in this room today had the pleasure of knowing Mike and working with him. His leadership style was of the humble variety, the kind that inspired people to do great things on their own through his quiet example and support."
The criteria for the awards are based on qualities Jimenez embodied: the consistent demonstration of leadership through service, compassion and ethical standards.
"I wish to congratulate each of you for your steadfast service to UTHealth," said Giuseppe N. Colasurdo, MD, UTHealth president and Alkek-Williams Distinguished Chair. "Thank you for all that you do, for building this great university. We are so proud of you."
President's Award for Leadership: Outstanding Faculty
Mark E. Wong, DDS, Professor and Chair, Oral and Maxillofacial Surgery
The Dr. Bernard and Gloria P. Katz Endowed Chair in Oral and Maxillofacial Surgery
UTHealth Executive Vice President and Chief Academic Officer Michael R. Blackburn, PhD, said the overarching theme from all those who nominated Wong "was his consummate respect for his colleagues' opinions and his unwavering support behind their accomplishments.

"Several references were made to his ability to navigate difficult situations," Blackburn added. "One wrote, 'Dr. Wong manages areas of potential conflict with tact and diplomacy, pushing boundaries without standoffs, with the outcome of kindness and calm.'"
Another nominator wrote, "He leads by consensus, inspires through his own actions, sees a vision and strives for it, with one eye always on the ethical aspect of a decision and one eye on the practical."
For more than a year, Wong's image has been among those seen on buses, billboards and in television commercials for the "Many Faces of UTHealth" advertising campaign, and that was on his mind as he accepted the President's Award for Leadership.
"If this award was the result of a popular vote, I had an overwhelming advantage as a result," Wong said. "The campaign makes a very important point about leadership. I haven't seen a picture of Dr. Colasurdo, even though he paid for the initiative. Promoting others beyond self is one of the hallmarks of effective leadership and something I've tried to support in my 18 years as a department chair."
Wong recalled the words of a pundit: "The problem with being a leader is that you're never sure if you're being followed or chased."
"After 22 years in leadership, I still haven't figured that one out," he said. "But in the end, it doesn't really matter. Whatever gets you over the finish line first is what counts."
2018 President's Award for Leadership: Outstanding Classified Staff
Auco Dang, Research Coordinator II
Dillon said Dang's many nominators each cited her all-in commitment to the success of others. "She was lauded by all levels of her organization — from co-workers to leadership to faculty dependent on her knowledge, generosity of spirit and professionalism," he said.
One nominating faculty member credited Dang for "above and beyond duty" in establishing his own research program at UTHealth. After citing the explosive growth of the School of Dentistry's Student Research Program, one nominator summed it up with, "This is a result of Auco's fastidious attention to artful detail and attests to her devotion to working with students and watching their personal and academic growth."
In accepting the award, Dang expressed her deep appreciation for the honor and gratitude for her peers and colleagues, calling their leadership, dedication and hard work inspirational.
"When I started at UTHealth School of Dentistry in 2008, I could not have imagined standing here today, and I attribute it to the university's commitment to its employees," she said. "There is no shortage of opportunities to thrive, so it's no surprise that UTHealth has been ranked as one of the Top Workplaces for the past eight years. I am proud to work for such an extraordinary institution. It is a pleasure to come to work each day and to work with so many exceptional people."