Becoming healers: New dental, dental hygiene students enter the profession
Published: August 13, 2018 by Rhonda Whitmeyer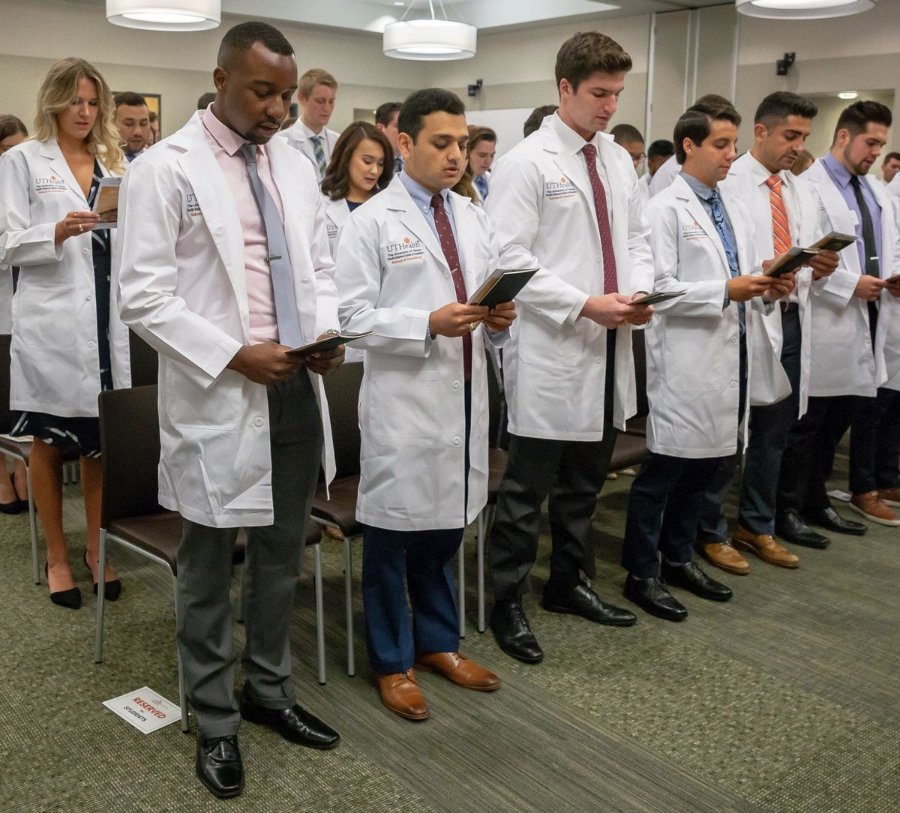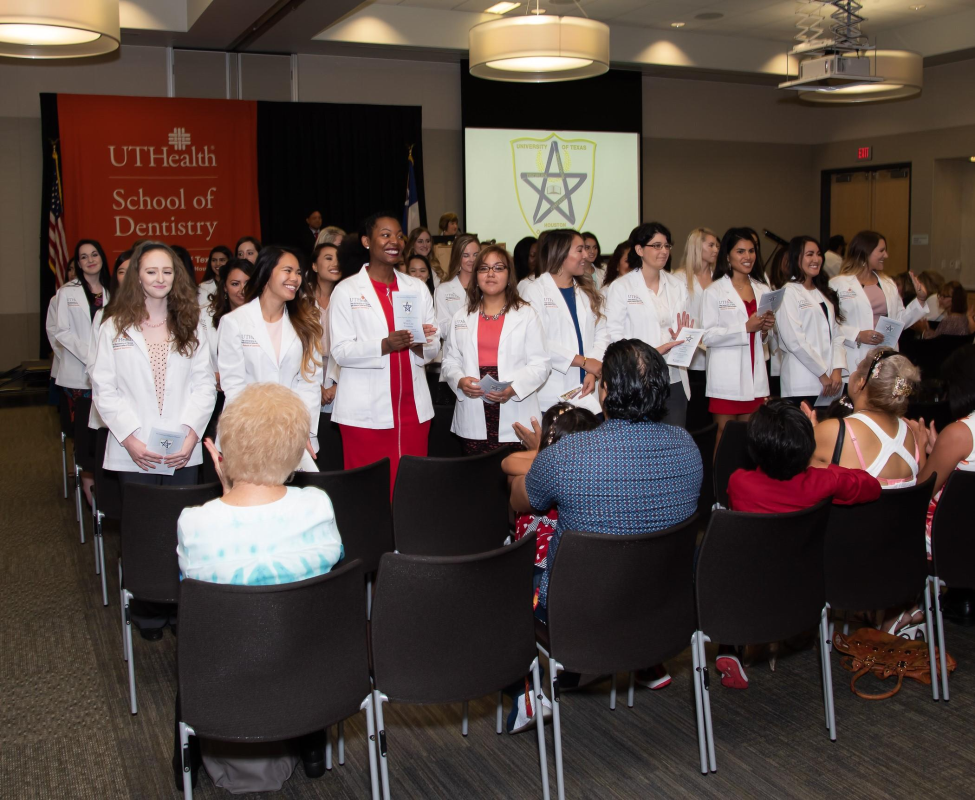 UTHealth School of Dentistry at Houston welcomed the Dental Hygiene Class of 2020 and the Dental Class of 2022 to the health care profession on Aug. 10 with separate white coat ceremonies in the Denton A. Cooley, MD and Ralph C. Cooley, DDS University Life Center, ending a week of new student orientation in a memory-making way.
Both ceremonies were streamed live on Facebook and are now posted on YouTube. Photos are posted at Go.uth.edu/Flickr.
Houston general dentist W. Kenneth Horwitz, DDS '61, delivered the keynote speech on ethics, then the dental students went on stage individually to don their white coats with assistance from family, friends, faculty or mentors.
Dean John Valenza, DDS '81, noted that 36 students in the 105-member Class of 2022 have relatives already working in some area of dentistry. The class also includes two brothers and one recently married couple, he said.
He encouraged the dental students to make the most of the next four years by seeking out a full range of experiences and doing more than the minimum. Earlier the same day, he encouraged the Dental Hygiene Class of 2020 to do the same.
"You're in a unique environment that most other dental hygiene students in the U.S. don't experience," he said. "Of the 25 dental hygiene programs in Texas alone, this is one of only three in the state and the only one in the Houston area that's based in a dental school."
That means increased opportunities to learn, he said, not just from outstanding dental hygiene faculty, but from dental, biomedical and other faculty and staff. "So capture all the moments you can over these next two years," he added.
The dental hygiene keynote speaker was Lorie Jones, RDH '01, BSDH '06, president of the University of Texas – Houston Dental Hygienists' Alumni Association, which sponsored the ceremony.
"As you walk across the stage today, to receive your white coats, your journey into dental hygiene will begin," said Jones. "The white coat ceremony symbolizes your transition from a lay person into a health care professional."
Sixty years after her own graduation, alumna Wanda Johnson Stanzel, RDH '58 led the group in reciting the Dental Hygiene Oath before the students joined their guests at the reception.
Sponsors of the DDS White Coat Ceremony include the UTSD Alumni Association, UTSD Family and Friends Association, Greater Houston Dental Society, Texas Dental Association, Texas Academy of General Dentistry and the American College of Dentists.