Volunteers from all six schools show up for 'UTHealth Cares'
Published: February 13, 2018 by Rhonda Whitmeyer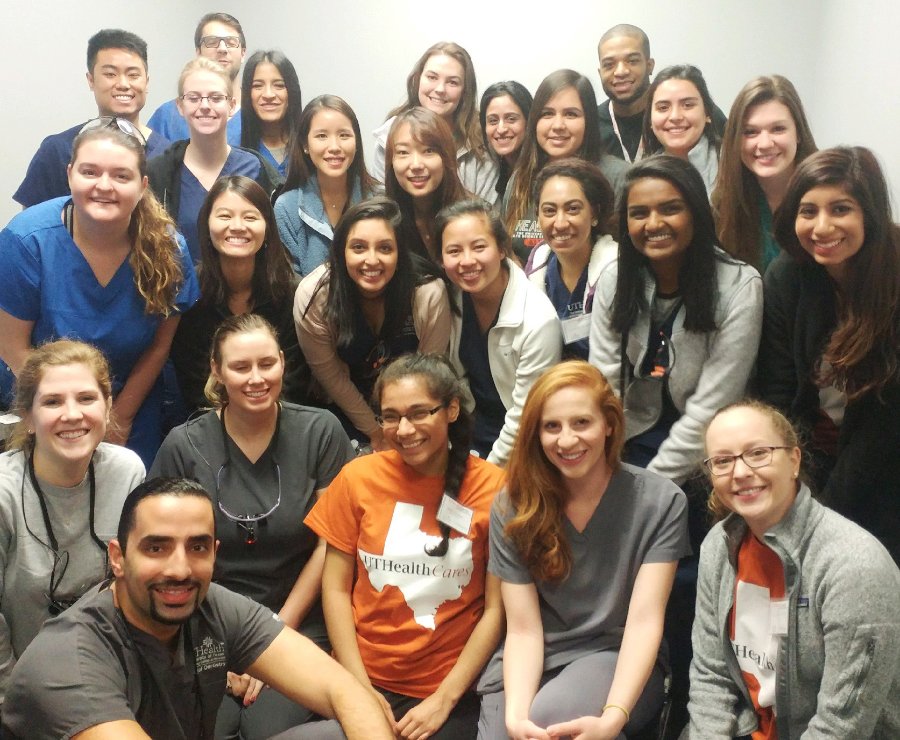 Students and faculty from all six UTHealth schools joined forces on Feb. 3 for "UTHealth Cares," a health fair for Houston's underserved populations. The event was held at UT Physicians' Jensen location downtown.
Thirty-five students and Drs. Kimberly Ruona and Sudarat Kiat-amnuay from the School of Dentistry screened children and adults and provided oral hygiene education and kits with toothbrushes, toothpastes, floss and dental resources. The health fair offered multiple stations where visitors could get their vital signs and get a free stroke assessment, vision assessment, nutrition information, financial advising, and more.
UTSD volunteers included dental hygiene students Alysha Bhanji, Nallely De Los Reyes, Xiomara Galarza, Chris Grimes, Stephanie Gulick, Sehar Khawaja, Maddy McDonald, Michelle Nunez, Hannah Ramey and Jennie Vo. Dental student volunteers were Casandra Barnes, Shreena Bhakta, Ingrid Chen, Jean Chien, Bhavya Gurugunti, Kelley Joo, Anamika Khosla, Yuhong Lin, Andrew Mai, Christine Pham, Jessica Pham, Lejla Zoronjic, Brooke Hawkins, Grant Marcantel, Sarah Suki, Rana Shammas, Erica Trammell, Selina Garces, April Kwan, Suneil Tandon, Whitney Vrazel, Chelsea Wehr, Ibrahim Zanayed, Emily Creighton and Katherine Price.
Shammas, a third-year dental student, and senior dental hygiene student Hannah Ramey served as UTSD student representatives.
"This event was different from others I've participated in," Shammas said. "I was able to screen patients from an underserved community and interact with professionals from other UTHealth schools. It was a great event bringing all of us together, and I'm very thankful for having the opportunity to help plan it with other leaders from UTHealth schools."
Ramey said she was excited about the opportunity to collaborate with the other UTHealth schools. "Although this was our first time collaborating in this health fair," she said, "I honestly believe that UTHealth Cares is the beginning of a truly dynamic event in years to come."