National Academy of Medicine seeks art from clinicians
Published: February 07, 2018 by Rhonda Whitmeyer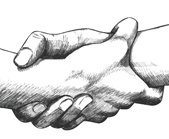 The National Academy of Medicine is calling on artists of all skills and abilities for a nationwide community art project. Use any art form to show us what clinician burnout, clinician well-being and clinician resilience mean to you. Visual and nonvisual art, such as music and creative writing, are welcome.
Submit your entry by Friday, Feb. 16 to nam.edu/ExpressClinicianWellBeing, which is also the site for more information. Your art could be featured in a permanent online gallery and/or an in-person show hosted by the National Academy of Medicine in May 2018.
The well-being of our clinicians impacts everyone. This art show will promote greater awareness and understanding of barriers to clinician well-being, while offering solutions that promise a brighter future. Whether it's a depiction of how you de-stress from a busy day, how you feel when taking care of patients, or a picture of your favorite clinician, show us: What does clinician well-being look, feel and sound like to you?