18th Annual Give Kids A Smile serves 135 Houston community children
Published: February 28, 2022 by Kyle Rogers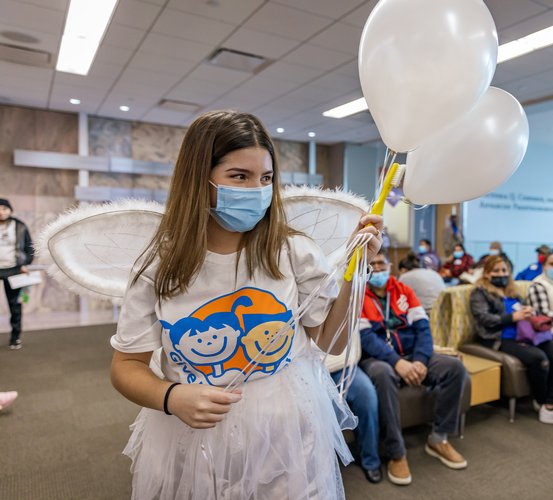 Give Kids A Smile returned to UTHealth Houston School of Dentistry on Feb. 25, as fourth-year dental and second-year dental hygiene students provided 1,009 procedures and an estimated $53,726 value of free care to 135 uninsured, underserved children from the Houston community.
"This is our first Give Kids A Smile since 2019 because of the ongoing COVID-19 pandemic, and all at UTHealth Houston School of Dentistry were excited to bring this event back," said Margo Melchor, RDH, EdD, community outreach director. "It's such a rewarding experience for our students to know the impact this care will have on the quality of life for a child and ease it will bring that child's parents in knowing that the preventive and urgent care will be addressed without a cost to them."
The theme for the 18th annual event was "Sealants Make Sense." With a scaled-down focus on prevention, children in need received a teeth cleaning, fluoride treatment, and sealant application to help protect against cavities.
The event also featured a visit from the tooth fairy, who posed for photos and handed out balloons to participants, and coincided with Go Texan Day.
The children in need were identified by community partners, Communities in Schools-Houston and San Jose Clinic. A pre-screening event took place at San Jose Clinic in January.
Participants ranged in age from 5-18 years old. For some children, Give Kids A Smile marked their first dental visit.
"Prevention and taking care of this vulnerable population is important to me," said Associate Professor Brett T. Chiquet, DDS, PhD, a pediatric dentist. "Events like Give Kids A Smile spotlight the School of Dentistry and increase the access of care to patients from our community that might not have other means to receive care."
At the end of their visit, children received goodie bags containing a free toothbrush, tooth paste, and floss, as well as information on healthy teeth and how to find a dental home at UTHealth School of Dentistry or a community clinic.
The School of Dentistry has worked to provide this annual event since 2003, when the American Dental Association Foundation launched the Give Kids A Smile® program nationally as a way for dentists to join with other oral health professionals in their communities to provide dental services to children in need.
Support and volunteerism for the event was provided by Delta Dental Community Care Foundation. Pre-dental students from the University of Houston also volunteered, serving as escorts for the children and their guardians.
The 2020 event was scheduled for Feb. 26, but was canceled the day before out of an abundance of caution due to surging COVID-19 positive case in Houston. Due to the late notice of the cancellation, 35 children arrived at the dental school having not seen the notification and received limited care.