ICD Mosaic Project volunteers help vulnerable patients
Published: July 18, 2017 by Rhonda Whitmeyer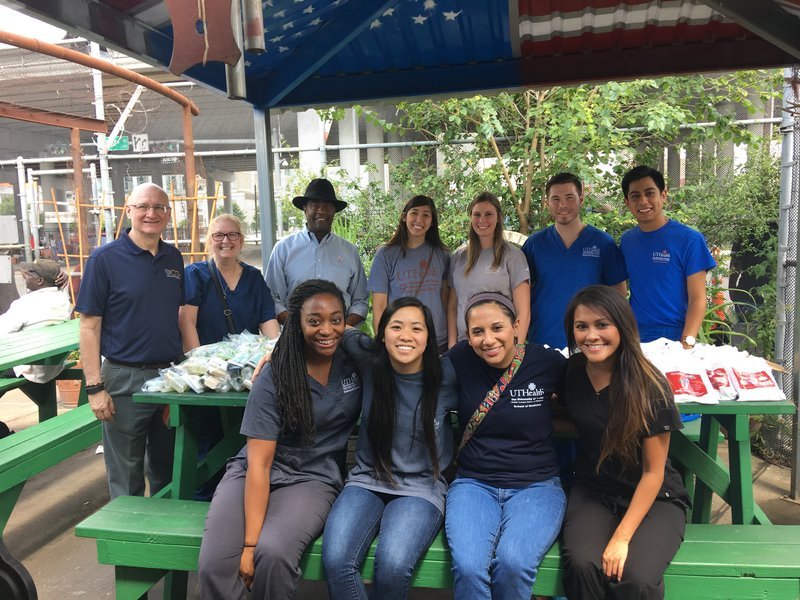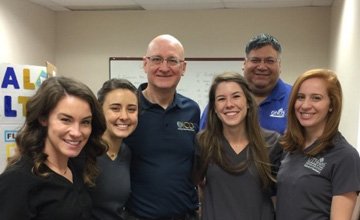 The International College of Dentists' Mosaic Project consists of ICD Fellows, UTHealth School of Dentistry at Houston students, alumni and faculty, and members of the Greater Houston Dental Society, American Academy of Developmental Medicine and Dentistry, and Houston Academy of General Dentistry working together to care for vulnerable patients, including veterans, the homeless and people with disabilities.
ICD Fellows joined dental students, faculty and alumni of UTHealth School of Dentistry at Houston and other Mosaic partners on June 10 to distribute toothbrushes, toothpaste and floss, provide oral hygiene instructions and offer oral screenings at two Houston locations, Loaves and Fishes and Camp Hope. More than 240 people were seen, and eight veterans were referred for care at the School of Dentistry.
Drs. Gary Frey, Ben Warner, Joe Mike Piazza, David Fray and Stephen Laman were instrumental in organizing these events and arranging for the veterans to be seen at the school. Drs. Ben Warner, Victor Rodriguez, Kathy Gibson and Tommy Harrison directed the patient screenings done by UTSD students Selina Garces, Raven Grant, Christine Nguyen, Alexandra McCallum, Chelsea Wehr, Mathew O'Neil, Andrew Martinez, Amy La, Jade Blair, Amanda Adams and Rana Shammas. Katie Richardson coordinated the students.