2018 Dean's Excellence Awards
Honoring innovation, achievement, dedication
Published: July 30, 2018 by Rhonda Whitmeyer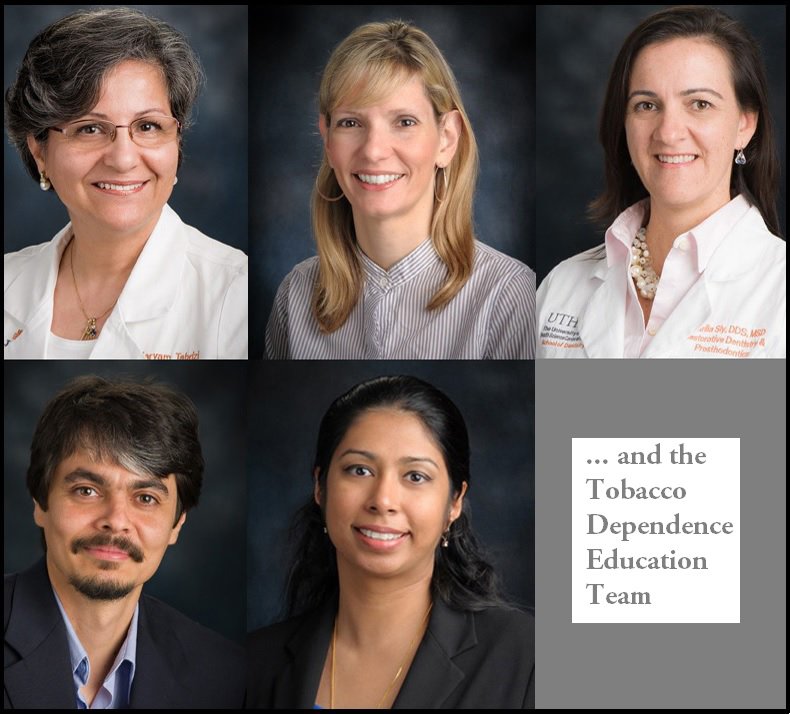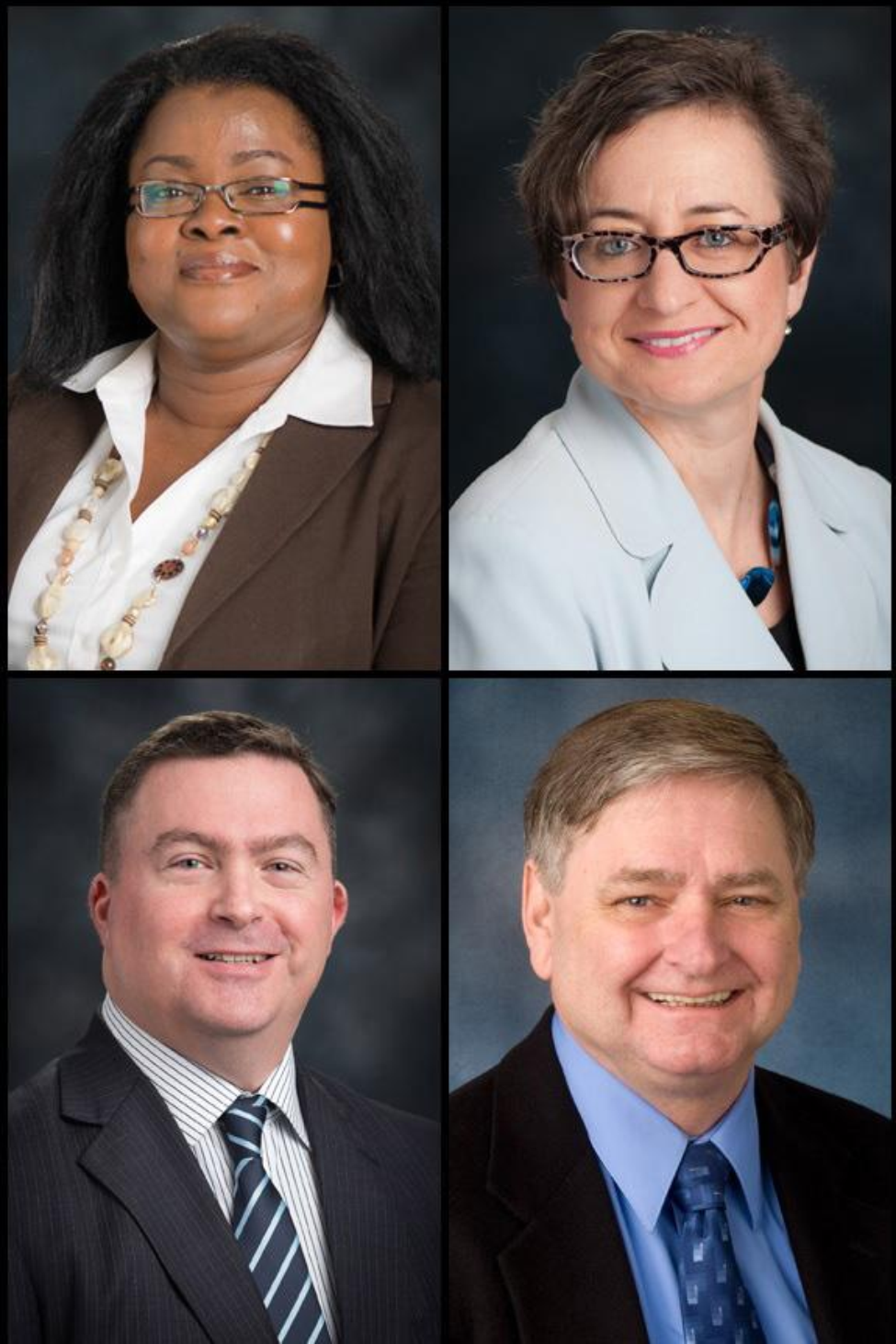 Nine faculty and staff members of UTHealth School of Dentistry at Houston have been honored with Dean's Excellence Awards for 2018 and membership in the Dean's Academy of Distinguished Teaching Scholars. Dean John A. Valenza, DDS presented the awards at the school's annual faculty retreat earlier this year.
Winners include Drs. Maryam Tabrizi, Ana Neumann, Marilia Sly, and Dharini and Ransome van der Hoeven, plus the Tobacco Dependence Education Team comprised of Drs. Ngozi Nwizu, Richard Halpin and Charles Streckfus, with Victoria Patrounova, RDH, MHA.
Dean's Excellence Award in the Scholarship of Application
Maryam Tabrizi, DMD, MPH
Tabrizi developed the first geriatrics manual and supporting materials currently being used as a resource for student clinical rotations in geriatrics, and she delivers weekly lectures related to students' assigned visits to local retirement communities. She teaches continuing education courses and in May delivered a presentation on geriatric dentistry at a conference in Rome, Italy. She mentored students who won first prize in scientific poster competitions and she found time to work individually with students on the front lines of care; for example, helping a graduating dental student complete a maxillary full denture for an elderly woman who was in the early stages of Alzheimer's disease, with little communication and very strong gag reflexes.
Dean's Excellence Award in the Scholarship of Integration
Ana Neumann, DDS, MPH, PhD
Neumann collaborated with UTHealth School of Public Health to develop dual-degree DDS/MPH and BSDH/MPH programs that are the first of their kind in Texas. She directs undergraduate and graduate level courses at the School of Dentistry and was part of a team charged with developing an introductory, graduate-level training course in biostatistics and critical thinking for interdisciplinary use in all UTHealth Houston schools. She consistently presents her projects locally and nationally and has held leadership roles within the ADEA section on dental informatics. She is a primary author of a textbook on head and neck cancer, and her recent article, "Evaluating Quality of Care Among People with Diabetes," appeared on the cover of the September 2017 Journal of the American Dental Association. Neumann is co-investigator for an NIDCR grant and mentors students through both the Albert Schweitzer Fellowship and the School of Dentistry's Student Research Program. She also mentors junior faculty.
Dean's Excellence Award in the Scholarship of Integration
Dharini van der Hoeven, MSc, PhD
Ransome V. van der Hoeven, PhD
The van der Hoevens were nominated together because "they are equally dedicated and contributed to integration of basic and clinical science curricula" at the School of Dentistry, "and they have worked as a team to achieve this goal," the nominators wrote. The van der Hoevens co-authored a peer-reviewed publication in the Journal of Dental Education, co-presented educational programs and a poster at four consecutive ADEA annual sessions, and presented seminars for the Center for Teaching and Learning. Both have continued scholarly activities — publishing multiple articles, abstracts, and making presentations — while assuming extra responsibility related to an upcoming accreditation survey. They direct four courses each and contribute to the other's courses. While instrumental in the design of eight courses, the van der Hoevens were commended for three in particular: "Biomedical Science Core" and "Human Biology," directed by Ransome, and "Clinical Applications II" directed by Dharini. The nominators described the courses as "embodiments of integrated education" that "are interdisciplinary and break the siloed boundaries of education. Each course involves nine to 22 faculty contributors, both basic scientists and clinicians." Additionally, both van der Hoevens mentored DDS students, residents and undergraduates who won numerous local and national awards in research.
Dean's Excellence Award in the Scholarship of Teaching
Marilia Sly, DDS, MSD
Among many other accomplishments, Sly worked with collaborators to create three new educational modules for the Summer Health Professions Education Program for pre-health college students. She shared her expertise in digital dentistry nationally and locally and demonstrated a dedication to improving her teaching skills through participation in the UTHealth Health Educators Fellowship Program.
"In summary, Dr. Sly is clearly committed to teaching, both in investigating innovative methods of learning/assessment, as well as growing herself as an educator," her nominator wrote.
Dean's Excellence Award in the Scholarship of Teaching
Tobacco Dependence Education Team
Ngozi N. Nwizu, BDS, MMSc, PhD
Victoria V. Patrounova, RDH, MHA
Richard Halpin, EdD
Charles F. Streckfus, DDS, MA
With funding from a Dean's Academy Small Grant Award for Research, the group evaluated the effectiveness of the School of Dentistry's curriculum content on tobacco dependence education, then used those findings to develop an online, self-paced module for teaching tobacco cessation. The module is interactive, video-based, and was developed using best practices in the field.
The school now uses it as a tool for teaching dental and dental hygiene students about tobacco dependence education. The module also can be used as a self-assessment or training tool for dental faculty and clinicians.
The Tobacco Dependence Education Team has created opportunities for strengthening tobacco dependence educational programs across disciplines, while also fostering student and faculty mentorship. The group presented their work at various state and national conferences, where it was well received by dental and allied dental faculty who teach tobacco cessation.
About the Dean's Academy of Distinguished Teaching Scholars
Winning a Dean's Excellence Award means membership in the Dean's Academy of Distinguished Teaching Scholars. The academy is a sort of "honor roll" for faculty members who have distinguished themselves in teaching, collaboration, research, or community outreach.
Candidates are nominated by department chairs or fellow faculty members. If accepted, new members are admitted for five-year terms, but may be admitted again in different categories, extending their membership. Candidates accepted to The University of Texas Kenneth I. Shine, MD Academy of Health Science Education automatically become members of the Dean's Academy at the School of Dentistry.