State's top awards in dental hygiene go to UTSD Houston
Published: February 13, 2018 by Rhonda Whitmeyer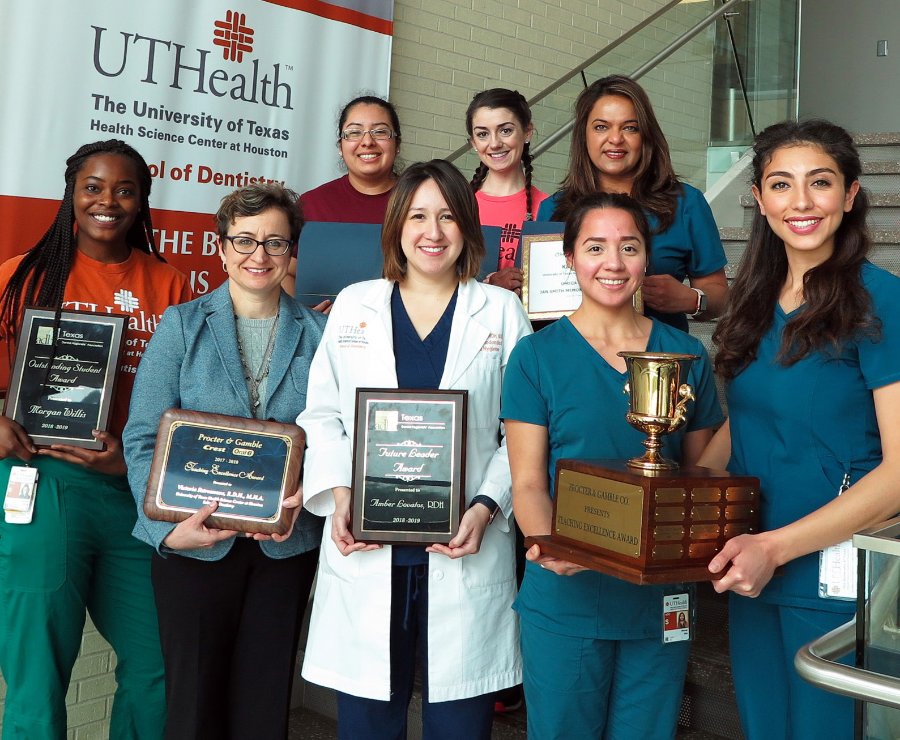 UTHealth School of Dentistry at Houston's dental hygiene students and faculty again swept top awards at the Texas Dental Hygienists' Association's 2018 conference in Frisco, with Morgan Willis named Outstanding Student, Associate Professor Victoria Patrounova, RDH, awarded the Procter & Gamble/Crest OralB Teaching Excellence Award, and Clinical Assistant Professor Amber Lovatos, RDH, honored with the Future Leader Award.
Four of six scholarships presented at the conference went to UTSD students, with Cristal Aldana-Lopez and Hannah Ramey receiving Carus Dental scholarships; Shelby Burdoin, the Texas Dental Placement Network scholarship, and Karen D'Mello, the Omega Seminars Award.
Willis is the ninth student and Patrounova is the fifth faculty member from UTSD Houston to win the TDHA's top awards. Lovatos will also serve as a delegate to the American Dental Hygiene Association.
UTSD's first-year dental hygiene students, represented in the photo by Wendy Villa and Rosanna Mehrinfar, won second place in the TDHA annual fashion show, where costumes must be made entirely of dental products and presented along with a script.