Rodriguez, Pham named 2018-19 Albert Schweitzer Fellows
First dental, dental hygiene collaboration on same ASF project
Published: July 27, 2018 by Rhonda Whitmeyer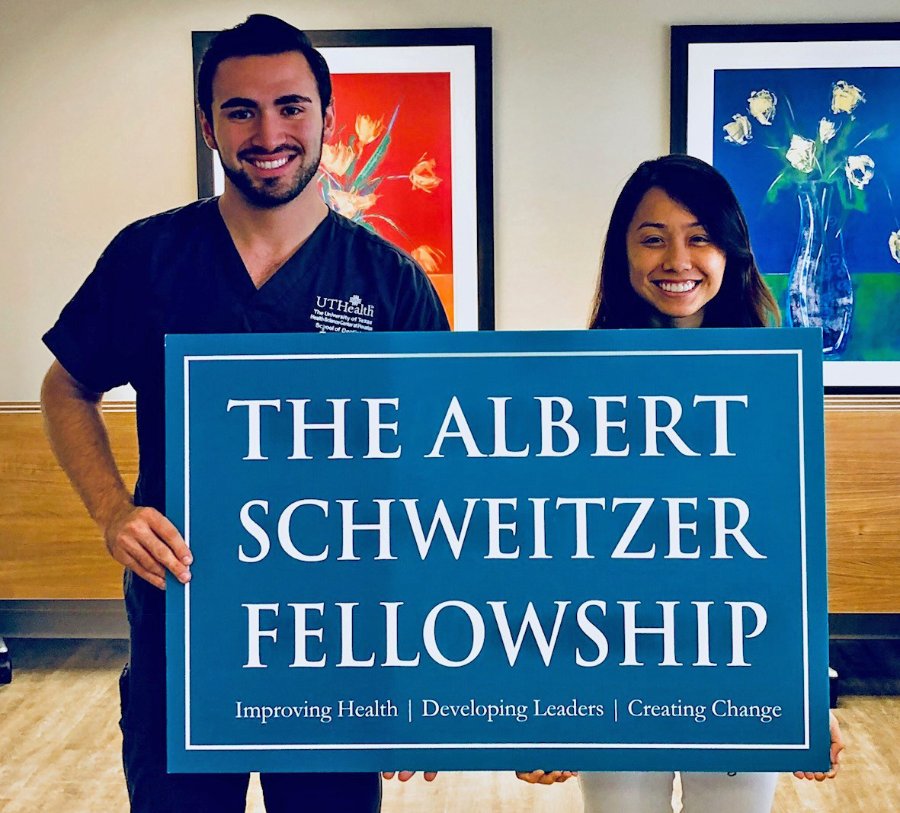 The Albert Schweitzer Fellowship Houston Galveston has named two UTHealth School of Dentistry at Houston students as fellows for 2018-19. Dental student Nick Rodriguez and dental hygiene student Lac Hong Pham will commit 200 hours to a year-long effort to promote oral health in TIRR Memorial Hermann patients with spinal cord injuries.
UTHealth Houston Director of Dental Public Health Ana Neumann, DDS, PhD will serve as faculty advisor for Rodriguez, with Associate Professor Victoria Patrounova, RDH, MHA advising Pham.
"One novel aspect of this year's Schweitzer fellows is that it is an interprofessional collaboration and it's also the first time we've had a dental student and dental hygiene student working on the same project," Neumann said.
TIRR Occupational Therapist Haley Smith "has been essential for the success of the project," Neumann added.
Rodriguez and Pham are among approximately 300 other 2018-19 Schweitzer Fellows from 15 program sites throughout the U.S. who will be partnering with local community-based organizations to develop and implement mentored service projects that improve the health and well-being of underserved people. The fellowship also provides mentoring to develop lifelong service leadership skills while advancing famed physician-humanitarian Albert Schweitzer's message of service.
Gabrielle Hansen, PhD, executive director of Albert Schweitzer Fellowship Houston Galveston, said the 2018-19 cohort is the organization's largest group ever, representing an even broader selection of schools, disciplines and areas of study than in previous years.
"The projects they're about to develop and launch this year build on the wonderful work of previous fellows and also introduce new partner agencies," she said. "I'm very excited to watch them grow as emerging health leaders with a heart for service, and to see the important contributions they will make in our communities in need."
The U.S. Schweitzer Fellows Program was established in 1992 to address health disparities. Each fellow commits to 200 hours of service work during the fellowship year in partnership with a local nonprofit agency, where they develop and implement a sustainable project that provides a minimum of 100 hours of direct service for the target group. Mentors help the fellows develop leadership qualities they will need as emerging professionals addressing social determinants of health throughout their careers.
Upon completion of their year, the 2018-19 Houston-Galveston Schweitzer Fellows will become Fellows for Life and join a vibrant network of Schweitzer alumni who are skilled in and committed to addressing the health needs of underserved people.