Morris honored nationally for excellence in dental hygiene
Published: July 14, 2017 by Rhonda Whitmeyer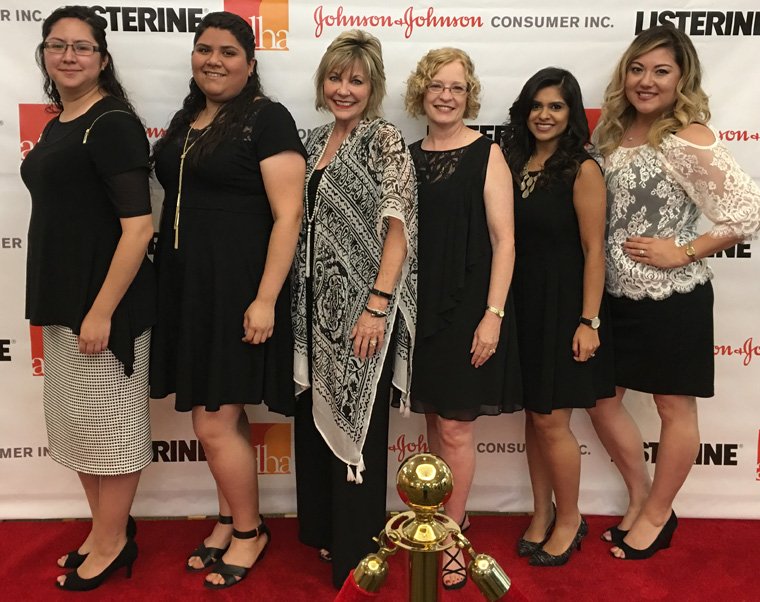 The American Dental Hygienists' Association has presented a 2017 Excellence in Dental Hygiene Award to Professor Donna Warren Morris, RDH, MEd, director of the Dental Hygiene Program at UTHealth School of Dentistry at Houston. The honor included a plaque, cash award and recognition in June at the association's annual meeting in Florida.
Harold Henson, RDH, MEd, PhD, associate professor and director of the Center for Teaching and Learning at the School of Dentistry, nominated Morris for the prestigious award, which recognizes an active ADHA member for "leadership in advancing the dental hygiene experience (and) … outstanding accomplishments that have a simple impact on the practice and future of the dental hygiene profession."
In accepting the award, Morris thanked Henson (a longtime colleague and former student) for the honor of the nomination and expressed gratitude to the ADHA. "This award is so affirming to me as an educator, to be recognized within the profession of dental hygiene that has given me so many wonderful, lucrative and fulfilling opportunities," she said. "Mentoring both students and faculty has been and continues to be the most rewarding aspect of my four-decade career."
Morris also thanked Johnson & Johnson for supporting the award and the profession through the company's support of the ADHA.
Others from UTSD who joined Morris in Florida were Assistant Professor Ruth Conn, RDH, MSDH, and four dental hygiene Class of 2017 graduates: Miriam Hernandez, Alicia Lovatos, Shazia Rajani and Jennifer Markey. The former students presented their table clinic, "The Right to Remain Caries Free: Arresting Decay with Silver Diamine Fluoride," and Conn presented a poster: "Comparison of Two Manual Toothbrushes in Effectiveness of Plaque Removal: A Pilot Study."