UTHealth schools host 80 students participating in Summer Health Professions Education Program
Published: July 21, 2017 by Rhonda Whitmeyer and Mallory LaSalvia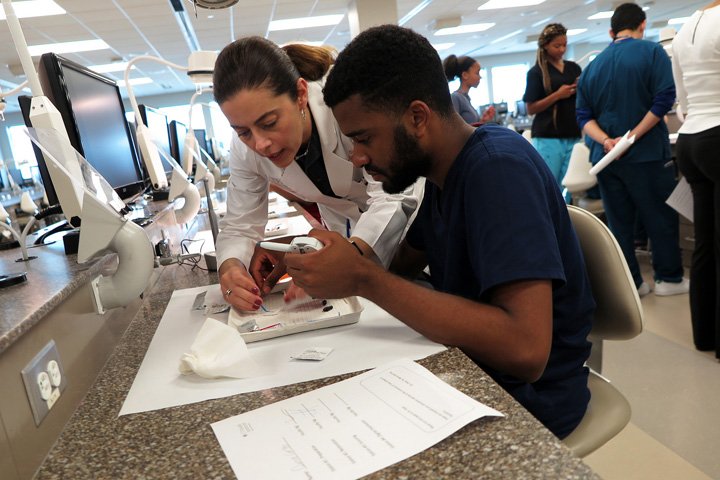 Eighty college students are back home now after spending six weeks at The University of Texas Health Science Center at Houston (UTHealth) learning about health careers, courtesy of the Summer Health Professions Education Program sponsored by the Robert Woods Johnson Foundation.
UTHealth School of Dentistry, School of Public Health, School of Nursing and McGovern Medical School all participated this year as the program expanded to include nursing, public health, pharmacy and osteopathic medicine, in addition to dentistry and medicine. The students arrived in late May and finished up in late June.
The program began in 1989 as the "Minority Medical Education Program" and was renamed "Summer Medical and Dental Education Program" in 2006 when dentistry was added. In 2016, the name changed again with the inclusion of more health professions. UTHealth Houston is one of 13 sites where the program is offered.
SHPEP focuses on basic sciences, academic enrichment and professional development. The students live in Rice University dormitories and walk or ride the shuttle to UTHealth schools to learn about financial literacy, study skills, leadership skills and practices specific to their intended professions. SHPEP's goal is to encourage students from groups underrepresented in the health professions to consider and achieve professional careers.
For Texas Tech University student Elaine Vu, who was already thinking about studying dentistry, the six weeks she spent in Houston with SHPEP made an abstract idea come to life.
"I've definitely received a more hands-on experience with dentistry," she said. "I've gotten to try suturing, we went to the lab and did digital impressions, and I got to shadow dental students. I've shadowed dentists before, but this was really cool, actually seeing other dental students learn."
Karla Corona, a Texas A&M student from San Antonio who is interested in medicine, said she particularly liked the interprofessional aspects of the program. SHPEP gave her "a better understanding of health care in general and all the people that make it happen," she said, "that it's not just a doctor and the patient."
Across UTHealth, more than 100 faculty members and nearly a dozen students volunteered to help with the program, led by Principle Investigator Karen Novak, DDS, MS, PhD of the School of Dentistry; Pedro Mancias, MD, McGovern Medical School; Deborah Jones, RN, MS, PhD, School of Nursing; and Janelle Rios, PhD, School of Public Health.
For more information about SHPEP, contact Program Manager Nicole Chapman or visit www.shpep.org.