Medical Camp in Jasper gets free dental, oral disease screenings by UTHealth faculty
Published: June 14, 2018 by Rhonda Whitmeyer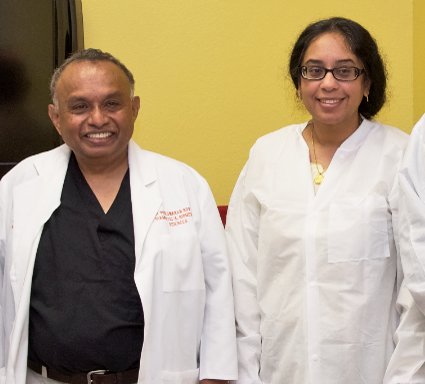 Two UTHealth Houston School of Dentistry faculty members traveled to the East Texas town of Jasper in June to participate in the town's annual Medical Camp, sponsored by Harvest Church, Jasper Evening Lions, Houston Sai Group, the School of Dentistry and other community partners.
Professor Nadarajah Vigneswaran, BDS, DMD, and Associate Professor Gargi Mukherji, DDS, provided free dental and oral disease screenings, plus goodie bags with oral hygiene products and information about the School of Dentistry and other community resources. More than 200 people from the community and surrounding counties attended the event.
The Medical Camp also offered free physician consultations, diabetes foot exams, lab tests, hearing and vision screenings, and more.