Heroes of Harvey: Dugas, Guillory on campus five days straight
Published: September 08, 2017 by Rhonda Whitmeyer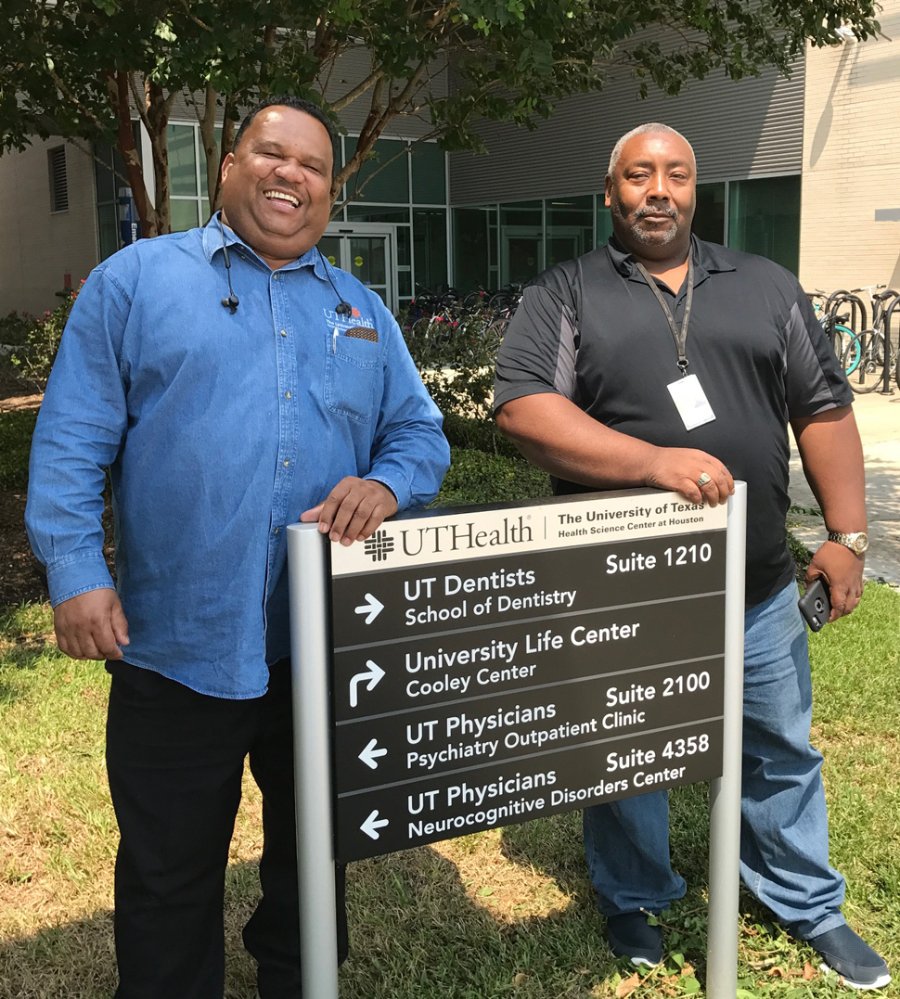 As essential personnel at UTHealth, Maintenance Leader Phillip Dugas and Electrician Perry Guillory stayed at work for five days, riding out Hurricane Harvey's extended visit to Houston. From the morning of Saturday, Aug. 26, until the afternoon of Wednesday, Aug. 30, Dugas watched over UTHealth School of Dentistry while Guillory did the same for the Behavioral and Biomedical Sciences Building (BBSB). They both watched over The Denton A. Cooley, MD and Ralph C. Cooley, DDS University Life Center and the central power plant.
Every few hours, they walked through the buildings, looking for leaks and cracked windows, checking the generators — even going into the tunnel between buildings to look for water. They also checked the roof. "There's lots of exhaust vents up there," Dugas said. "If a cover blows off we will get water inside."
Guillory nodded. "If something blows off the roof, you want to know," he said.
The TV signal went out early, but the buildings never lost power or needed generators. Cambridge Street, Bertner Avenue and Old Spanish Trail flooded; East Road and the RPC Lot did not. "We were basically our own little island right here for two days," Dugas said.
Floodwater from Cambridge Street rose halfway up the loading dock at the School of Dentistry, he said, and wind-driven rain seeped in under a door on the east end. The school was otherwise undamaged.
At the BBSB, Guillory said "a little water" got in the fire room, under Stairwell 1, and around a door. Water also pooled in the parking lot behind the plant and in the courtyard between the BBSB and the School of Dentistry. "That wind was blowing sideways and there were sheets of rain. It was nonstop," he said. "It's amazing how much came down."
When the water on Cambridge receded and they could get out, Dugas and Guillory checked on other UTHealth buildings and stopped at a convenience store to pick up what few things they could. "The only restaurant that was open that was a pizza place off Holly Hall, and there were so many people there … even UT Police was there," Dugas said. "It seemed like they were prepared for the storm."
The university provided fold-out cots and MREs (meals ready to eat), but encouraged ride-out team members to bring food, towels and other comforts from home.
Both men are thankful that their own homes were not damaged. Although both had ridden out storms at work for other jobs, the Harvey experience was something new.
"I knew the storm was going to be bad, but didn't realize it would be this bad, that we would have to stay at work that many days," Dugas said. "Come Wednesday, I was definitely ready to go home."
With more than two months left in hurricane season, it's possible Dugas and Guillory might have to ride out another storm on campus. Dugas nodded at his coworker. "Me and Mr. Guillory, unfortunately, are the ride-out team," he said, grinning, "but we both basically know these buildings, plus we know what to do."