Professor Joy named interim chair of Diagnostic and BIomedical Sciences
Published: December 20, 2019 by Rhonda Whitmeyer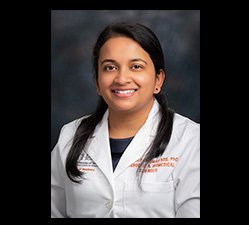 Dean John Valenza, DDS, has named Professor Anita Joy-Thomas, BDS, PhD, as interim chair of the Department of Diagnostic and Biomedical Sciences at UTHealth School of Dentistry, effective Jan. 1, 2020.
She succeeds Professor Kalu Ogbureke, who became chair of the department in 2012. Valenza said a search for permanent chair will be initiated at a later date.
Joy holds a PhD in anatomy and cell biology from Rush University in Chicago and earned her dental degree at M.S. Ramaiah Dental College and Hospital, part of the Rajiv Gandhi University of Health Sciences in Bangalore, India.
A dentist and anatomist by training, she joined the UTSD faculty in 2019 after leaving a tenured position as an associate professor at Southern Illinois University School of Dental Medicine, where she also served as graduate faculty, head of anatomy, department chair, and director of research.
Joy's prior experience in dental education includes directing systems-based, integrated biomedical sciences and oral biology courses, directing a dissection-based human anatomy course, and participating as faculty for courses in periodontics, oral radiology, occlusion, and an Advanced Education in General Dentistry program.