White wins John H. Freeman Award for Faculty Teaching
Published: June 03, 2021 by Kyle Rogers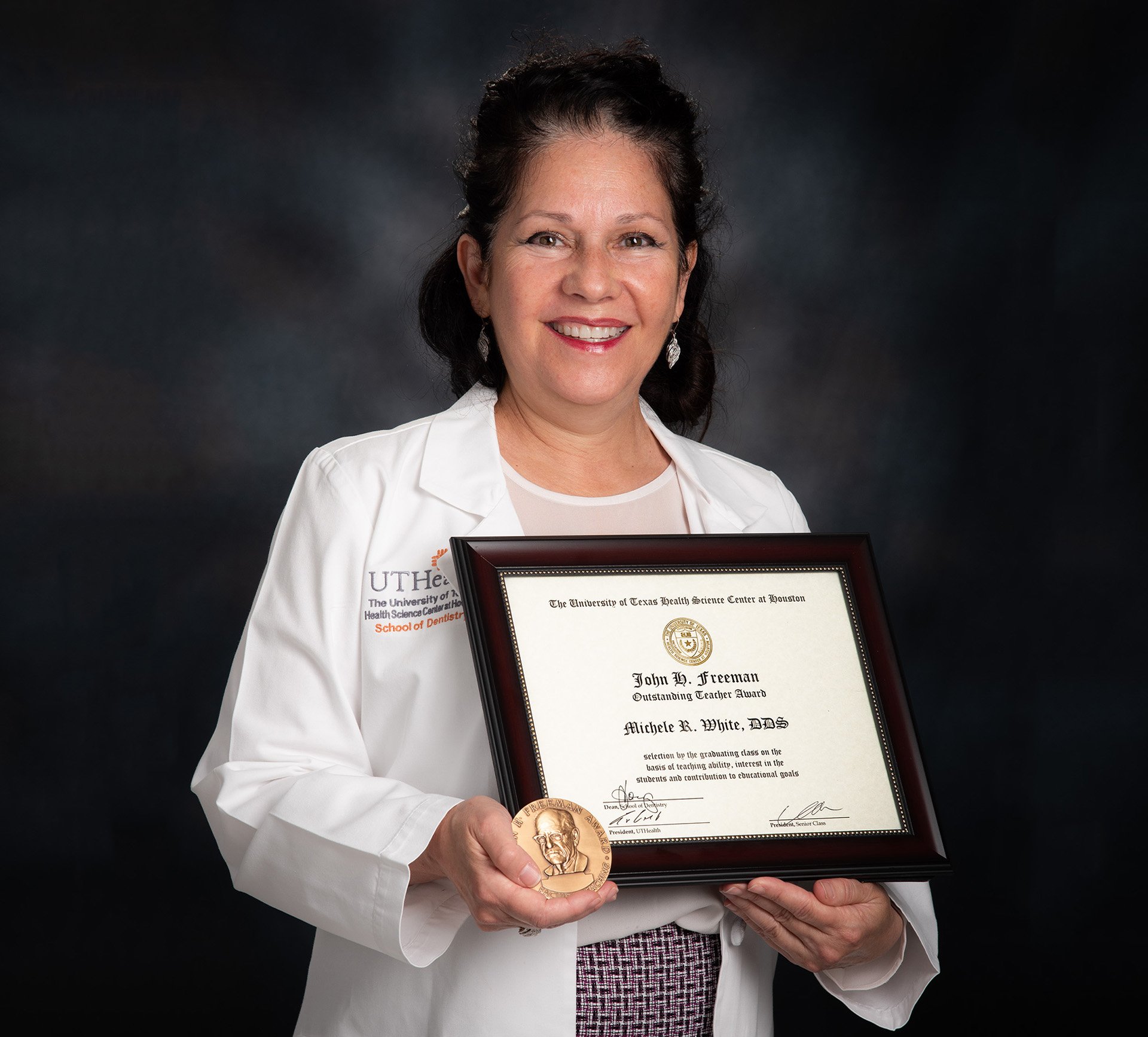 Assistant Professor Michele White, DDS, has been named the 2021 recipient of the John H. Freeman Award for Faculty Teaching at UTHealth Houston School of Dentistry.
Chosen by first- and second-year dental students, the Freeman Award recognizes excellence in preclinical teaching. White's honor was highlighted during UTHealth School of Dentistry's annual DDS Senior Awards in May.
Her student nominators wrote, "Dr. White is of great help in both preclinic and operative lab. She not only helps you understand what you need to improve on, but she provides feedback so that you are able to figure out how to improve it.
"Being aware that students often work in labs after hours and during lunchtime, she goes out of her way to check in during these times and stays back after class to provide feedback and offer insight. In addition to that, she can often be found in her office and is more than willing to take a break from what she is doing to help students, receiving them with enthusiastic welcome."
White, who joined the Department of General Practice and Dental Public Health in 2016, was elated for this recognition.
"I'm very humbled and thrilled to know the first- and second-year students chose me for this honor," White said. "I'm thankful that what I try to tell them, teach them, or show them is valuable to them and helping them to learn."
White recognizes each student is different, and as a result, she tries to provide individual help and guidance when needed in the courses she assists with as well as in clinic.
"I really try to listen and observe where each student is in terms of what they're doing and learning," White said. "I like to see how they're using their hand skills — are they doing them correctly, or do I see an easier way they could be doing them. I try to be what they need, whether it's to listen and help, or provide simple encouragement to let them know they're doing well."
White received a doctorate of dental surgery from UTHealth School of Dentistry in 1997 (then UT Dental Branch) and followed with a general practice residency in 1998. She practiced general dentistry in the Houston for over 18 years before deciding to come back to teach.
In many ways, learning to teach is a new way to practice dentistry, and White is thankful to her fellow faculty for helping her make that transition.
"I think a lot of faculty know what's it's like to come in and try to pick up on how to be a teacher after being out in practice. There's tons of support and acceptance for learning how to do that, and all the faculty help. There are so many names I could list that have been helpful and supportive in my growth as a teacher," White said.
White specifically wanted to express her gratitude to her mentor, Ezinne Ogbureke, BDS, DMD, and Maryam Tabrizi, DMD, MPH, for her early guidance as well. She also thanks Gary Frey, DDS, chair of the Department of General Practice and Dental Public Health; and Dean John Valenza, DDS, for their continued support.
The Freeman Award comes with a cash prize. Previous winners include:
Vuvi Nguyen, MS, PhD, 2020, 2018;
Ashley Clark, DDS, 2019;
Raymond Koeppen, DDS, MS, MBA, 2017, 2012;
Robert Spears, PhD, 2016;
Carla Rogers, PhD, 2015;
Shelly Patel, DDS, 2014;
Yasmine Haddad, DDS, PhD, 2013;
Ryan Quock, DDS, 2011;
Gary Frey, DDS, 2010, 2004;
William Tate, DDS, 2009, 2007, 2002, 1991, 1989;
Robert (Rod) Dosch, DDS, 2008, 2003, 2000, 1998;
James Ferguson, DDS, 2006;
Barry Rittman, MS, PhD, 2005;
Franz S. F. Mong, PhD, 2001, 1997, 1992, 1990, 1988, 1986, 1984;
Kenneth Porter, DDS, 1999;
John McMahon, PhD, 1996, 1987;
Mary (Cindy) Farach-Carson, PhD, 1995;
Gene Stevenson, DDS, MS, 1994;
Kathleen Gibson, PhD, 1993;
James Newland, DDS, MS, 1985;
Philip Pierpont, DDS, 1983;
Matthew Seals, DDS, 1982;
Richard Madden, DDS, MS, 1981;
Rodney Beetar, DDS, MS, 1980;
William Radentz, DDS, 1979;
Thomas Wild, DDS, 1978.