ABC13 special focuses on UTHealth innovations and community impact
Published: December 15, 2019 by Meredith Raine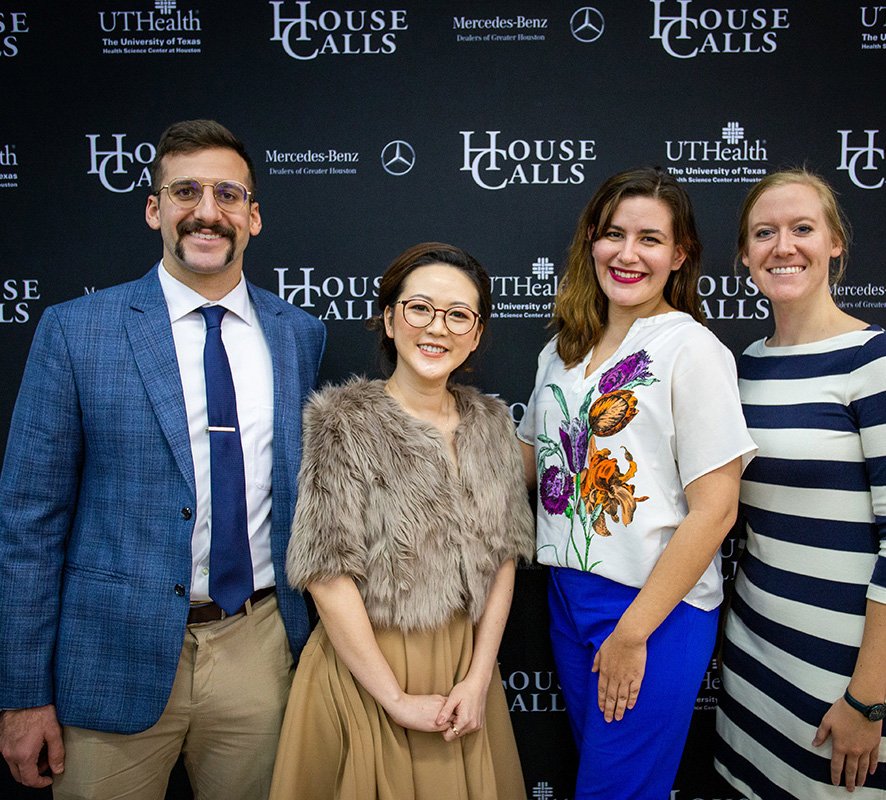 A two-year partnership with Mercedes-Benz Dealers of Greater Houston that brought scholarships to 28 students and promoted the Many Faces of UTHealth drew to a celebratory close Dec. 14 with the airing of a special about the university on ABC13 Eyewitness News. (See Part 1 and Part 2).
Titled "The Many Faces of UTHealth," the 30-minute program with station anchor Ilona Carson featured close to 40 members of the faculty, staff, trainees, and patients highlighting educational programs, groundbreaking research, advancements in clinical care, and community outreach of UTHealth, The University of Texas Health Science Center at Houston.
The special, sponsored by Mercedes-Benz Dealers of Greater Houston, was the capstone of a partnership that began in 2018. For the past two years, UTHealth House Calls events were hosted at each of the seven dealerships in the Houston area that contributed to students' success by providing scholarships and hosting UTHealth House Calls events that were livestreamed on ABC13.com.
Ahead of each of the House Calls, ABC13 aired commercials featuring LaTanya Love, MD, associate dean for admissions and student affairs, associate dean for diversity and inclusion, and associate professor of pediatrics at McGovern Medical School, and vice president of diversity and leadership at UTHealth. She shared important health information on topics for each House Calls, reaching a vast and diverse audience.
In total, 20 members of the faculty and staff, along with two patients, gave House Calls on lifesaving and life-changing topics ranging from pediatric health, to nutrition, to stem cell research, to healthy aging.
Karen Kaplan, special assistant to UTHealth Senior Executive Vice President Kevin Dillon, moderated each discussion, which reached tens of thousands of viewers through ABC13's website and on social media platforms. At many of the events, team members from UT Physicians were on hand to provide health screenings, flu shots, and information about clinics located near each dealership.
"We want to thank Mercedes-Benz of Greater Houston for opening its doors to UTHealth and UT Physicians and allowing us an opportunity to educate a broad audience in a unique way," said Kevin J. Foyle, vice president for development and public affairs at UTHealth. "Corporate partnerships like this are important to our organization, to the students who benefit from scholarships, and to the thousands of people we are able to reach through our educational offerings."
For more information, visit the ABC13 House Calls website. Photos from the 2019 UTHealth House Calls series are available on Flickr.