Joy-Thomas named chair of diagnostic & biomedical sciences department
Published: January 06, 2021 by Kyle Rogers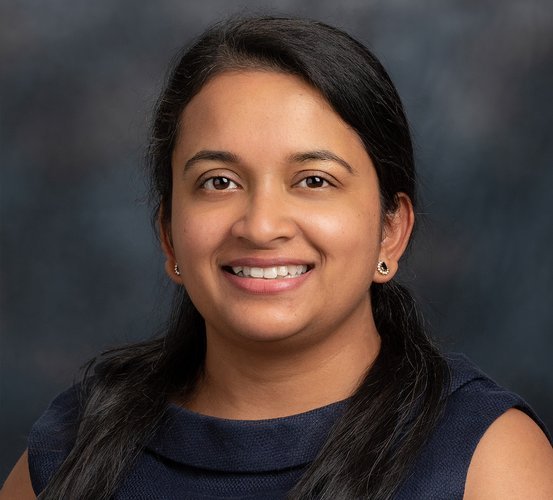 Professor Anita Joy-Thomas, BDS, PhD, has been named chair of the Department of Diagnostic and Biomedical Sciences at UTHealth School of Dentistry at Houston, Dean John Valenza, DDS, announced effective Jan. 1, 2021. She previously served as the interim chair in 2020.
"In many ways, the Department of Diagnostic and Biomedical Sciences is the gateway for our dental and dental hygiene students as they begin their journey in dental education," said Joy-Thomas. "A lot of biomedical sciences information in their foundational years as well as critical diagnostic skills that students learn are facilitated by the faculty in this department."
The Department of Diagnostic and Biomedical Sciences is comprised of a diverse group of specialists, generalists, and scientists with expertise in the biomedical sciences, oral medicine, oral pathology, oral radiology, cancer biology, genetics, biomaterials, and craniofacial biology. A typical day in the department sees faculty engaged in extensive teaching, providing compassionate, high-quality patient care, and pushing the boundaries on discovery through research for the prevention and treatment of oral/craniofacial diseases and disorders.
Overall, Joy-Thomas considers herself grateful for the opportunity to lead what she regards as the "flagship department" of UTSD. As chair, her goal is to continue supporting the innovative endeavors of its members and working together to achieve departmental goals.
"When I started as the interim chair last January, our planned departmental goals had to be quickly reprioritized to handle the changes COVID-19 necessitated," she said. "However, we rose to the challenge and used the past nine months working together to very nimbly adapt the curriculum for online delivery, modify patient care delivery, and continue research efforts in the wake of the pandemic.
"Moving forward, the question I ask our personnel is, 'Do we want to restart from where we were pre-COVID, or can we take the lessons we've learned and reset our path towards continued excellence?'"
Joy-Thomas, who joined the UTSD faculty in 2019, succeeds Professor Kalu Ogbureke, BDS, DMSc, JD, MSc, who served as the department chair from 2012 through 2019.
A dentist and anatomist by training, Joy-Thomas holds a doctorate in anatomy and cell biology from Rush University in Chicago and earned her dental degree at M.S. Ramaiah Dental College and Hospital, part of the Rajiv Gandhi University of Health Sciences in Bangalore, India.