The late Don Allen, DDS, made positive changes as School of Dentistry's dean, 1982-92
Published: July 12, 2018 by Rhonda Whitmeyer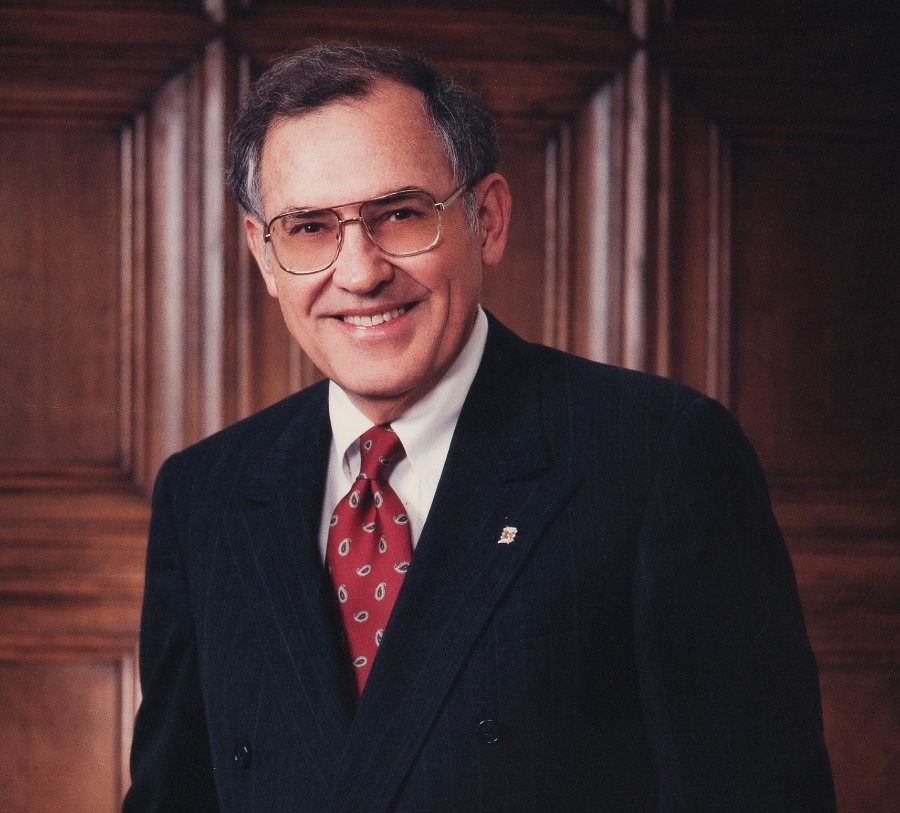 Don L. Allen, Sr., DDS, MS, who served as dean of UTHealth Houston School of Dentistry from 1982-92, died June 22, 2018 in Florida. He was 84.
Allen was preceded in death by his wife of 55 years, Winnie Allen. Survivors include their children: UTHealth alum Don L. Allen Jr., DDS '86; Michael D. Allen and Susan Allen Bossley; five grandchildren and one great-grandchild. The family held a private memorial service at Crescent Beach and published an obituary online.
During his tenure, Allen established the school's General Practice Residency program, recruiting John A. Valenza, DDS 1981, as the founding director. Valenza became dean of the School of Dentistry in 2011.
"I am especially in debt to him for having confidence in a young assistant professor to get our GPR program off the ground, not knowing at the time where it might eventually take me or the school," Valenza said. "It is perhaps most fitting that the program is about to celebrate its 30th anniversary next week. Thank you, Dr. Allen, for all that you've meant to UTSD. We will miss you."
A native of North Carolina, Allen earned his dental degree from the University of North Carolina School of Dentistry in 1959 and a master's degree in periodontics in 1964 from the University of Michigan's Horace G. Rackham School of Graduate Studies. He practiced general dentistry and periodontics for 15 years in the intramural private practices of the University of North Carolina and later the University of Florida, rising to the rank of professor and associate dean at each institution. From 1974-82, he was dean of the University of Florida School of Dentistry.
He came to Houston in 1982 to become the fifth dean of UTHealth School of Dentistry, where he also served as a professor in periodontics. He held the William N. Finnegan, III Professorship in the Dental Sciences.
Among many other accolades and achievements, Allen chaired the ADA's Commission on Dental Accreditation and the Council on Dental Education in the 1980s. He was a fellow of the American and International College of Dentists, and a former president of ICD.
In Memories: A History of The University of Texas Dental Branch at Houston, Allen was remembered for a wide range of innovations that made a lasting impact on the school.
He refined the school's self-directed educational program to make it a self-paced modular curriculum, and he established a four-year curriculum review cycle. Under his leadership, examinations were computerized.
Allen initiated and served as the first leader for a troop of Dental Scout Explorers. He established a dental student rotation at the Brownsville Community Health Center Dental Clinic.
He was responsible for all student operatories in the entire school being renovated and new equipment being acquired. In 1986, he oversaw a $10 million expansion and remodeling of the Dental Branch Building that allowed researchers from the school's Dental Science Institute to move onto the main campus.
Allen initiated the Parents' Club to provide students' families with insight into the school's dental educational environment. He also began the School of Dentistry's Open House and Spouse Education Programs, and he instituted and promoted an annual alumni homecoming event which began in 1985. He established, encouraged and assisted in procuring funds for the Alumni Endowment Fund, the Dr. Frederick C. Elliott Scholarship Fund, and the Women of Houston Rotary Scholarship Fund.
Allen encouraged recruiting faculty of renown, especially in research, who had demonstrated teaching ability. This was achieved by a formal search process conducted by an appointed committee in each instance. He revitalized faculty standing committees and established the UTSD Faculty Assembly — the framework for faculty governance.
Allen encouraged the faculty to obtain grants for research investigations. As a result, the School of Dentistry's Research Fund increased from less than $100,000 in 1982 to approximately $2 million in 1989.
He also revitalized the Continuing Dental Education Program, appointing Dr. Daniel Kamas as the school's first director of continuing education in 1984. Course attendance increased from 250 in 1982 to more than 1,300 in 1989.
The former dean also promoted the UTSD Alumni Association, and in 1987 appointed Dr. H. "Mit" Sorrels as the first director of alumni affairs. This led to a very successful Endowment Fund initiative by the alumni in the mid-80s.