White coat ceremonies greet new dental, dental hygiene students
Published: August 14, 2017 by Rhonda Whitmeyer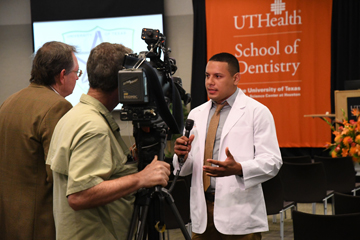 UTHealth School of Dentistry at Houston has welcomed more than 140 new dental and dental hygiene students with separate White Coat Ceremonies in the Denton A. Cooley, MD and Ralph C. Cooley, DDS University Life Center, wrapping up orientation week with a symbolic welcome to the students' new roles as healthcare professionals.
At the DDS ceremony on Aug. 12, Dean John Valenza, DDS, noted that the school received more than 1,400 applications from potential students hoping to become part of the 103-member class.
"Donning your white coats this morning is more than a symbol," he said. "It's a pledge, a commitment, a responsibility to serve humanity, to make the world a better place and to be professional at all times, in all places — real, online or otherwise."
Valenza recognized special guests that included Texas Academy of General Dentistry President Jeff Geno, DDS; Texas Dental Association Executive Director Rita Cammarata, DDS; Greater Houston Dental Society President Laji James, DDS; and keynote speaker Kenneth Horwitz, DDS.
UTSD Alumni Association Executive Director Tricia Fullerton and her husband, Associate Professor Emeritus Les Fullerton, DDS, as well as UTSD Friends and Family Association Vice President Lisa Short were also noted as special guests at the event.
The Dental Hygiene White Coat Ceremony on Aug. 11 was sponsored by the University of Texas – Houston Dental Hygienists' Alumni Association and the UTSD Family and Friends Association.
Guest speakers included Alumni Association President Lorie Jones, RDH, BSDH, who noted that the white coat ceremony symbolizes "the transition from being a lay person, into a healthcare professional.
"The power of the white coat doesn't come from the material it's made of, or how it's made. It lies in how you act and how you behave when wearing it," she said. "Never forget the significance of your contribution to an individual's life, and the immense power you have to make a positive impact on the lives of other people."
Sponsors for the DDS ceremony include the UTSD Alumni Association, UTSD Family and Friends Association, Greater Houston Dental Society and the American College of Dentists. The Family and Friends Association joined the University of Texas – Houston Dental Hygienists' Alumni Association in sponsoring the dental hygiene ceremony.
Additional photos are posted on Go.uth.edu/Flickr. Spanish-language TV network Univision interviewed new dental hygiene Michael Villegas and others after the ceremony.