UTSD's April 17 Texas Taste Teaser picking up chefs, celebrities; tickets on sale now
Published: March 16, 2018 by Rhonda Whitmeyer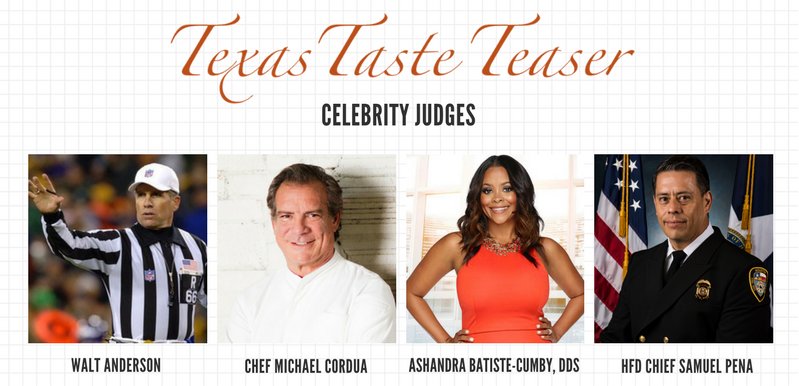 The excitement is building as Houston celebrities, restaurant chefs, organizations and novices who like to cook throw their support behind UTHealth School of Dentistry at Houston's bi-annual "Texas Taste Teaser" fundraiser, set for 6:30 to 9:30 p.m. Tuesday, April 17 at The Denton A. Cooley, MD and Ralph C. Cooley University Life Center, 7440 Cambridge St. in Houston.
Celebrity judges for the event include Houston Fire Chief Samuel Peña , NFL referee (and UTSD alum) Walt Anderson, DDS '78; Chef Michael Cordúa and Ashandra Batiste-Cumby, DDS, star of Bravo's "Married to Medicine Houston." Emcees will be "Texas Tooth Lady" and alum Terry Alani, DDS '81, and Chef David Cordúa of Cordúa Restaurants. Co-chairs are UTHealth faculty and alumni Afshan Kaviani Anderson, DDS '93, and Margo Melchor, RDH '06, EdD.
How it works
Participating chefs (professional or amateur) will prepare and present appetizer-sized samples of their favorite creations. Attendees and the celebrity judges will then go from table to table tasting the samples, with the judges choosing winners in a variety of categories, including Most Creative, Most Delicious, Most Outrageous and Best Executive Chef. Attendees will vote for the People's Choice Award winner. Chefs are also encouraged to donate an item for a silent auction, and the chef raising the most money will win the "Executive Professional Chef" award.
Reservations are $60 per person and may be made at Go.uth.edu/TexasTasteTeaser, which is also the site to sign up as a volunteer or get more information. Attire for the event is "Texas chic," so it's an opportunity to show off your denim, boots and western bling, but to have fun above all.
Participating restaurants and chefs (so far):
The Texas Taste Teaser is intended to raise awareness of the School of Dentistry's community outreach initiatives. This year, the event will also honor the UTHealth Houston students, residents, faculty and staff who rushed to provide emergency oral health care for evacuees in the immediate aftermath of Hurricane Harvey.