UTSD announces new associate dean, assistant deans
Published: September 21, 2017 by Rhonda Whitmeyer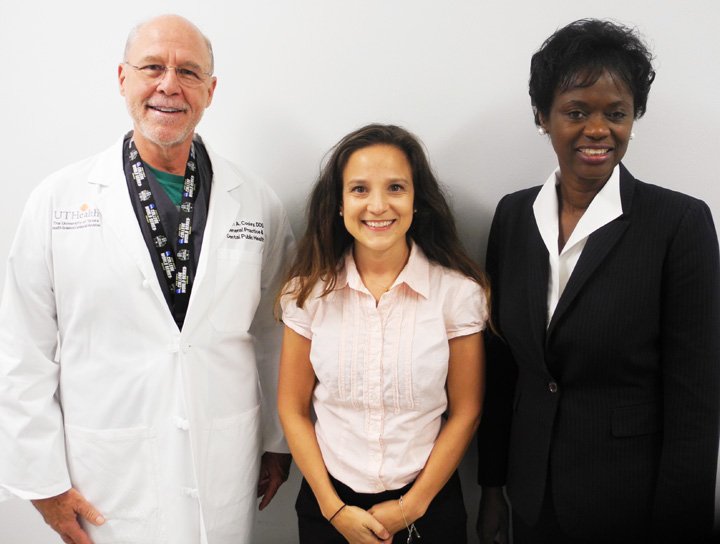 The University of Texas School of Dentistry at Houston has welcomed three new administrators to positions at the school. Lisa D. Cain, PhD, is the new Associate Dean for Professional Development and Faculty Affairs, while Ralph Cooley, DDS and Diana Keosayian, EdD, have been recruited as assistant deans.
Cain will also hold a position as Professor in the Department of Diagnostic and Biomedical Sciences. She came to Houston from The University of Texas Medical Branch in Galveston, where she was the Assistant Dean for Faculty Affairs at the School of Medicine and an Associate Professor in the Department of Neuroscience and Cell Biology. She also directed Medical School Enrichment Programs in the Office of Student Affairs.
She earned a bachelor of science in biology from Jackson State University, followed by a PhD in anatomy from the University of Mississippi Medical Center. She completed postdoctoral fellowships in anatomy and neuroscience at the Robert Wood Johnson Medical School. In 2015, she received a Regents' Outstanding Teaching Award from The University of Texas System.
In addition to teaching medical and graduate students, Cain has mentored students and published papers in peer-reviewed journals. She is a graduate of the Scholars in Education Program at UTMB and a member of UTMB's Academy of Master Teachers.
Assistant Dean for Admissions and Student Services Ralph Cooley, DDS, is a graduate of Rice University and Texas A&M University College of Dentistry (formerly Baylor College of Dentistry). He joined the UTSD faculty in 1991 and spent 14 years as an attending in the General Practice Residency program one day a week.
Cooley was named Texas Dentist of the Year™ in 2009, and is a recipient of the Texas Academy of General Dentistry's Lifetime Service Award. He is a past president of the Texas Academy of General Dentistry and has served on the national Academy of General Dentistry Board of Trustees, the American Dental Association's Council on Dental Benefit Programs, and the ADA's Code Revision Committee.
Assistant Dean for Education and Assessment Diana Keosayian, EdD, came to UTSD from the University of Houston College of Technology, where she was Director of Assessment and Accreditation. She holds a doctorate in educational leadership with a concentration in curriculum and instruction from Wilkes University School of Education in Wilkes-Barre, Penn. and a master's degree in psychology from Loma Linda University School of Behavioral Health. She earned a BA in psychology and English from State University of New York at Binghamton.
Her work experience also includes serving as an adjunct professor, curriculum writer, academic assessment specialist and graduate research assistant at four educational institutions, including the University of Houston, Wilkes University in Pennsylvania, Plaza College in New York, and Loma Linda University in California. Additionally, Keosayian was a testing specialist at Loma Linda University Children's Hospital and at the Veterans Affairs Medical Center in Loma Linda.