Houston-area dental professionals and UTHealth School of Dentistry team up to Give Kids A Smile®
Published: March 02, 2018 by Rhonda Whitmeyer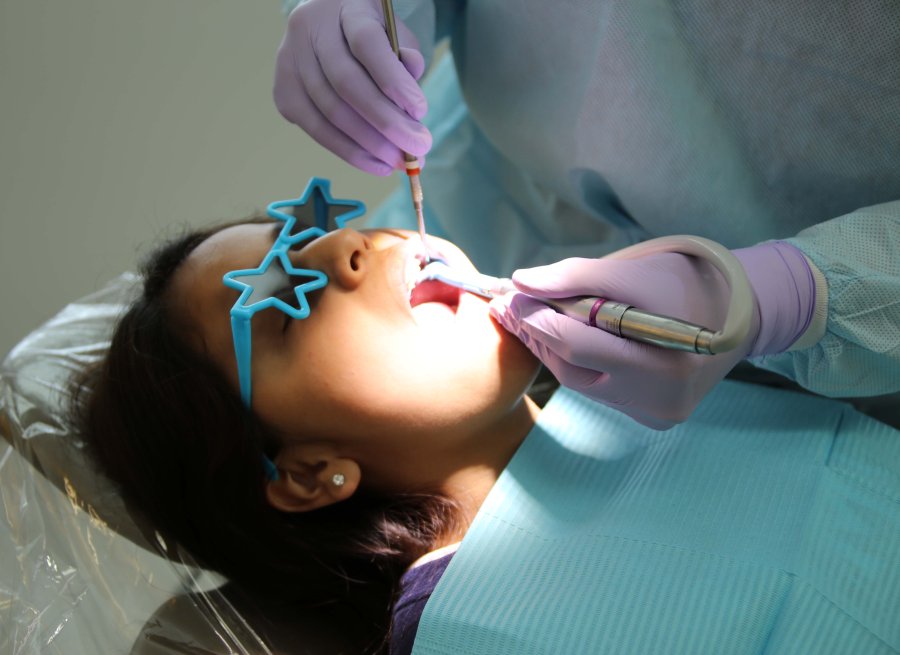 Nearly 300 Houston-area children received free dental care at UTHealth School of Dentistry at Houston as the school and the Greater Houston Dental Society teamed up for Give Kids A Smile Day on Feb. 23.
At the end of the day, 293 patients were treated to oral health care worth an estimated $208,000. GHDS members who volunteered included 155 dentists, dental hygienists, dental assistants and staff, along with predental students from other schools. UTHealth provided approximately 60 faculty, staff and residents, plus 200 higher-level dental and dental hygiene students.
In all, 340 children were prescreened in advance. Communities in Schools-Houston helped identify children to be evaluated for treatment when the School of Dentistry's Ronald McDonald CareMobile visited Smith Elementary, Spring Forest Middle School, Buffalo Creek Elementary, Holmquist Elementary and Boone Elementary. The San Jose Clinic, Houston Asian American Dental Society and CHRISTUS Foundation for HealthCare also identified students who needed care.
Among the Greater Houston Dental Society volunteers was Virginia "Ginger" Rome, DDS, who practices family dentistry in Cypress. A 2006 alumna of UTHealth School of Dentistry at Houston, she began volunteering for Give Kids A Smile Day as a dental student. Now, her dental office team joins her for the annual event.
"I love getting to see these young people and providing care for some of those who don't get out to see us in private practice," she said. "We enjoy coming as a team to provide services for these children."
Fourth-year dental student Mariah Fields-Cooper said community outreach events like Give Kids A Smile can have long-lasting effects. "It's a chance to give children a foundation for keeping their teeth healthy," she said, "so they know how to take care of their teeth and avoid having problems when they're adults.
"Sometimes we get wrapped up in the stress of school, so doing this and giving back is a nice reminder of why we wanted to become dentists in the first place," she said. "It gives us a chance to interact with the community, and we get to see the smiling kids."
The Greater Houston Dental Society and UTHealth School of Dentistry at Houston have worked together to present Give Kids A Smile every year since 2003, when the American Dental Association Foundation launched the program nationally as a way for dentists to join with others in the community to provide dental services to underserved children.
Additional sponsors for the Houston event include the Susman Family Foundation, Ronald McDonald House Charities of Greater Houston/Galveston, Greater Houston Dental Alliance, Henry Schein Dental, Dr. Laji James Pediatric Dentistry, Dr. Katie To Family and Cosmetic Dentistry, Adventure Orthodontics/Dr. Bar Nguyen, Dr. Amanda Wolf, Cornerstone Kids Dental/Dr. Lisa Trevino, Town and Country Orthodontics/Dr. Carin Domann and Dr. Angela Orfanos, Patterson Dental Supply, Burkhart Dental Supply, Colgate, Crosstex, Dentsply North America, Ultradent Products, Inc., Wilson Imaging Centers, Shipley's Donuts and Little Caesar's Pizza.