Student Research Showcase: Extra effort in the summer yields results
Published: November 06, 2019 by Rhonda Whitmeyer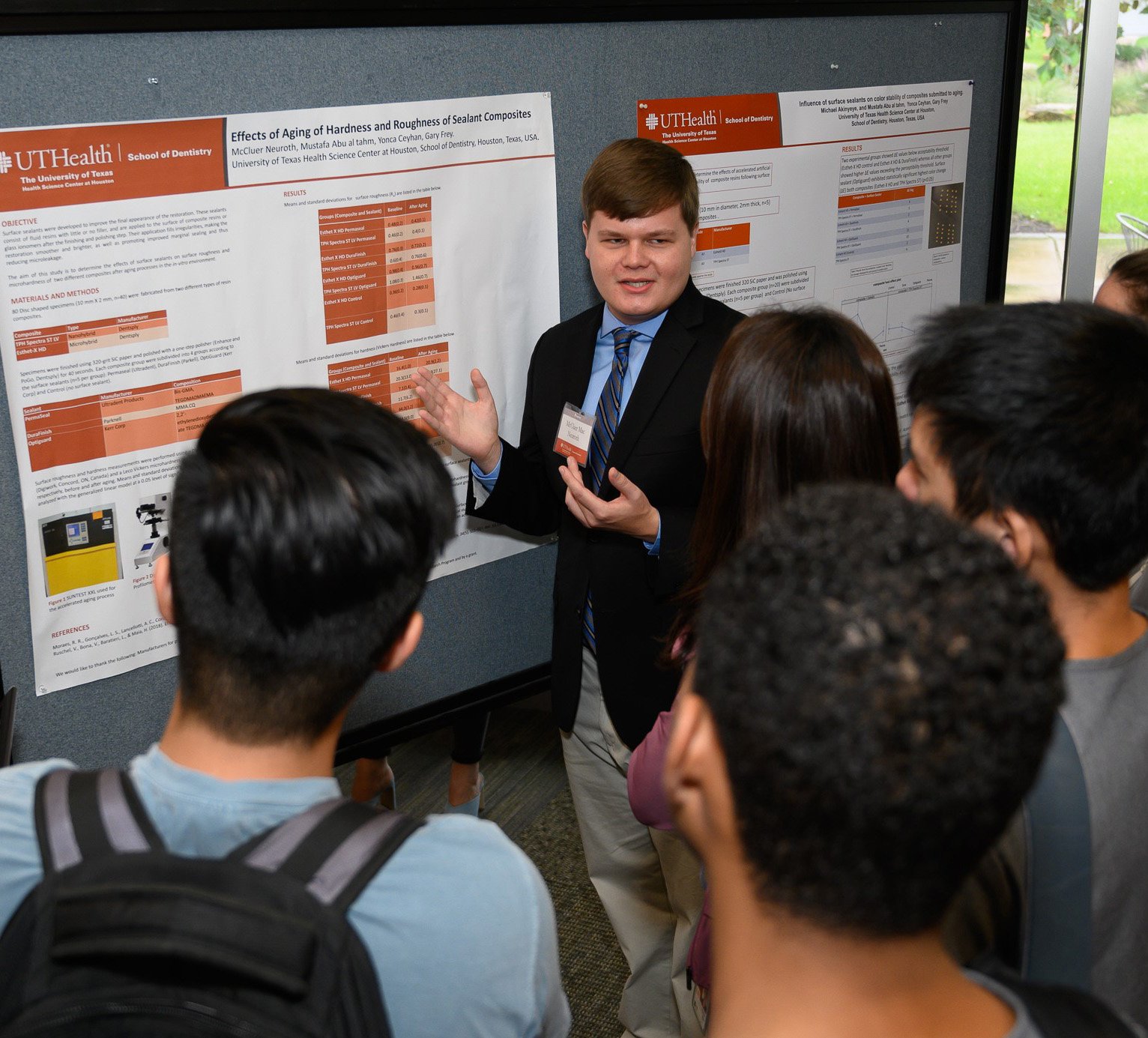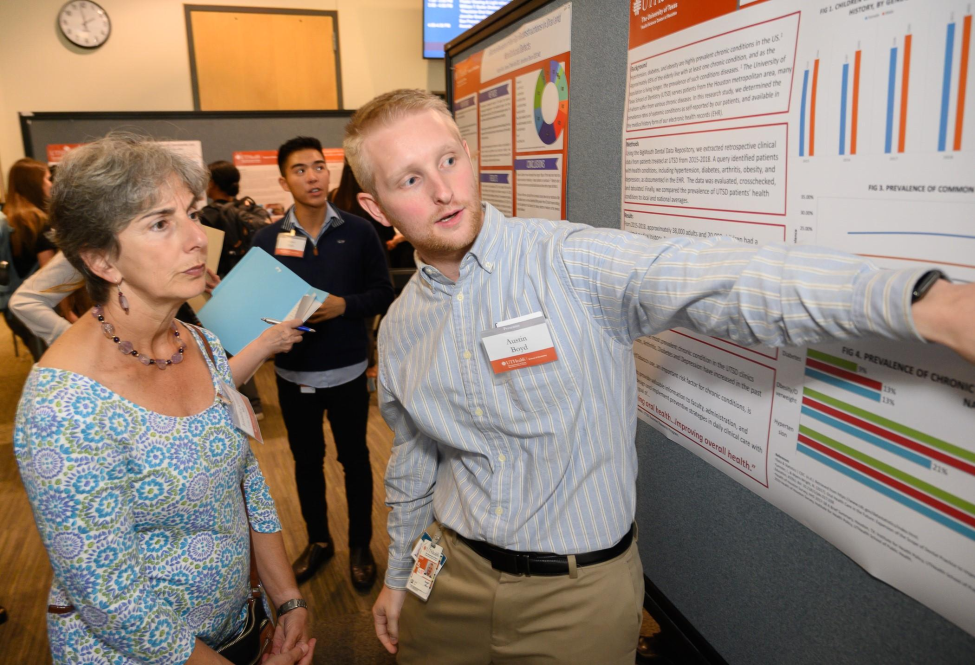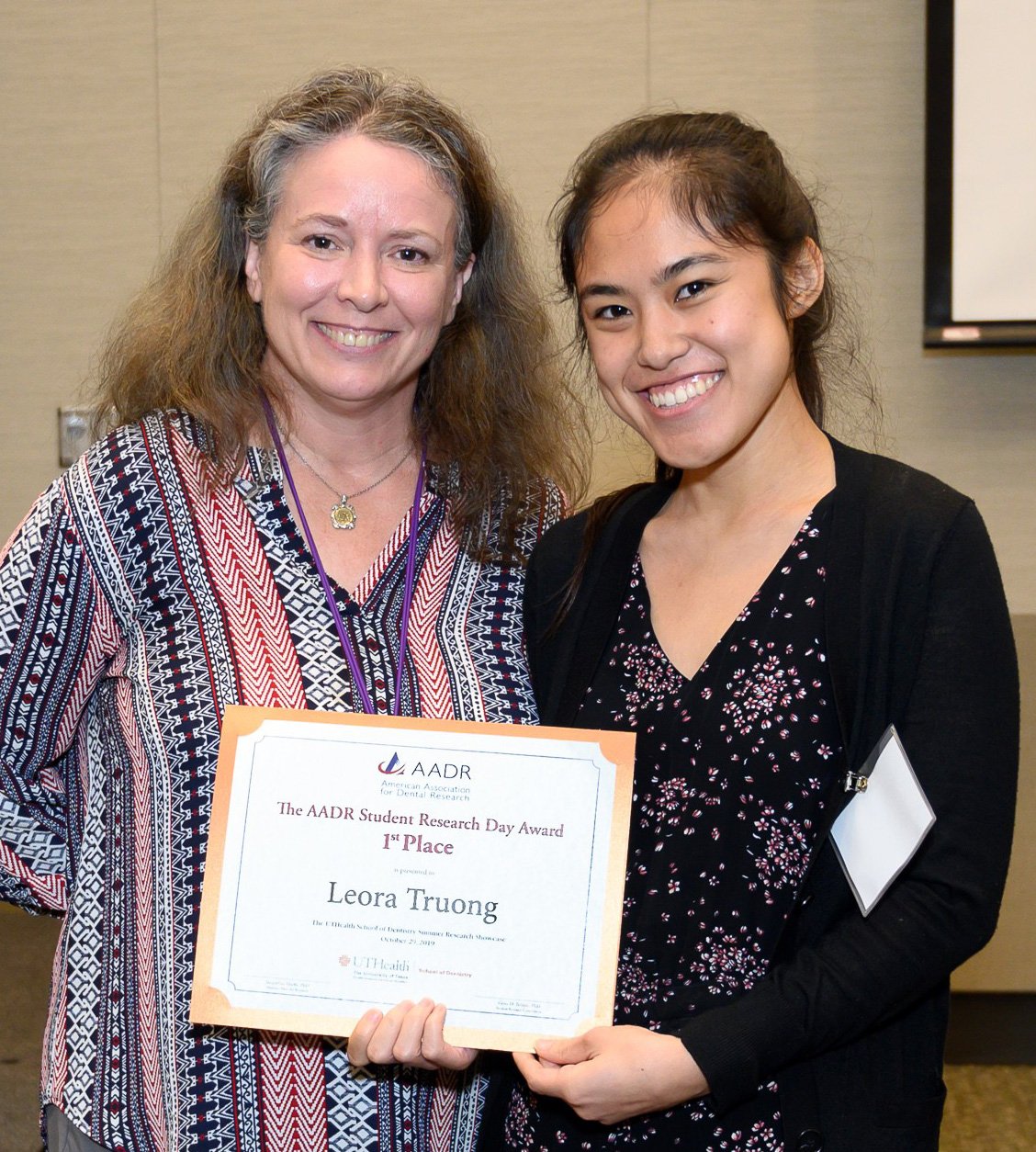 A summer devoted to inquiry led to a harvest of findings for the ninth annual Student Research Showcase at UTHealth School of Dentistry. More than 30 mentors directed 37 dental and dental hygiene students in the summer research program. This year, the showcase also featured oral presentations by residents and doctoral students.
Professor Jennifer Grandis, MD, of the University of California San Francisco School of Medicine delivered the William T. Butler Distinguished Lecture, speaking on "Precision Oral Cancer Medicine." The lecture is named in memory of Professor Emeritus William Thomas "Bill" Butler, PhD, who was on the UTSD faculty from 1987 to 2004.
Dental students Thuy Nhu (Leora) Truong, Dane Risinger and Laura Arsto won first, second and third place, respectively, for their combined oral and poster presentations. Truong will represent the School of Dentistry as the Student Researcher of the Year and will be awarded $500 from the American Association for Dental Research, plus $250 from the UTSD Office of Research. Risinger and Arsto also received cash prizes for placing second ($150) and third ($100).
More photos are posted on Flickr. The full list of winners includes:
STUDENT RESEARCH DAY AWARDS
First Place: Leora Truong, DS3, "Assessing Role of Sphyngomyelin-Biosynthetic Pathway in EGFR Localization and Function," Associate Professor Dharini van der Hoeven, PhD, MSc, mentor
Second Place: Dane Risinger, DS2, "Effect of 3D-Printed Dental Model Thickness on the Dimensional Fidelity of Thermoformed Aligners," Associate Professor F. Kurtis Kasper, PhD, mentor
Third Place: Laura Arsto, DS1, "Efficacy of eCSP in Inducing mutans Cell Death Ex Vivo," Professor Bing-yan Wang, DDS, PhD, mentor

BEST ORAL PRESENTATION ($100 prize)
Clinical Sciences: Allison Haynie, DDS, orthodontics resident, "Color Stability of 3D-Printed Orthodontic Brackets," Dr. Kasper, mentor
Basic Sciences: Tristen Tellman, PhD candidate,"MMP-7 Cleavage of the Perlecan-Sema3A-Plexin(A1)-Neuropilin-1 Complex Promotes the Metastatic Behavior of Prostate Cancer Via FOXM1," mentor Professor Mary C. (Cindy) Farach-Carson, PhD.

BEST POSTERS ($100 prize)
Biomaterials and Clinical Methods: Brett Crell, DS3, "Soft Acrylic Adhesion to 3D-Printed Acrylic for Nasoalveolar Molding Applications," Dr. Kasper, mentor
Craniofacial Biology: Simone Menezes, DS2, "Fos Knockdown Contributes to Severe Craniofacial and Dental Abnormalities," Associate Professor Ariadne Letra, DDS, PhD, mentor
Electronic Health Records: Julio Lores Cruz, DS1, "Assessing a Data Quality Framework in BigMouth Dental Data Repository," Professor Muhammad Walji, MS, PhD, mentor
Molecular Biology: Ali Al Hatem, DS1, "Metformin Extends Survival of elegans on the Mitis Group Streptococci," Basic Science Director Ransome van der Hoeven, PhD, mentor
Oral Microbiology: Ann Seelbach, DS2, "The Tongue Microbiome in Health and Disease: Characterization of the Geography of the Tongue and Relation to Bacterial Colonization," Associate Professor Gena Tribble, PhD, mentor
Special Patient Populations: Cristina Kinn, DH2, "Dental Health Educational Interventions in the Geriatric Person with Physical and Cognitive Decline With or Without Dementia," Assistant Professor Jana Johnsrud, RDH, MSDH, and Assistant Professor Maryam Tabrizi, DMD, MPH, mentors
Radiology and Clinical Assessment: Jiayin (Julie) Tan, DS4, "Three-Dimensional Analysis of Mucosal Alterations Following Treatment of Gingival Recessions and Soft-Tissue Defect With Connective Tissue Graft," Assistant Professor Seonghong Seiko Min, DDS, PhD, mentor.