Kolodney receives John H. Freeman Award for Faculty Teaching
Published: May 03, 2022 by Kyle Rogers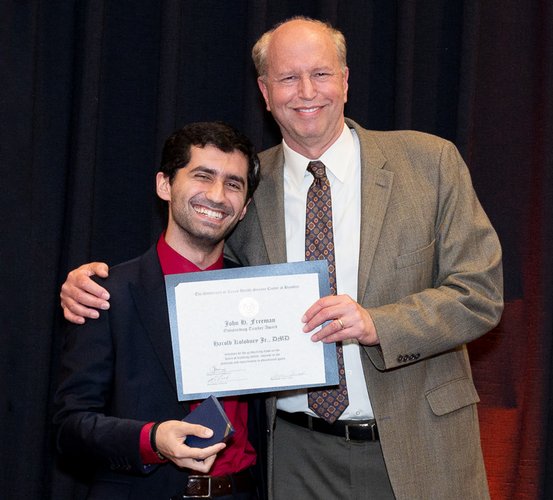 Professor Harold Kolodney Jr., DMD, has been named the 2022 recipient of the John H. Freeman Award for Faculty Teaching at UTHealth Houston School of Dentistry.
Chosen by first- and second-year dental students, the Freeman Award recognizes excellence in preclinical teaching. Kolodney's honor was recognized during the School of Dentistry's annual DDS Senior Awards in late April.
One student nominator wrote, "Dr. Kolodney has shown himself to be an outstanding instructor to the DS2 class, helping to teach us concepts in prosthodontics. He is able to understand how to teach these concepts in multiple ways so that each student can come to the same understanding even if they are stumped in different ways. Having an instructor that teaches from a place of empathy helps us grasp these concepts faster so that we can master and refine our skills. Year two of dental school is definitely no walk in the park, but having caring and dedicated professors like Dr. Kolodney makes the journey less intimidating and even fun and enjoyable."
Another nominator said, "Dr. Kolodney has gone above and beyond for every single student he encounters. For both removable prosthodontics courses, he's been a lifeline. His teaching, both during and outside class hours, makes removable prosthodontics understandable and engaging. He makes sure we don't just understand what we're doing, but also why we do it that way. He's taken our understanding from basic to in depth. Thanks to Dr. Kolodney, we feel seen, heard, and educated in removable prosthodontics and beyond."
Kolodney, who joined the Department of Restorative Dentistry and Prosthodontics in October 2021, was speechless to be recognized in his first year on faculty.
"I can't begin to say what an honor this is," Kolodney said. "We have many excellent and dedicated educators here, and it's been a joy working with them in addition to our students. We're here ultimately for the students and education matters. It's a privilege having the opportunity to make a difference in students' lives."
While reflecting on the honor, Kolodney recalled his own journey through dentistry and how it's come full circle working with students in the preclinical arena.
"My career started off in predoctoral education, and I'll never forget what a magical time that was," he said. "My subsequent years spent in private practice, then as a full-time maxillofacial prosthodontist and then a postdoctoral residency director were rewarding. Those years of experience make being back in predoctoral education an even more magical time. It's great to be back."
The only difference Kolodney notes between his early years in predoctoral education and the present is the decades of professional experience in between.
Kolodney has a three-prong teaching philosophy in working with his students—teach, demonstrate, replicate.
"My approach is basic; teach you, show you how, and then it's your turn to show me," Kolodney said. "I try to show them what I've learned over the decades. I well understand from my own personal experience that mistakes are a part of the preclinical learning process, which they will encounter when trying to learn the forest from the trees."
Kolodney credits his wife, Mary Gail, for allowing him to approach dental education with the passion and time dedication his students noted him for over his first seven months.
"I'm having the time of my life, and maybe the students feel a little of what I'm feeling, too," he said. "I hope they see a touch of how special working with them is for me and that I love the opportunity to teach them."
Originally from Pelham, New York, Kolodney graduated with a doctorate in dental medicine from Tufts University School of Dental Medicine. He received his certificate in general dentistry from the University of Rochester Eastman Institute for oral health and general practice residency certificate from the Genesee Hospital in Rochester, New York. Kolodney also completed his prosthodontics residency and fellowship training in maxillofacial prosthetics from Memorial Sloan-Kettering Cancer Center.
The Freeman Award comes with a cash prize. Previous winners include:
Michele White, DDS, 2021
Vuvi Nguyen, MS, PhD, 2020, 2018
Ashley Clark, DDS, 2019
Raymond Koeppen, DDS, MS, MBA, 2017, 2012
Robert Spears, PhD, 2016
Carla Rogers, PhD, 2015
Shelly Patel, DDS, 2014
Yasmine Haddad, DDS, PhD, 2013
Ryan Quock, DDS, 2011
Gary Frey, DDS, 2010, 2004
William Tate, DDS, 2009, 2007, 2002, 1991, 1989
Robert (Rod) Dosch, DDS, 2008, 2003, 2000, 1998
James Ferguson, DDS, 2006
Barry Rittman, MS, PhD, 2005
Franz S. F. Mong, PhD, 2001, 1997, 1992, 1990, 1988, 1986, 1984
Kenneth Porter, DDS, 1999
John McMahon, PhD, 1996, 1987
Mary (Cindy) Farach-Carson, PhD, 1995
Gene Stevenson, DDS, MS, 1994
Kathleen Gibson, PhD, 1993
James Newland, DDS, MS, 1985
Philip Pierpont, DDS, 1983
Matthew Seals, DDS, 1982
Richard Madden, DDS, MS, 1981
Rodney Beetar, DDS, MS, 1980
William Radentz, DDS, 1979
Thomas Wild, DDS, 1978