Mortazavi recieves Lorna J. Bruning Award for Outstanding Teaching
Published: June 16, 2022 by Alexandria Brown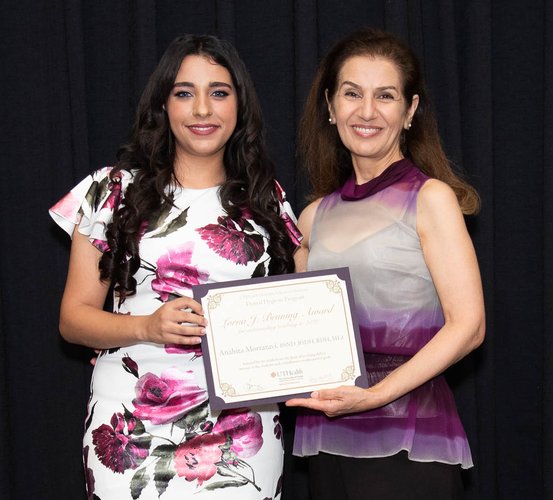 Clinical Assistant Professor Anahita Mortazavi, BSND, BSDH, RDH, MEd, has been named the 2022 recipient of the Lorna J. Bruning Award for Outstanding Teaching at UTHealth Houston School of Dentistry.
Chosen by second-year dental hygiene students, the Bruning Award recognizes a faculty member who demonstrates exceptional knowledge and competence toward effective learning. In recognition of the achievement, Mortazavi was presented with a framed certificate during the School of Dentistry's annual in May.
"It felt very humbling to win the Lorna Bruning Award," said Mortazavi. "I was happy to hear that the students selected me as the winner.
Mortazavi, who joined the the Department of Periodontics and Dental Hygiene full-time in 2020, was praised by student nominators for her patience and encouragement in clinic.
One nominator stated, "Professor Mortazavi is not just a professor, but someone who understands the needs of her students. She goes beyond her duty as a faculty member and tries her best to make sure that students succeed. Mortazavi reminds [us] that we're all a team and that mistakes make us better professionals in the future. She is outstanding faculty not just in knowledge, but in being personable, caring, and determined for students to be the best that they can be."
Another nominator wrote, "Professor Mortazavi is an amazing professor. Although the clinic is the only time we get to see her, she never fails to make sure that we learn at least one new thing each session. Her dedication to teaching shines every time she is in the clinic. Mortazavi tries to understand us as students and does not fail to inspire us."
Graduating from the UTHealth School of Allied Health in 1995 with a bachelor of science in nutrition and dietetics, Mortazavi always had a strong interest in dentistry which prompted her to receive a bachelor of science in dental hygiene from the School of Dentistry (then UT Dental Branch) in 2011. She competed an academic health care fellowship in 2018.
Priding herself on being a lifelong learner, Mortazavi's teaching philosophy is student centric and involves multiple components; the first is the fostering of a safe and respectful environment for students to feel comfortable asking questions.
"I want students to feel comfortable asking questions," she said. "Knowing the fact that they are adult learners, respect them, never ridicule them, never make fun of them, and don't laugh at their questions that may seem silly."
The second part of her approach to teaching is the empowerment of students to use their own knowledge and critical thinking to connect the didactic learning to applications for patient care.
"Throughout clinic, I try to provide either immediate or delayed feedback, and involve students by asking questions to try to make relevant the importance of connecting the didactic and clinical learning. At the end of clinic, I summarize and ask students what they've learned during the session to give rise to critical thinking and other discussions. They get a chance to make the connections and their understanding of the didactic learning becomes apparent and stays with them longer," said Mortazavi.
She also encourages both her students and colleagues to be lifelong learners. Her thirst for knowledge is apparent in her interactions with students and her colleagues whom she says she is always learning from.
"In any field, especially dentistry, science changes at a fast pace," she says. "If you look around nothing is like it was two years ago. Our goal and everyone's goal as a clinician is to help our patient population. If you want to provide the best care possible you have to be on top of the newest information."
The Bruning Award comes with a cash prize. Previous winners winner include:
Raha Naderi, RDH, MEd, 2021
Kathy Colston, RDH, BSDH, 2020
Amber Lovatos, RDH, BSDH, 2019
Tulsi Patel, BSDH, MHA, 2018
Deborah Vayon, RDH, MEd, 2017
Ruth Conn, RDH, MSDH, 2016
Darla McKitrick, RDH, MS, 2015
Donna Warren Morris, RDH, MEd, 2014
Harold Henson, RDH, MEd, 2013, 2008
Joanna Allaire, RDH, MDH, 2012, 2010
Nina Bay Infante, RDH, MS, 2011
Holly Rice, RDH, MEd, 2009
Ann O'Kelly Wetmore, RDH, MSDH, 2007
Jayne McWherter, RDH, MEd, 2006
Amy Murphy, RDH, BS, 2005