Fourth edition of Student Research Group's 'Incisal Edge' now available
Published: September 21, 2022 by Kyle Rogers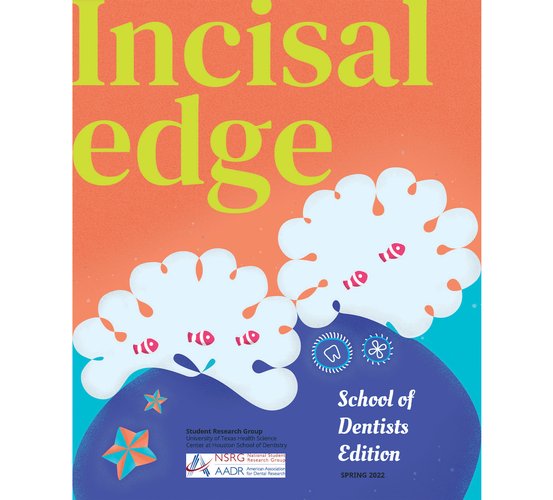 The fourth edition of "Incisal Edge," a newsletter from the Student Research Group at UTHealth Houston School of Dentistry, is available. The Spring 2022 edition was announced by SRG President Ryan Lee on Sept. 19 and is dedicated to School of Dentistry students.
"Students from all over the world have gathered in this building," said Lee, a fourth-year dental student, in his Letter from the Editor. "Everyone of us has a story of how we got here. For this edition of 'Incisal Edge,' we at the Editorial Board want to tell the stories of students and how they found their love for dental research."
"Incisal Edge" is available at the SRG's homepage and IncisalEdgeDigital.wordpress.com.
SRG is the local chapter of the American Association of Dental Research's National Student Research Group and is composed of dental students interested in scientific inquiry. The student-run organization is guided by input from faculty advisor, Dharini van der Hoeven, MSc, PhD, student research coordinator.
SRG promotes, supports, and nurtures the interests of dental student researchers during their time at UTHealth Houston School of Dentistry. It provides exposure to the diverse types of research in the dental profession and encourages involvement in research activities at the dental school by making students aware of research opportunities, such as the Summer Research Program and research electives. The group's goals are accomplished in part by hosting monthly meetings where School of Dentistry professors and students present their research.