8th Annual Give Vets a Smile provides care to veterans
Published: November 11, 2022 by Kyle Rogers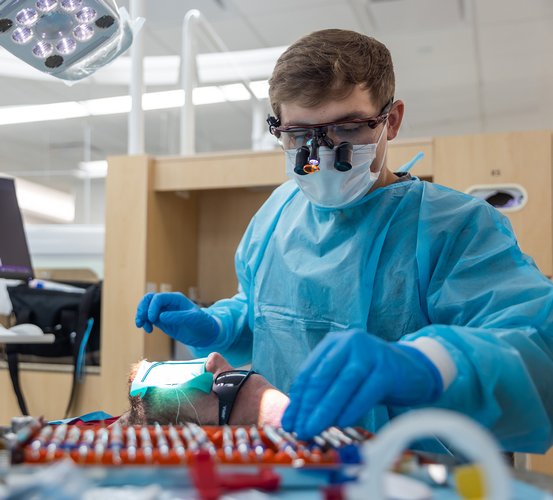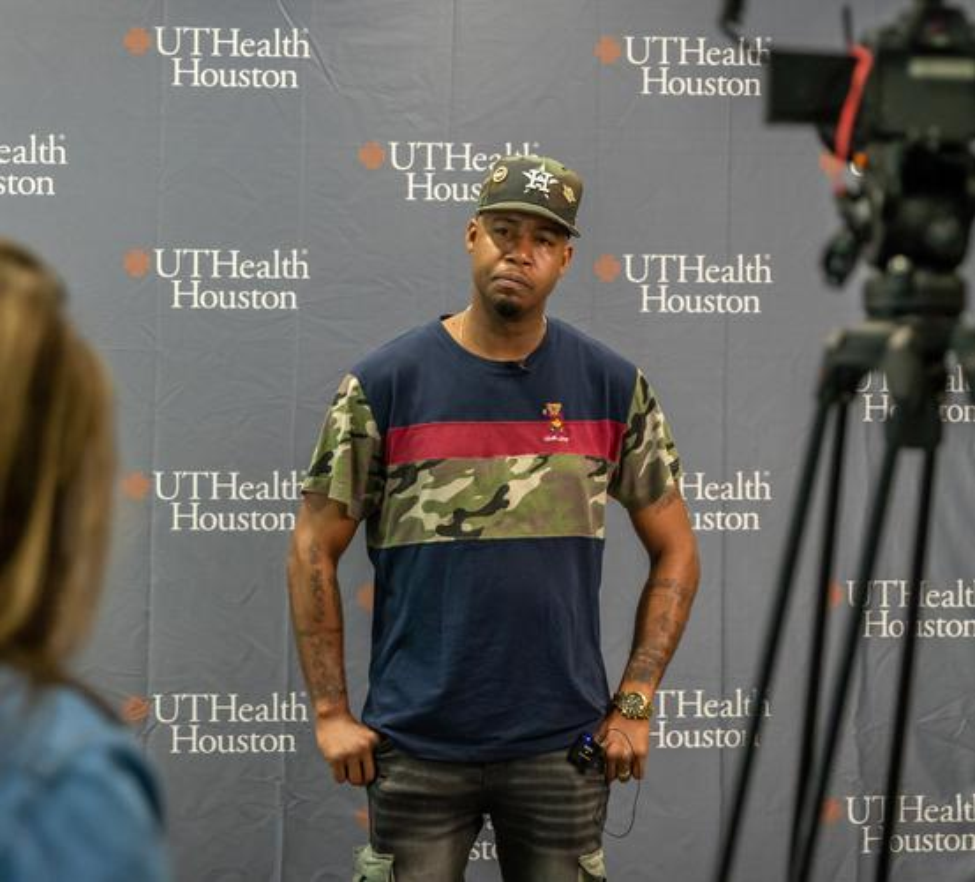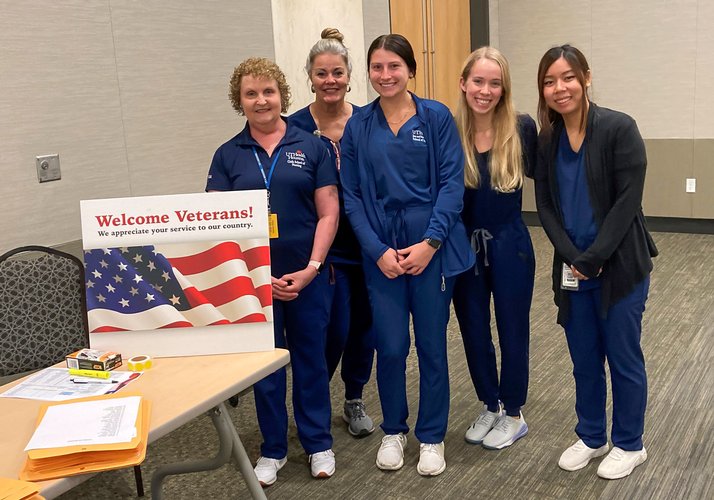 Eighty U.S. military veterans received free urgent, palliative, therapeutic, and/or preventive dental care during the 8th Annual Give Vets a Smile held Nov. 4 at UTHealth Houston School of Dentistry.
Fourth-year dental students, second-year dental hygiene students, and faculty, residents, and staff from the Advanced Education in Endodontics, Advanced Education in General Dentistry, General Practice Residency, and Advanced Education in Oral and Maxillofacial Surgery programs provided 391 treatments valued at $50,584. Since 2015, the School of Dentistry has provided over $328,199 of free care—through 2,910 treatments—to 585 veterans.
"Sometimes, we're not able to receive the proper dental care we need, so it's a blessing to have [UTHealth Houston School of Dentistry] to provide these services for us," said Carlton Johnson, who served in the U.S. Army from 2002-2010 and participated in Give Vets a Smile through Camp Hope. "I know a lot of fellow veterans who haven't had dental care for years. A lot of guys I came here with were excited and very appreciative to have the opportunity to get some help."
Give Vets a Smile is an annual, collaborative event between UTHealth Houston's School of Dentistry and Cizik School of Nursing. This community outreach effort for local veterans is coordinated through Margo Melchor, RDH, EdD, community outreach director for the School of Dentistry; and Bridgette Pullis, PhD, RN, CHPN, director of Cizik's Veterans Bachelor of Science in Nursing Program.
"I'm always in awe of these men and women who serve our country," Melchor said. "We don't know the circumstances, encounters, or experiences they're going through. Here at the School of Dentistry, if there's any way we can help this underserved population, by all means—and thanks to the support of Dean [John Valenza], our collaboration with the Cizik School of Nursing, grants through the Delta Dental Community Care Foundation, and support through contributors like Amegy Bank—we feel privileged to be able to do this.
"It takes a village to make this event happen, and Dr. Pullis and I are grateful for everyone who gives their time to participate in this annual event."
The veterans in need were identified by Camp Hope, Catholic Charities of the Archdiocese of Galveston-Houston Women Veteran Services, City of Houston Office of Veterans Affairs, Easter Seals Greater Houston, Gathering of Eagles, Harris County Precinct 2 Veteran Services, Open Door Mission, Salvation Army, The Council on Recovery, U.S. Vets-Houston, and Volunteers of America-Texas.
"This event was born through my work with veteran service organizations in the community," Pullis said. "Through my work with them, I noted that they needed dental care and approached Dr. Melchor here at the School of Dentistry. I said, 'I have veterans who need dental care, and you have facilities and people,' and it's amazing to think they we're now in our eighth year of treating this underserved population.
"I'm very grateful to my colleagues at the School of Dentistry. Without them, this would just be a good idea."
Cizik School of Nursing was responsible for identifying and registering veterans in advance. On the day of the event, which was by invitation only, nursing students recorded the veterans' vital signs. Veterans were seen by a dental resident, dental student, and/or dental hygiene student based on dental care needs after necessary diagnostic X-rays and assessment. After their treatment, veterans also had the opportunity to receive COVID-19 and flu vaccinations.
Support and volunteerism for the event was provided by Delta Dental Community Care Foundation and Amegy Bank.
Additional School of Dentistry support for Give Vets a Smile was provided by radiology staff from the Division of Clinical Services, along with dental assistants from The Fondren Foundation Special Patient Clinic, the Urgent Care Clinic, and the Victoria Q. Cisneros, DDS, MS, Advanced Prosthodontics Clinic.
GIVE VETS A SMILE
| | | | |
| --- | --- | --- | --- |
| Year | Veterans | Treatments | Value of Care |
| 2015 | 50 | 231 | $16,642.00 |
| 2016 | 55 | 278 | $18,804.00 |
| 2017 | 70 | 344 | $36,860.00 |
| 2018 | 88 | 404 | $44,223.00 |
| 2019 | 71 | 374 | $44,188.00 |
| 2020 | 68 | 350 | $54,175.00 |
| 2021 | 103 | 538 | $62,723.00 |
| 2022 | 80 | 391 | $50,584.00 |
| TOTAL | 585 | 2,910 | $328,199.00 |