Nursing home simulation aims to improve empathy, communication skills
Published: October 25, 2017 by Rhonda Whitmeyer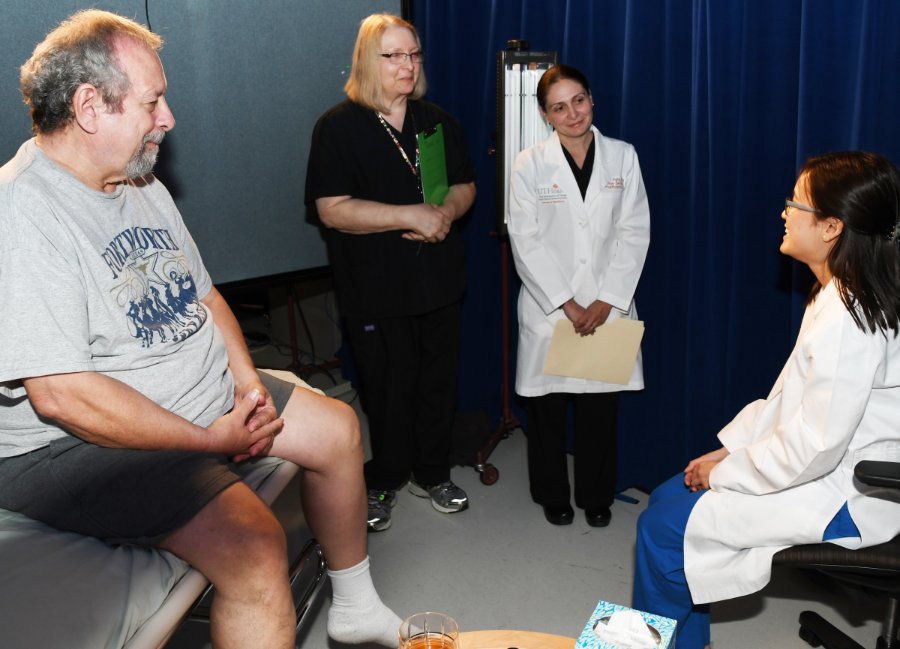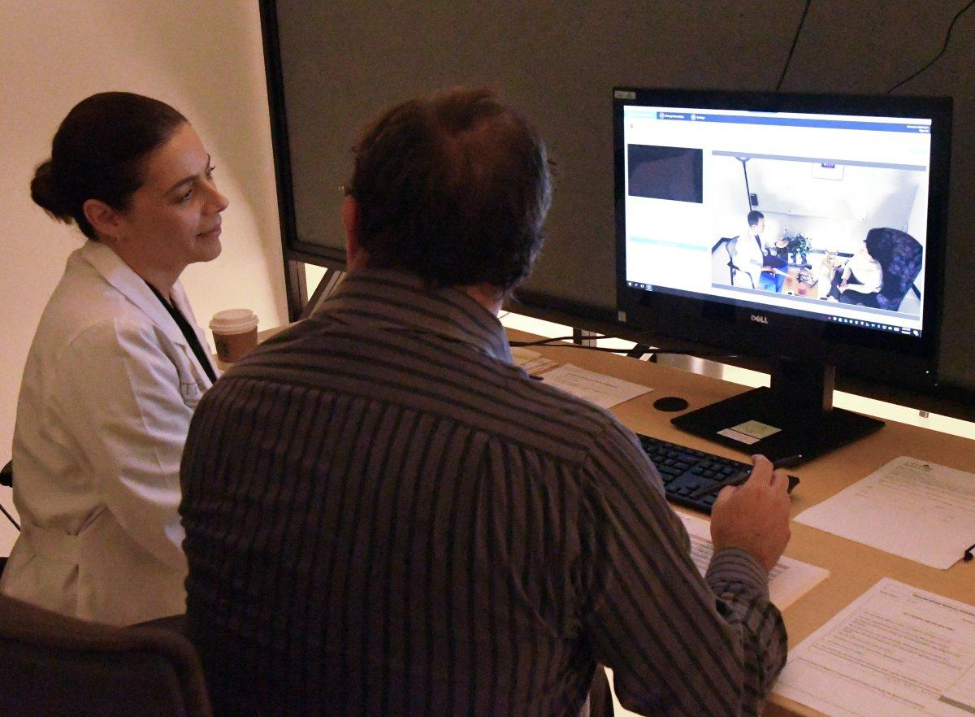 During a clinical rotation at "Twilight Pastures Retirement Center," a dental student found "J.R." perched on the side of his bed with a bottle of whiskey on a table nearby. A self-described heavy drinker, J.R. had a fractured spine but his concern that day was a sore in his mouth that made eating painful. "I think it's cancer," he worried.
It was the student's first-ever interaction as a provider with patient, and at the mention of "cancer," the student froze, unsure what to do or say. Then it got worse. "My sister had oral cancer," J.R. said. "They cut off half her face and she still died."
What should a student who's completed one year of dental school say to that?
Fortunately, the encounter was a simulation, and J.R. was a paid actor in the role of standardized patient. It was all part of a pilot project at UTHealth Houston School of Dentistry, where Associate Professor and Director of Simulation Shalizeh "Shelly" Patel, DDS, is the principle investigator in a study designed to enhance empathy and communication skills in dental students.
"What a student can say is, 'Now I understand why you're so concerned,'" Patel said.
It's just one example of how simulation helps students prepare for challenging situations.
She and Educational Technology Manager Richard "Hal" Halpin, EdD, designed the protocol for the study, "Can a Simulated Nursing Home module improve confidence in clinical skills for dental students?"
With support from Dean John Valenza, DDS, and approximately $5,000 from The University of Texas Kenneth I. Shine, MD, Academy of Health Science Education Small Grants Program, Patel and Halpin bought props from UT's surplus warehouse and secured the services of two standardized patients: J.R. and "Carol."
The props made two rooms at the School of Dentistry resemble living quarters in a retirement center, while a partition concealed faculty observers so they could listen to the student-patient interaction while watching on live video. Debriefings followed each session.
In the final analysis, all 50 dental student participants had shaken hands and made eye contact with the patients, but four forgot to introduce themselves. A few didn't think to look in the patients' mouths; if they had, they would have seen blood (red food coloring) that correlated to symptoms. "Always look in the mouth, even if you don't know what you're looking for; you know more than they do," Patel told the students at a wrap-up session after the program ended.
Dental student Durstin Hooper trained as a nurse, so his experience with patients helped him keep "Carol" focused on her chief complaint of left-sided gum bleeding after brushing. "The most productive part of the experience for me was receiving feedback directly from each patient," he said later.
His classmate Jennifer Hoang had no prior experience in the provider role. In the debriefing, she was reminded to establish rapport with the patient at the beginning of the visit, something she did with one patient but not the other. "While it was difficult to hear where I kind of failed, it was something I needed to know," she said. "If no one ever tells you what's wrong, you can never improve."
Drs. Juliana Barros, Deborah Franklin, Charles Streckfus, Ana Neumann and Robert Spears all assisted Patel and Halpin with the study in various ways. Other faculty members are going through the same clinical scenarios with the same standardized patients to establish a benchmark, Patel said.
"Our hope is to establish where our student are, where they need to be, and what we can do in our simulation program to get them there," she added. "It certainly is new territory in dental education."