Alumna Lindsey Wendt named 2022 Texas New Dentist of the Year
Published: September 23, 2022 by Alexandria Brown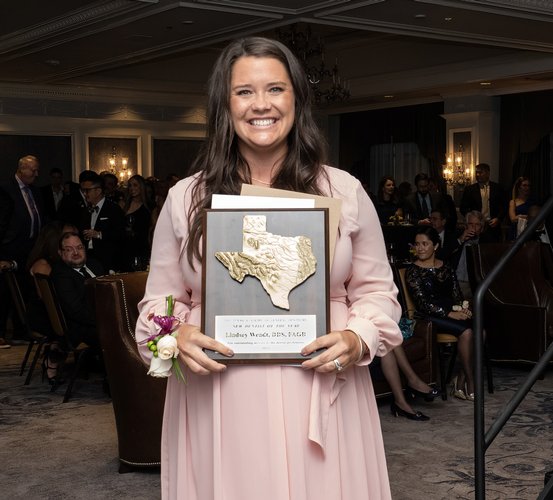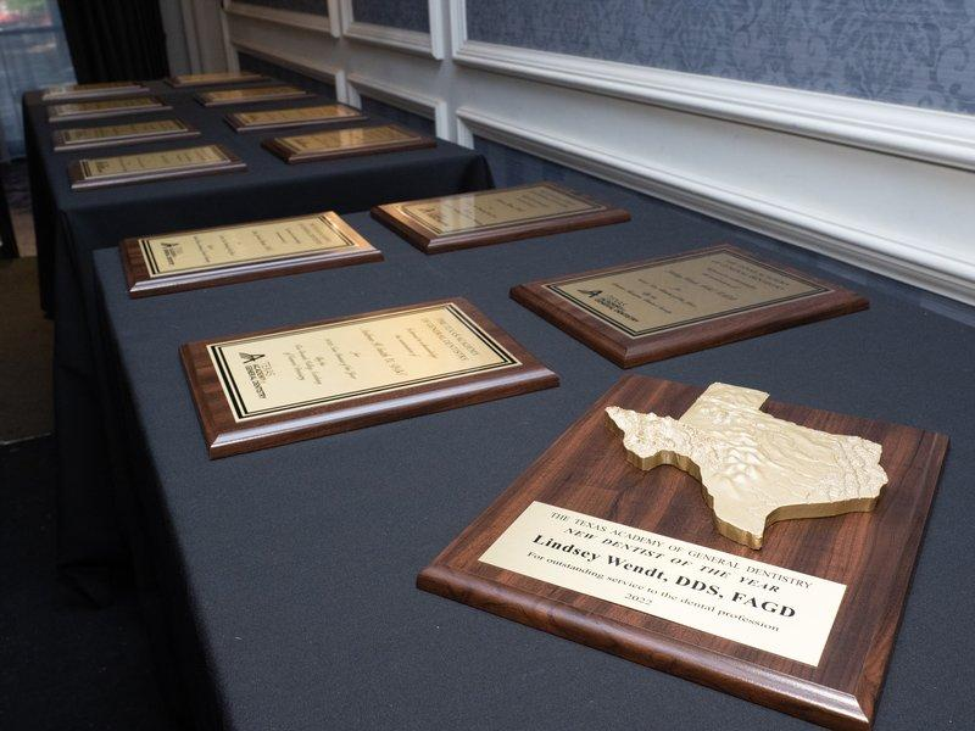 The Texas Academy of General Dentistry's 2022 Texas New Dentist of the Year is Lindsey Wendt, DDS, a 2015 alumna of UTHealth Houston School of Dentistry.
Wendt was named the winner of the award on Sept. 16 during the "Texas Academy Awards" at the Renaissance Austin Hotel Glass Oaks Ballroom in Austin. She is the third School of Dentistry recipient in the past five years joining, Summer C. Ketron, DDS '11; and Katie Sowa Stuchlik, DDS '15, who took home the award in 2018 and 2020, respectively.
"It's a huge honor to be nominated, let alone win among so many incredible colleagues," said Wendt. "Dental organizations fight for and protect my profession, but more than that I have met some incredible dentists and mentors in organized dentistry that I get to learn and grow from all the time. The group mentality and passion for our profession is contagious."
Wendt was one of 12 nominees, including six School of Dentistry alumni: Mary R. Glasheen, DDS '16, of South Plains; Glennis M. Katzmark, DDS '17, of Houston; Tanya Sue Maestas, DDS '18, of El Paso; Andrew F. Naeger, DDS '17, of Brazos; and Andrew H. Smith, DDS '15, of Rio Grande Valley.
Wendt practices at Dentistry in the Oaks in northwest Houston with fellow Texas New Dentist of the Year recipient and School of Dentistry alumna Stuchlik.
A Spring native, Wendt graduated cum laude from Texas A&M University with a bachelor's degree in nutritional sciences and a minor in business. Her love for dentistry began during her freshman year of college when she discovered how much she could help others by keeping their smile healthy.
An active member of organized dentistry, Wendt belongs to the Academy of General Dentistry, American Dental Association, Texas Dental Association, Greater Houston Dental Society, American Academy of Clear Aligners, American Academy of Facial Esthetics, and International Congress of Oral Implantologists.
The Texas New Dentist of the Year Award started in 2009 to recognize emerging leaders in organized dentistry. Nominees must be a general dentist who graduated from dental school within the last seven years, and who have been members of the academy for at least two years.
TAGD also annually names a Texas Dentist of the Year™, the highest honor a Texas dentist can receive. The 2022 recipient, Thomas Harrison, DDS, MBA, of Houston has ties to the School of Dentistry, where he serves as a clinical assistant professor, practice consultant in the PACE Center, and member of the Faculty Senate, the Dean's Admission Committee, and MOSAIC team.
Of the 12 nominees for Texas Dentist of the Year™, two were School of Dentistry alumni; Ernest B. Luce, DDS '85, of San Antonio; and Karen Walters, DDS '78, of Houston.