Alumna Maestas named 2023 Texas New Dentist of the Year
Published: September 25, 2023 by Kyle Rogers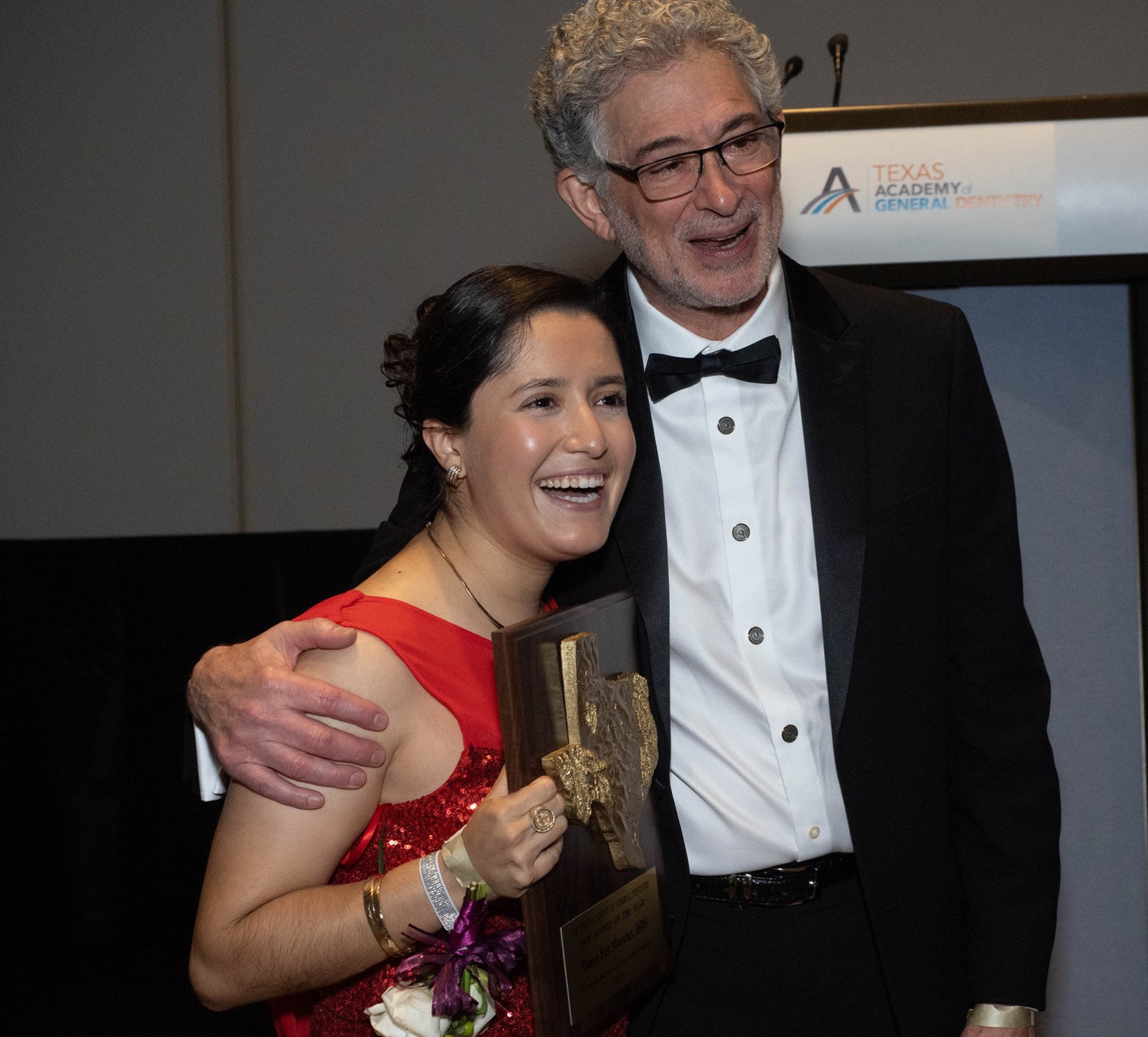 UTHealth Houston School of Dentistry alumna Tanya Sue Maestas, DDS '18, has been named the Texas Academy of General Dentistry's 2023 Texas New Dentist of the Year.
Maestas was honored during the Texas Academy Awards dinner Sept. 22 at the Sheraton Austin Georgetown Hotel and Conference Center in Georgetown, Texas. She is the fourth School of Dentistry recipient in the past six years joining Summer C. Ketron, DDS '11; Katie Sowa Stuchlik, DDS '15; and Lindsey Wendt, DDS '15, who received the award in 2018, 2020, and 2022, respectively.
"I'm truly humbled and honored to have been recognized as the New Dentist of the Year," said Maestas. "Not only is it a personal achievement for me, but a testament of all the support and guidance I have received from mentors, colleagues, friends, and loved ones.
"This recognition motivates me to continue to push boundaries, expand my skill set, and continue maintaining the highest excellence in my practice. Additionally, it strengthens my sense of duty to contribute actively to organized dentistry and continue to advocate for the advancement of the dental profession."
Maestas was one of 12 nominees, including three fellow alums — Gilberto Garcia, Jr., DDS '19, of Galveston; Glennis M. Katzmark, DDS '17, of Houston; and Trey H. Miller, DDS '18, of Amarillo.
As dental director at La Clinica De Familia Inc. in Chaparral, N.M., Maestas provides quality dental care to patients in the surrounding community. Along with her duties at La Clinica De Familia Inc., she serves as a clinical instructor at the Texas Tech University Health Science Center El Paso Woody L. Hunt School of Dental Medicine.
A native El Pasoan, Maestas graduated from The University of Texas at El Paso with a bachelor's in biology with a biomedical concentration.
President of the American Student Dental Association from 2017-18, Maestas earned her doctorate of dental surgery from UTHealth Houston School of Dentistry in 2018, followed by an advanced education in general dentistry certificate in 2019. She is currently attending A.T. Still University College of Graduate Health Studies where she will receive a master of public health – dental emphasis with a dental public health residency certificate.
Maestas is an active representative of organized dentistry, serving as an American Dental Association Success speaker in addition to membership on various committees including the ADA Council on Communications. Locally, she is a member of the El Paso Academy of General Dentistry and the El Paso District Dental Society, both which nominated her for Texas New Dentist of the Year.
"I have been very blessed and fortunate to have had some truly wonderful opportunities to serve as a leader in organized dentistry," she said. "I feel great gratitude that my contributions have been recognized by the Texas Academy of General Dentistry. I continue to feel motivated to contribute even more to the advancement of the profession, and it is a reminder to me of the positive impact we can have as a profession and community. I look forward to continue working with fellow leaders and nominees in the opportunities that may arise in our futures."
The Texas New Dentist of the Year Award started in 2009 to recognize emerging leaders in the field of dentistry. Nominees must be general dentists who graduated from dental school within the last seven years and who have been members of the academy for at least two years.
TAGD also annually names a Texas Dentist of the Year™, the highest honor a Texas dentist can receive, with the 2023 award going to Jon Dossett, DMD, of San Antonio. Of 14 nominees, five were UTHealth Houston School of Dentistry alumni — Nancy Andree, DDS '77, of Waco; Rita M. Cammarata, DDS '96, of Houston; Anne Lyon, DDS '86, of Austin; Karen A. Walters, DDS '78, of Houston; and K. Scott Williams, DDS '86, of Dallas.