Alumna, NIDCR Director D'Souza to speak at Student Research Showcase
Published: October 18, 2022 by Kyle Rogers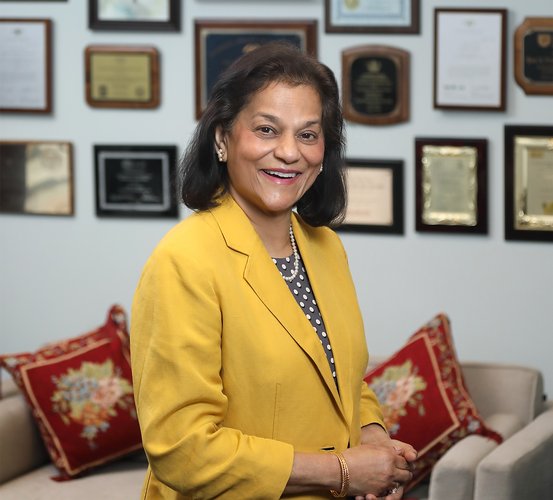 UTHealth Houston School of Dentistry will host alumna Rena D'Souza, DDS, PhD, director of the National Institute of Dental and Craniofacial Research, part of the National Institutes of Health, for the 2022 William T. Butler Distinguished Lecture at the 12th Annual Student Research Showcase on Tuesday, Nov. 1.
The Student Research Showcase is scheduled for noon to 5 p.m. in the Denton A. Cooley, MD and Ralph C. Cooley, DDS University Life Center. Additionally, the PACE Center will host a reception to honor D'Souza from 5 to 6 p.m. in the Cooley Center lobby.
D'Souza earned a bachelor's degree in dental surgery from the University of Bombay, India, after which she completed a general practice residency. At UTHealth Houston, she graduated from the School of Dentistry in 1985 and earned a master's degree in biomedical sciences (1984) and doctorate in pathology (1987) from The University of Texas MD Anderson Cancer Center UTHealth Houston Graduate School of Biomedical Sciences.
A licensed dentist, D'Souza was sworn in as the NIDCR director on Oct. 13, 2020. The NIDCR is the nation's leading funder of research on oral, dental, and craniofacial health.
As NIDCR director , D'Souza oversees the institute's annual budget of more than $500 million, supporting basic, translational, and clinical research in areas of oral cancer, orofacial pain, tooth decay, periodontal disease, salivary gland dysfunction, craniofacial development and disorders, and the oral complications of systemic diseases. NIDCR funds approximately 770 grants, 6,500 researchers, and 200 organizations. Additionally, the institute supports research training and career development programs for approximately 350 people at various stages of their careers, from high school students to independent scientists.
D'Souza is recognized for her research in craniofacial development, genetics, tooth development, and regenerative dental medicine. Prior to joining the NIH, D'Souza was the assistant vice president for academic affairs and education for health sciences at the University of Utah, Salt Lake City. There she also served as a professor of dentistry, the Ole and Marty Jensen Chair of the School of Dentistry, and professor of neurobiology and anatomy, pathology, and surgery in the School of Medicine and the department of biomedical engineering.
D'Souza was selected to be the inaugural dean of the University of Utah's School of Dentistry. She is a past president of the American Association for Dental Research and the International Association for Dental Research, a fellow of the American College of Dentists, and the recipient of the 2017 American Association for Dental Research Irwin D. Mandel Distinguished Mentoring Award. D'Souza served on the NIH Advisory Committee to the Director in 2013-14, and on NIH study sections.
D'Souza has authored more than 150 publications and book chapters on craniofacial development, matrix biology and tissue regeneration.
The Student Research Showcase is sponsored by the Office of Research and features projects conducted over the summer by predoctoral and postdoctoral students mentored by School of Dentistry faculty.