Classes of 2022 recognized in joint commencement ceremony
Published: May 16, 2022 by Kyle Rogers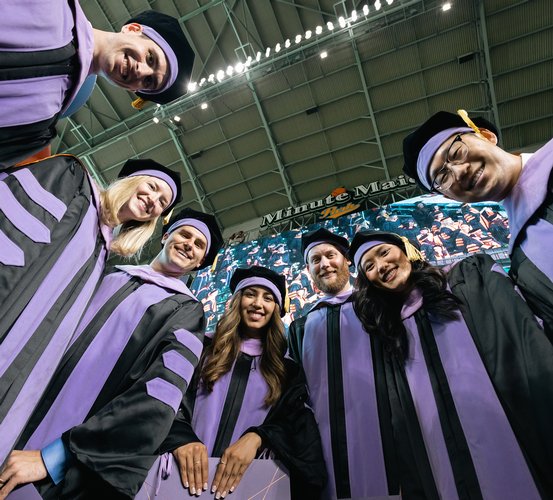 The UTHealth Houston School of Dentistry graduating Classes of 2022 walked across the commencement stage Saturday, May 14, at Minute Maid Park. The School of Dentistry recognized 184 students (108 doctorate of dental surgery, 32 dental hygiene, and 44 advanced education) in its 117th commencement, a joint ceremony with Cizik School of Nursing at UTHealth Houston, and UTHealth School of Public Health.
In total, 819 students graduated between the three schools. Photos from commencement can be viewed on Flickr, and a replay of the ceremony is available on YouTube. A digital version of the commencement program is available online.
The ceremony opened with a video highlighting all six UTHealth Houston schools, with Joy Nisnisan, DDS '22, representing the School of Dentistry.
UTHealth Houston President Giuseppe N. Colasurdo, MD, offered a welcome message and congratulatory remarks. Executive Vice President Michael R. Blackburn, PhD, delivered the commencement address.
The joint ceremony ran in a traditional format, with respective school leadership officiating, a full stage party, and Colasurdo conferring the degrees and certificates.
For the School of Dentistry's portion, Dean John A. Valenza, DDS '81, congratulated the Classes of 2022 on reaching this health care professional milestone.
"Well graduates, you have arrived. I know it has seemed like a long but yet fast road to get here today. A road filled with many turns, straightaways, bridges, and a few stops. But, along the way, I'm confident you would say it's also been about family, friendships, hard work, and, hopefully mixed in there as well, some fun. One thing is for sure, as Dr. Blackburn noted earlier, you are all special in reaching this milestone," said Valenza.
Dental Class President Chance Hunsaker, DDS '22, and Dental Hygiene Class President Reham Abuabeileh, BSDH '22, delivered addressed their respective classes.
Associate Dean for Student and Academic Affairs Robert Spears, PhD, called the names of the School of Dentistry graduates as the traditional tune "Pomp and Circumstance" played overhead. In several instances, graduates were presented their certificate or diploma by a family member or significant other, some of whom are alumni of the School of Dentistry.
Graduate hooders for the ceremony were Juliana A. Barros, DDS, MS; Cleverick "C.D." Johnson, DDS '86, MS; Shalizeh "Shelly" Patel, DDS; and Long D. Tran, PharmD, DDS '91.
Representatives of the dental and dental hygiene alumni associations led The Dentist's Pledge and the Dental Hygiene Oath, respectively.
As part of his closing remarks, Valenza left graduates with a quote he hopes they keep with themselves always, "The past is history, the future is a mystery, being here and now is a precious gift—that's why they call it the present."