Department of Pediatric Dentistry unveils new clinic
Published: February 21, 2023 by Kyle Rogers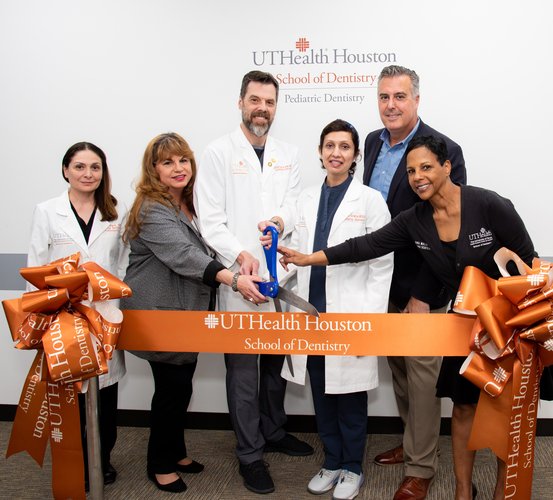 The Department of Pediatric Dentistry unveiled its new clinic on the third floor of UTHealth Houston School of Dentistry, blending all pediatric dentistry efforts under one roof, in a ribbon-cutting ceremony on Feb. 20.
The Pediatric Dentistry Clinic is a reimagining of 4,469 square feet that previously served as the student center. The state-of-the-art clinic contains 12 dental operatories, a fully operational self-contained laboratory space, reception desk, and a waiting room that can accommodate roughly 25 people.
"It is our pleasure to officially welcome the Advanced Education Program in Pediatric Dentistry to its new home in the School of Dentistry building," said Dean John A. Valenza, DDS. "Of course, with a project like this come a countless number of folks to thank. First and foremost, the pediatric dentistry faculty, staff, and residents for their patience, determination, and dedication during this transition. Second, Mr. Brady Smyth, our senior facilities construction project manager at UTHealth Houston and friend of the School of Dentistry, and his team for leading this project from the university side.
"I also would like to acknowledge Dr. Scott Patlovich and his team from the Office of Environmental Health and Safety for their help and support. And lastly, but not least, all the School of Dentistry folks behind the scenes, such as Mr. Jonathan Green, Dr. Arthur Jeske, Dr. Shelly Patel, and Ms. Anna Trieu, in supporting the operational changes for the program and hopefully making everyone in the department feel welcome."
Valenza also thanks the faculty, staff, and residents from the Department of Orthodontics for allowing space to be reconfigured for their "new neighbors."
The relocation of the Pediatric Dentistry Clinic was in response to a directive from central administration, which requested the move of off-site clinics into buildings owned by UTHealth Houston. Following a space study, the former student center, adjacent to the A.P. Westfall, DDS Orthodontic Clinic, was selected as the clinic's location. Additionally, space in the Department of Pediatric Dentistry on the fifth floor was modified for resident offices and conference space.
The clinic staff and residents moved into their new location September 2022 and began seeing patients in October.
The Pediatric Dentistry Clinic was previously located at Houston Medical Center, which it had called home since the 1990s, and in 2017, the clinic was renovated to expand operatories and create a resident work space as well as a conference space for teleconferencing.
"I want to thank UTHealth Houston for saying 'we're committed to providing another clinic as good or better' and standing behind that promise," said Professor Gregory Olson, DDS, MSc, chair of the Department of Pediatric Dentistry. "I also want to thank Dean Valenza for saying 'let's make it happen,' and everyone at the School of Dentistry for being so open and inviting. This was a change, this was new, and has allowed an opportunity for us all to go forward together.
"I'm especially proud of our team in the Pediatric Dentistry Clinic. When you pack up a clinic and move it in the short time we did, unbelievable. The faculty, residents, and staff had ownership throughout the entire process, so I know this clinic will be a great spot to take care of children. We're so happy to be here, and we look forward to the future."
Associate Professor Bhavini S. Acharya, BDS, MPH, director of Advanced Education Program in Pediatric Dentistry, echoes the sentiments of Olson and added the opportunities for collaboration with the clinic's new location.
"One big thing this move allows for is collaboration with the other specialties at the dental school, and we've already seen signs of that. Our residents are able to go talk to their peers in orthodontics or endodontics. It's been great for our residents, and more importantly our patients, to have that kind of access just down the hall or downstairs," said Acharya.