DH Class of 2025 recognized in white coat ceremony
Published: August 14, 2023 by Kyle Rogers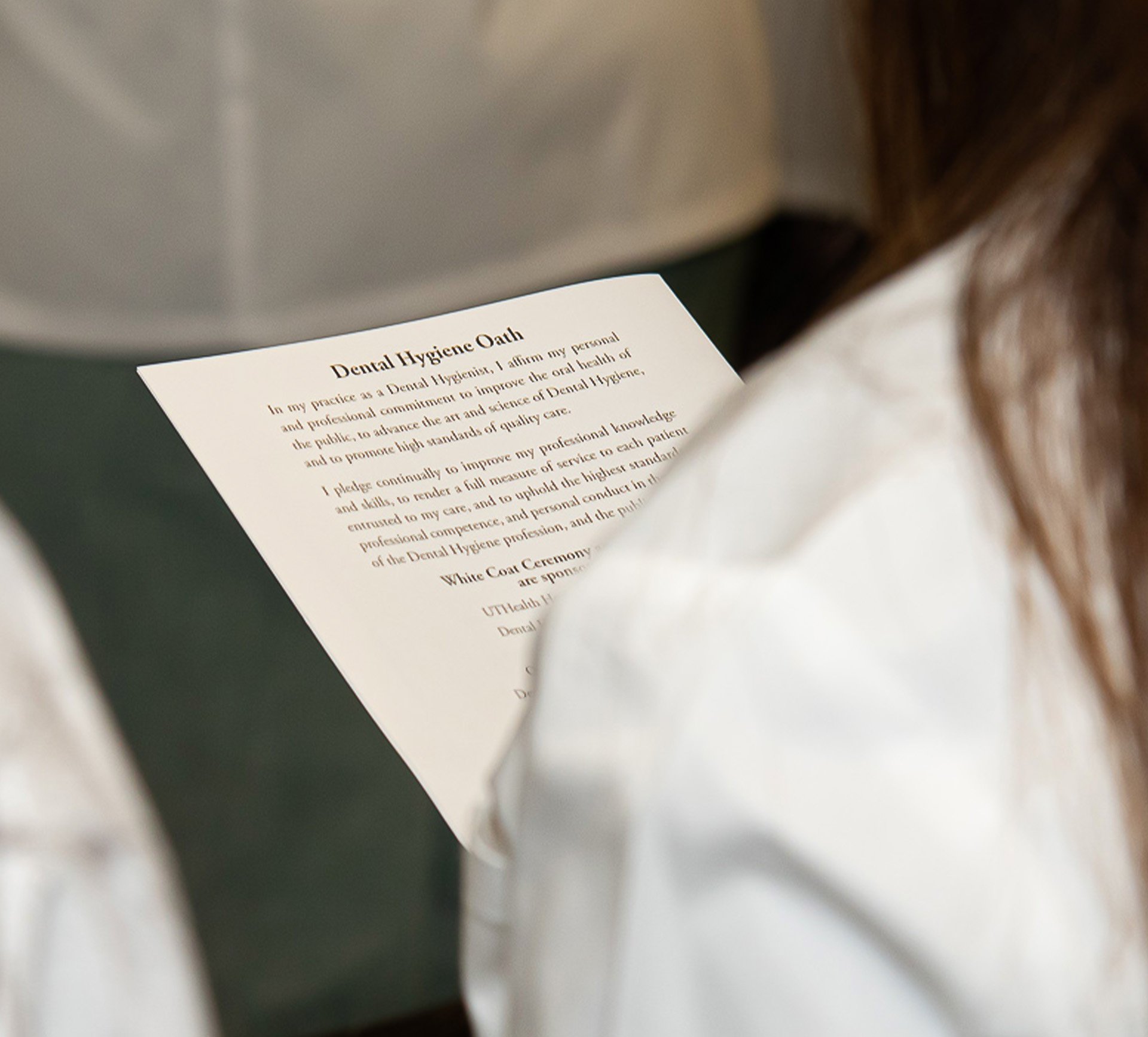 UTHealth Houston School of Dentistry welcomed 30 students from the Dental Hygiene Class of 2025 to the dental profession during a special white coat ceremony Aug. 11 in the Denton A. Cooley, MD and Ralph C. Cooley, DDS University Life Center.
Photos from the white coat ceremony can be viewed on Flickr, and a replay of the event is available on YouTube.
Dean John A. Valenza, DDS, congratulated the DH Class of 2025 in his opening remarks, reminding the students of the unique dental hygiene experience in front of them — the opportunity to learn in a dental school setting.
Valenza also underscored the significance of the white coat and what it means to join the dental profession.
"Recognizing this environment and the career you have chosen, donning your white coats today is more than a symbol. It is a recognition that you are now part of the profession. It is a pledge, a commitment, a responsibility to serve humanity, and to be professional at all times, in all places, in person, online, or otherwise," said Valenza.
Professor Robert D. Spears, PhD, associate dean for student and academic affairs, noted the class' entrance into dental hygiene and encouraged them to embrace the next two years.
"Make the most out of while you're here," Spears said. "You get out of this program what you put into it, and we're hoping that every one of you put your utmost into what you're trying to become. Work hard, do your best always, and enjoy every moment you have here at the school."
Professor Nikola Angelov, DDS, PhD, chair of the Department of Periodontics and Dental Hygiene, said the dental hygiene profession is "the driving force behind the success of any dental office," and the future is incredibly bright for dental hygienists.
"Dental hygiene is actually the real MVP of dental preventative care. Your work goes beyond the surface, touching lives and transforming smiles in profound ways," Angelov said.
"As you venture forward, remember that your skills are your compass, so use them to heal, use them to care, and to uplift."
Dental Hygiene Program Director Victoria Patrounova, RDH, MHA, a 2009 alumna, quoted late Secretary of State Colin Powell in sharing, "There are no secrets to success. It is the result of preparation, hard work, and learning from failure."
She also welcomed them to the largest book club they will ever belong to and gave them a recommendation on their first reading, "Dental Anatomy and Morphology, Fourth Edition."
Vinh "Danny" Nguyen, RDH, DDS, delivered the keynote speech. As a 2001 dental hygiene alumnus, who later returned for his dental degree, he shared how it felt to be in their shoes when he first started at the School of Dentistry.
"I know that many of you are feeling a mix of emotions right now," Nguyen said. "You are excited about the future, but you are also nervous about the challenges that lie ahead. I want to take this opportunity to assure you that you're not alone. We all feel these things when we start our journey in health care. When I first put on my white coat, I felt a sense of pride and responsibility. I knew that I was now part of a long and distinguished tradition of health care professionals.
"Let us remember that it is not just dental knowledge that will make a difference, but our ability to listen, understand, and connect with those in our care, and, most importantly, we have a duty to be honest and trustworthy."
Assistant Professor Raha Naderi, RDH, MEd, a 2009 alumna, served as the master of ceremonies and led the class through the Dental Hygiene Oath. Associate Professor Tulsi Patel, RDH, BSDH, MHA, escorted the students in their processional. Patrounova served as the coater for the ceremony.
To conclude the white coat ceremony, the dental hygiene students turned and faced the crowd, where family and friends in the audience congratulated them on this milestone in their dental journey.
The University of Texas at Houston Dental Hygiene Alumni Association, the Office of the Dean, Office of Student and Academic Affairs, and the Department of Periodontics and Dental Hygiene sponsored the white coat ceremony and reception. Additional support and participation were provided by the Dental Hygiene Class of 2024, the Student Chapter of the American Dental Hygienists' Association, and the PACE Center.