D'Souza named School of Dentistry Alumni Lifetime Achievement Award inaugural recipient
Published: November 16, 2022 by Kyle Rogers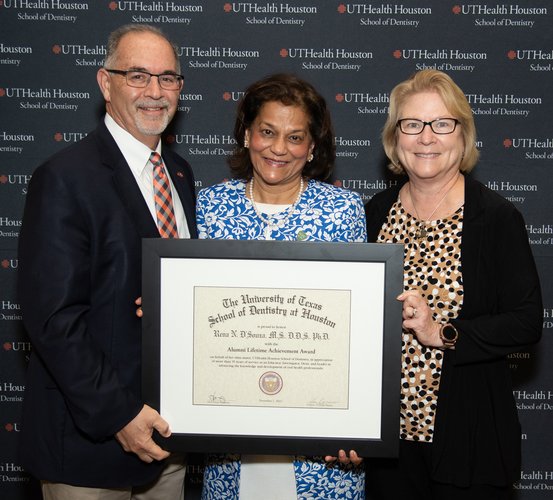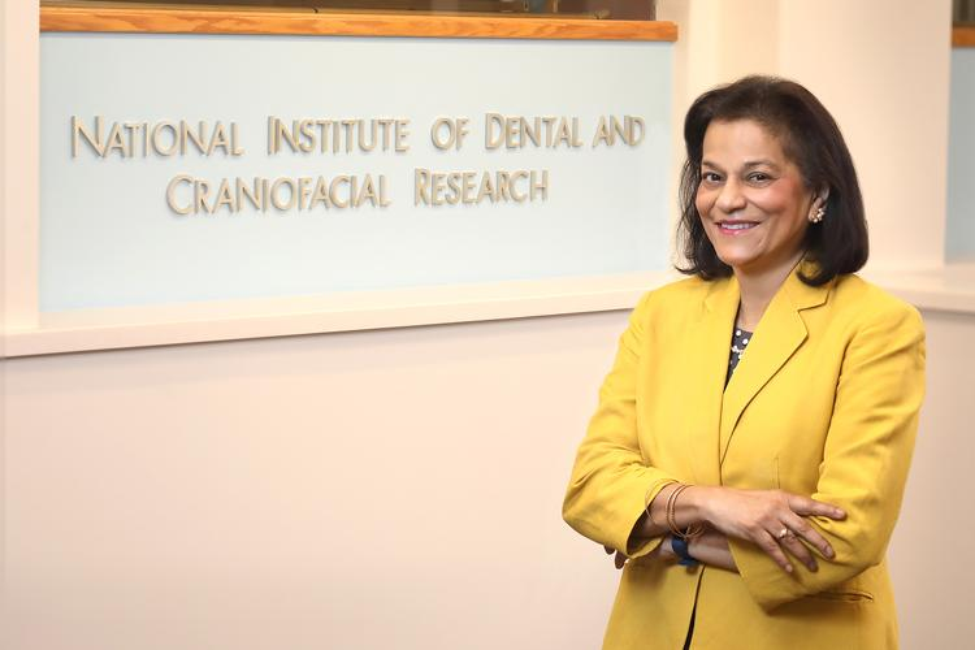 Rena N. D'Souza, MS, DDS, PhD, has been named the inaugural recipient of the Alumni Lifetime Achievement Award from UTHealth Houston School of Dentistry.
The Alumni Lifetime Achievement Award is given in recognition of an exceptional alumni who has had extraordinary success in their professional achievement, community involvement, and/or advancement of the School of Dentistry's mission. Individuals are recognized for outstanding achievements in their professional lives, personal integrity, and stature and service.
D'Souza, who serves as the director of the National Institute of Dental and Craniofacial Research at the National Institutes of Health, was recognized in appreciation of her more than 35 years of service advancing the knowledge and professional development of dentists as a dean, educator, investigator, and leader on dental, oral, and craniofacial research.
The award was unveiled Nov. 1 during the awards ceremony of the School of Dentistry's 12th Annual Student Research Showcase in the Denton A. Cooley, MD and Ralph C. Cooley, DDS University Life Center. D'Souza, who served as the event's keynote speaker and presented the 2022 William T. Butler Distinguished Lecturer, was stunned to be recognized as the award's inaugural recipient.
"Clearly, it's an honor and thrill of a lifetime," said D'Souza. "The award caught me completely unaware, so my immediate response was one of disbelief. After wiping away the tears, I was filled with gratitude for all that [UTHealth Houston School of Dentistry] has meant to me over the years. I felt thankful and humbled when I recalled how many [School of Dentistry] mentors and mentees helped shape my career.
"[UTHealth Houston] laid the foundation for my entire career. It is there that I spent my formative years as a clinician-scientist and as an educator. It is there that I developed grant writing skills, learned to stay abreast of research in the oral health sciences, and cultivated a vibrant network of collaborators within the Texas Medical Center."
D'Souza earned a bachelor's degree in dental surgery from the University of Bombay, India, after which she completed a general practice residency. At UTHealth Houston, she graduated from the School of Dentistry in 1985 and earned a master's degree in biomedical sciences (1984) and doctorate in pathology (1987) from The University of Texas MD Anderson Cancer Center UTHealth Houston Graduate School of Biomedical Sciences.
A licensed dentist, D'Souza was sworn in as the NIDCR director on Oct. 13, 2020. The NIDCR is the nation's leading funder of research on oral, dental, and craniofacial health.
As NIDCR director, she oversees the institute's annual budget of more than $500 million, supporting basic, translational, and clinical research in areas of oral cancer, orofacial pain, tooth decay, periodontal disease, salivary gland dysfunction, craniofacial development and disorders, and the oral complications of systemic diseases.
D'Souza is nationally and internationally known for her research in craniofacial development, genetics, tooth development, and regenerative dental medicine.
Prior to joining the NIH, D'Souza was the assistant vice president for academic affairs and education for health sciences at the University of Utah, Salt Lake City. There she also served as a professor of dentistry, the Ole and Marty Jensen Chair of the School of Dentistry, and professor of neurobiology and anatomy, pathology, and surgery in the School of Medicine's department of biomedical engineering.
D'Souza was selected to be the inaugural dean of the University of Utah's School of Dentistry. She is a past president of the American Association for Dental Research and the International Association for Dental Research, a fellow of the American College of Dentists, and the recipient of the 2017 American Association for Dental Research Irwin D. Mandel Distinguished Mentoring Award. D'Souza served on the NIH Advisory Committee to the Director in 2013-14, and on NIH study sections.
D'Souza has authored more than 150 publications and book chapters on craniofacial development, matrix biology, and tissue regeneration.