Fakhouri receives American Association for Anatomy's FGAP grant
Published: March 23, 2022 by Kyle Rogers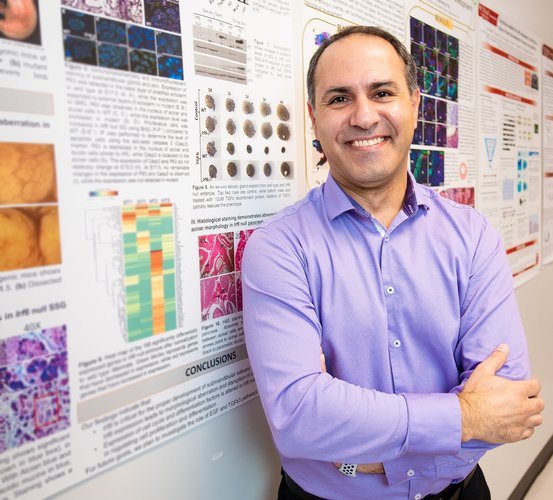 Assistant Professor Walid Fakhouri, MSc, PhD, of UTHealth Houston School of Dentistry has received a $25,000 grant through the American Association for Anatomy's Fellows Grant Award Program.
FGAP provides one-year funding for either established or early-career investigators who have submitted a peer-reviewed grant application to national or international funding agencies within the last 15 months and were scored—and well received—but did not receive funding. The program aims to help researchers revise grant applications in anticipation of resubmission for approval. Fakhouri was one of two recipients of the FGAP grant.
Fakhouri plans to use the funding to obtain additional supporting data for his R03 research proposal, titled "Mechanistic role of IRF6 in salivary gland development and maturation." The proposal seeks to uncover novel function of the IRF6 gene in acinar differentiation and prevention of autoimmune reaction during salivary gland maturation and saliva production.
He aims to resubmit his proposal to the National Institute of Dental and Craniofacial Research's Special Grants Review Committee.
The grant was announced as part of the AAA's Awards Program in January and will be presented at the Closing Awards Ceremony during the 2022 Annual Meeting in April in Philadelphia. The members-only program bestows more than $350,000 in awards, research grants, and scholarships each year.