Marcano: School of Dentistry's forever 'tooth fairy'
Published: September 12, 2023 by Kyle Rogers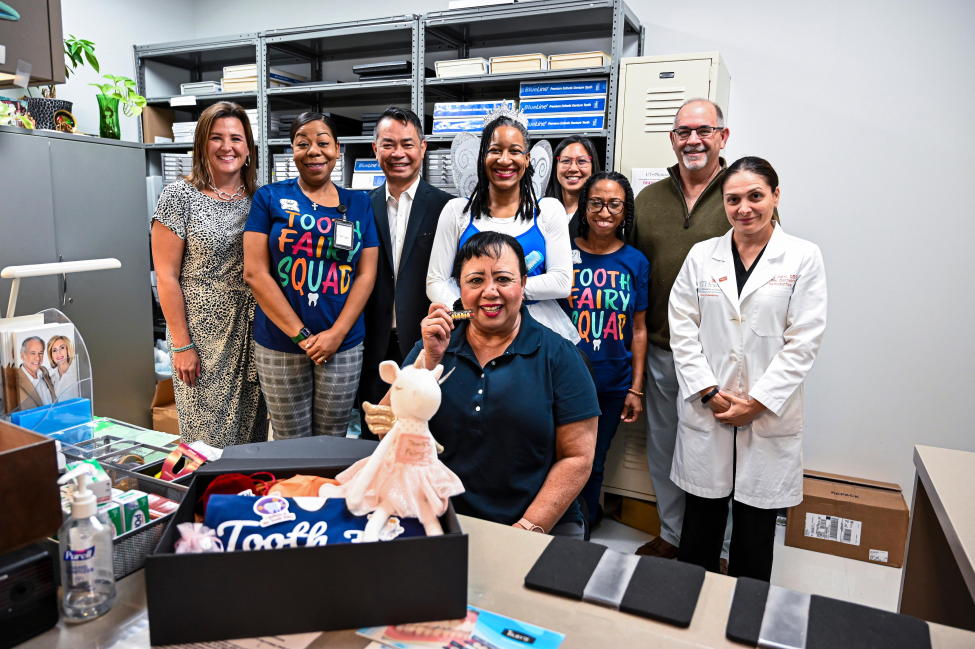 You may have heard of the Tooth Fairy. The beloved mythical creature helps children overcome fears of losing baby teeth and replaces a lost tooth with a special gift in recognition of their moment of bravery. However, UTHealth Houston School of Dentistry has its own "tooth fairy" in Everill Marcano, senior dental dispensaries assistant in the Tooth Room.
Marcano joined the School of Dentistry staff in 1997 and is responsible for all teeth selections, accessories, and laboratory material, such as Microstone, Mounting Stone, Hard Rock, denatured alcohol, acrylic resins, and many other materials for lab procedures.
In the Tooth Room on the dental school's third floor, Marcano is surrounded by drawers and boxes of teeth, laid out like in a catalog-like presentation.
"My roll from the beginning was to learn and know about teeth and functions, understand shades and shapes, and to assist students," said Marcano. "Students make me think I know everything, but they are the ones who really make it happen. As every patient is different, so will be every procedure day by day."
Each patient is a different case, and Marcano listens to the needs and asks questions to see how best to assist students.
"There's always a story to hear about a patient, their preference, like a request for a gold tooth insert by design, and more," she said. "Selecting teeth for complete and partial dentures is a challenge, because finding the right fit is the most important. Some casts look complicated, and at times, it is similar to putting a puzzle together, but with proper dimension, it's amazing to see the finished prosthesis and the overall happiness of the patient."
Marcano admits her role has brought out a skill in her she never would have expected, but she enjoys every moment of the responsibilities in her charge.
In August, on National Tooth Fairy Day, the School of Dentistry paid notice to her with a sign of acknowledgement and decorations outside the Tooth Room.
"It was very touching to see the embrace as a tooth fairy," said Marcano. "I had a lot of visitors who commented on the sign and decorations throughout the day. Dean Valenza stopped by and shared some kind words, and then, next thing I knew, there were other members of administration, the Office of Patient Care, and the winged tooth fairy herself there to see me. I really appreciated the gifts and am grateful for the thoughts, planning, efforts, and presentation of all involved."
In the spirit of the fabled fairy, Marcano considers her Tooth Room a "wonderland" for teeth restoration and dental care.